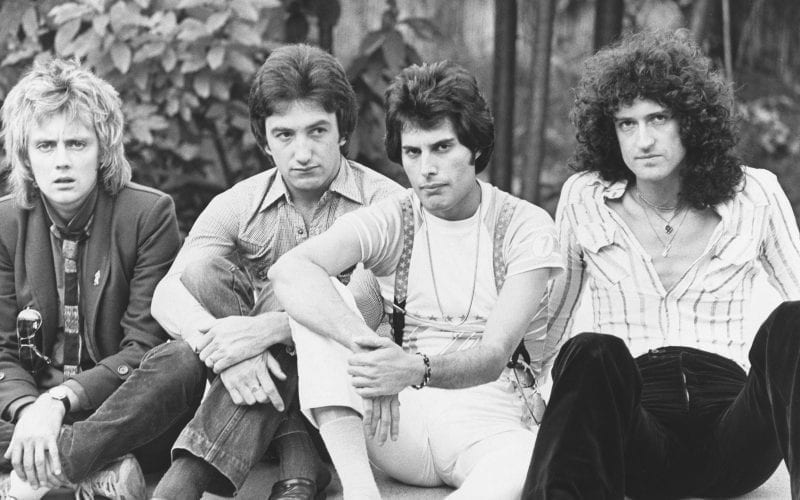 June 27, 1994 – Aerosmith become the first major band to release a song, "Head First" (an unused cut from the Get A Grip Sessions), as a free download on the internet. Download speeds at the time were so slow it took between 60 and 90 minutes to download the track, but ten thousand CompuServe subscribers still made the effort to get the song.
June 27, 1970 – Queen play their first gig at Truro City Hall in Cornwall, England. They were still billed as Smile, Brian May and Roger Taylor's previous band.
Original Names of Famous Classic Rock Bands
June 27, 2006 – Axl Rose is arrested in Stockholm, Sweden after allegedly biting a security guard in the leg outside his hotel. He was deemed too intoxicated to be questioned right away and held overnight. He later admitted to the charges and agreed to pay a fine of $5,500. He was also ordered to pay $1,360 in damages to the security guard.
June 27, 2009 – Eddie Van Halen weds his publicist Janie Liszewski at his estate in Studio City, California. It's a family affair – Eddie's son Wolfgang serves as best man, his brother Alex officiates the ceremony, and ex-wife Valerie Bertinelli attends as a guest.
June 27, 1980  – John Bonham collapses onstage in Nuremberg, Germany during a Led Zeppelin concert and is rushed to the hospital.  Robert Plant claims it's because "he ate too many bananas before the show."  Just three short months later, he is dead after a night of heavy drinking.
10 Easiest Rock Love Songs to Learn on Guitar
Classic Rock Birthdays
June 27, 1925 – Doc Pomus (born Jerome Solon Felder), songwriter "Save The Last Dance For Me," "A Teenager in Love," "This Magic Moment" (d. 1991)
Classic Rock Remembrances
June 27, 2002 – John Entwistle dies in his hotel room at the Hard Rock Hotel and Casino in Las Vegas. He was 57. Entwistle, bassist with The Who, had gone to bed that night with a companion, who woke up at 10am to find him cold and unresponsive. The Las Vegas medical examiner determined that his death was due to a heart attack induced by an undetermined amount of cocaine. Entwistle was also an accomplished artist.
June 27, 2015 – Chris Squire, bass guitarist and co-founder of Yes, dies of leukemia in Phoenix, AZ. He was 67. Squire was the only member to appear on each of Yes' 21 studio albums, released from 1969 to 2014.
June 27, 2002 – Timothy White, the influential editor-in-chief of Billboard Magazine, dies of a heart attack. He was 50. White typically wore a bow tie, even to concerts.
June 27, 2016 – Bonny "Mack" Rice, musician and songwriter ("Mustang Sally"), dies of complications of Alzheimer's disease at his home in Detroit. He was 82. He also wrote "Respect Yourself" with Luther Ingram.
June 27, 2020 – Pete Carr (born Jesse Willard Carr), lead guitarist of the Muscle Shoals Rhythm Section, dies in Florence, Alabama.  He was 70. Carr played with everyone from Duane and Gregg Allman to Paul Simon, Rod Stewart and Bob Seger. Carr was also a producer and engineer, working on Paul Simon's There Goes Rhymin' Simon and Against the Wind and Stranger in Town by Bob Seger.