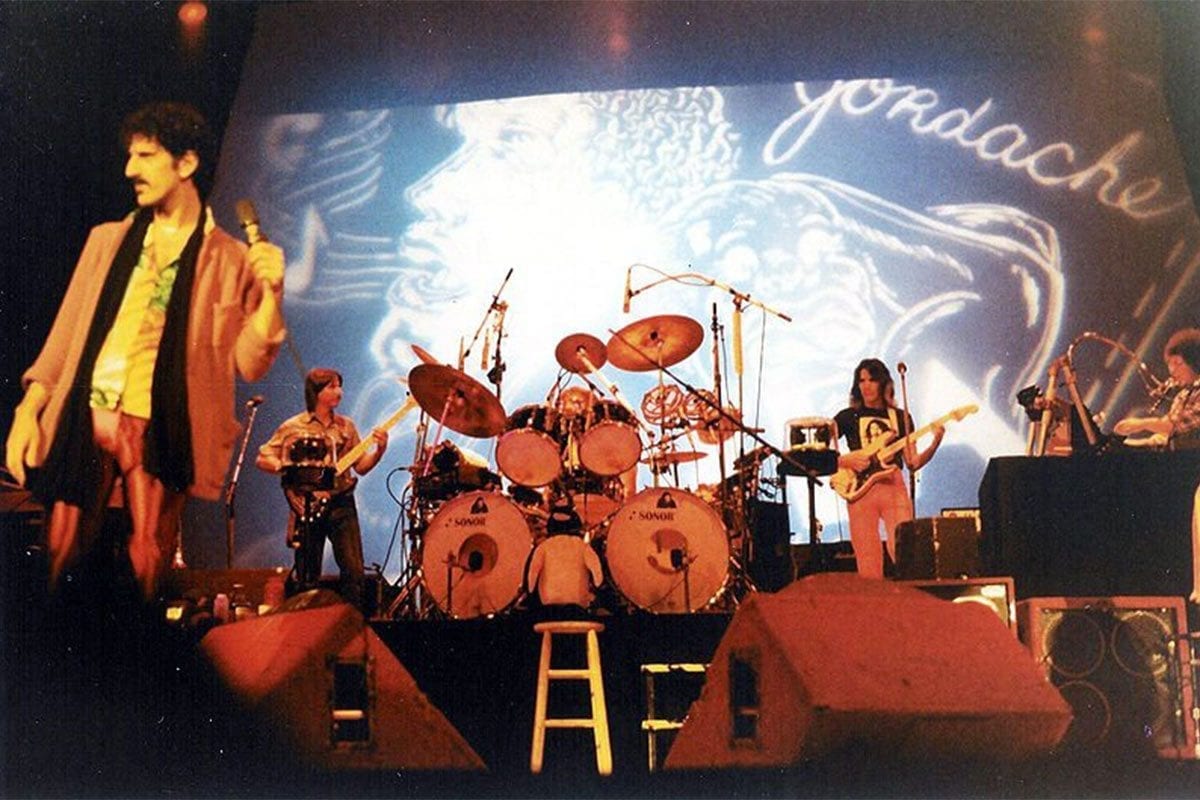 June 6, 1981 – The first issue of heavy metal magazine Kerrang is published as a special pull-out by UK weekly music paper Sounds. AC/DC is on the front cover and there are features on Motörhead, Girlschool and Saxon.
June 6, 2004 – Metallica play a rare gig at the Download Festival in England's Donington Park without drummer Lars Ulrich, who is sidelined with an "undisclosed illness." Slayer drummer Dave Lombardo opens the show by playing on "Battery" and "The Four Horsemen," followed by Slipknot's Joey Jordison playing the rest of the set apart from "Fade to Black" which is played by Metallica's drum technician, Flemming Larsen. Later, Ulrich blames his non-appearance on exhaustion, caused by an unrelenting tour schedule and the break-up of his seven-year marriage to Skylar Satenstein. He says, "About halfway over to Midlands Airport (in England)… I don't know what the f**k happened, but all of a sudden I just f**king lost it. It was pretty f**king scary to be in a little f**king metal tube at 41,000 feet. I've never had anxiety attacks of any kind ever."
June 6, 1993 – The play based on The Who's rock opera Tommy wins five statues at the 47th Tony Awards in New York City.
June 6, 1971 – The Ed Sullivan Show airs its final show (which is a repeat), concluding with guests Jerry Vale and Gladys Knight & the Pips after 23 years on the air.
Classic Rock Birthdays
June 6, 1960 – Steve Vai, guitar (Frank Zappa, David Lee Roth, Whitesnake, G3)
June 6, 1961 – Tom Araya (born Tomás Enrique Araya Díaz), vocals, bass (Slayer)
June 6, 1970 – James "Munky" Shaffer, guitar, vocals (Korn)
June 6, 1939 – Gary U.S. Bonds (born Gary Levone Anderson), vocals
Rock Remembrances
June 6, 2002 – Robbin Crosby dies of an accidental heroin overdose. He was 42. Crosby was the co-founder and guitarist in Ratt, and co-wrote many of their biggest hits, including "Round and Round," "Wanted Man," and "Lay It Down" among many others. At some point, Crosby contracted AIDS and suffered many complications due to the disease, including a pancreatic condition that altered his metabolism. He weighed 400 pounds at the time of his death.
June 6, 1996 – Billy Preston, the Grammy-winning keyboard player, dies of kidney failure in Scottsdale, AZ. He was 59. Preston was the only non-Beatle credited on any of the Fab Four's records – the group's #1 hit "Get Back" was billed as "The Beatles with Billy Preston." His solo singles include "Will It Go Round in Circles," "Nothing From Nothing" and "You Are So Beautiful." In the 70s, he toured and recorded consistently with the Rolling Stones. Deeply religious, he did not publicly come out as gay until just prior to his death. He had several legal problems at the end of his life including charges of sexual assault for abusing a 16-year-old boy, and a conviction of insurance fraud for setting fire to his own home in Los Angeles.
June 6, 2003 – Dave Rowberry, keyboard player with The Animals, dies of an ulcer hemorrhage. He was 62. Rowberry played on many of the group's big hits, including "We Gotta Get Out of This Place," "It's My Life," "Don't Bring Me Down," and "C. C. Rider." He also arranged many of the songs, and sang backup vocals.
June 6, 1966 – Roy Orbison's first wife, Claudette, is killed while riding a motorcycle with Orbison in Gallatin, Tennessee. She was 25. The two had divorced and remarried and had three young boys. Two years later, while away on tour, he received news that his two eldest sons had died in a fire that burned down his house.