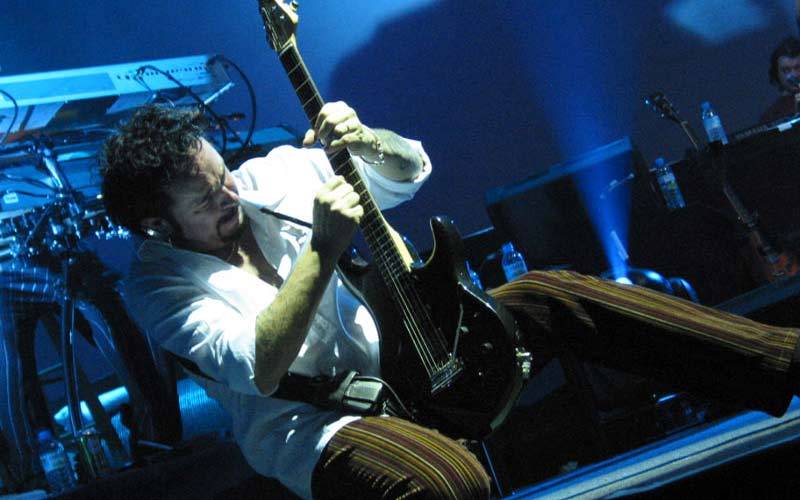 October 21, 1976 – Keith Moon plays his last show with The Who at the Maple Leaf Gardens in Toronto, Canada. It is the final date on the band's 1976 tour. Though Moon would perform with the Who in a couple of special performances filmed for use in the documentary, The Kids Are Alright, this would be his last official Who date.
October 21, 1998 – Alice Cooper files a lawsuit against Kiss claiming their song "Dreamin'" sounds too similar to his song "I'm Eighteen." The suit is settled out of court the next year for a figure allegedly in the low six figures.
10 Things You Might Not Know About Alice Cooper
October 21, 2011 – Paul Rodgers of Bad Company and Free is sworn in as a Canadian citizen in Surrey, BC. Rodgers says, "It may not be my native land but Canada is surely now my home. While I'll always be an Englishman, Canada has given me so much for which I am grateful. My wife, your former Miss Canada Cynthia Kereluk, a new and extended family and the chance to be truly free in a country that with its quiet strength combines the best of so many worlds. I'm proud to be a Canuck. Thank you, Merci."
October 21, 2007 – Kid Rock (born Robert James Ritchie) is arrested on charges of misdemeanor battery after he and his entourage allegedly beat up a man at a Waffle House in Atlanta. He is released after posting $1,000 bail.
October 21, 1995 – Green Day singer Billie Joe Armstrong is arrested and fined $141 after mooning the audience during a gig in Milwaukee.
Top 20 Best Rock Albums of the '90s
October 21, 1977 – Meat Loaf releases his debut album, Bat Out Of Hell, which becomes one of the best-selling albums in history, racking up sales of 43 million worldwide. Written by Jim Steinman and produced by Todd Rundgren, the album features a slew of guest artists, including several from Springsteen's E Street Band and Rundgren's Utopia. Legendary Yankee shortstop and play-by-play announcer Phil "Scooter" Rizzuto is the sports commentator on "Paradise by the Dashboard Light."
Classic Rock Birthdays
October 21, 1957 – Steve Lukather, guitar, vocals (Toto)
October 21, 1940 – Manfred Mann (born Manfred Sepse Lubowitz), keyboards (Manfred Mann)
October 21, 1941 – Steve Cropper, guitar (Booker T. and the M.G.'s)
October 21, 1942 – Elvin Bishop, vocals, guitar
October 21, 1946 – Lee Loughnane, trumpet (Chicago)
October 21, 1968 – Jon Carin, keyboards, programmer (Pink Floyd, The Who)
October 21, 1953 – Charlotte Caffey, guitar, keyboards (The Go- Go's)
October 21, 1952 – Brent Mydland, keyboards, vocals (The Grateful Dead) (d. 1990)
October 21, 1948 – John "Rabbit" Bundrick, keyboards (The Who, Free)
October 21, 1946 – Tetsu Yamauchi, bass (Free, Faces)
October 21, 1946 – Lux Interior (born Erick Lee Purkhiser), vocals (The Cramps) (d. 2009)
October 21, 1953 – Eric Faulkner (born Eric Falconer), vocals (Bay City Rollers)
October 21, 1917 – Dizzy Gillespie (born John Birks Gillespie) jazz trumpeter (d. 1993)
10 Rock Albums You Need to Hear from Beginning to End
Rock Remembrances
October 21, 2006 – Sandy West of The Runaways dies of lung cancer. She was 47. West was a founding member of the all-girl group The Runaways and lauded by critics as one of the most groundbreaking drummers in rock and roll history. Sadly, she said that manager Kim Fowley never paid the band much financially and she had to work at many odd jobs after The Runaways disbanded to support herself. She mainly worked in construction, but was also a bartender and a veterinary assistant. She had numerous stints in jail due to criminal activity. A lifelong smoker, her lung cancer eventually moved into her brain prior to her death.
October 21, 1995 – Shannon Hoon (born Richard Shannon Hoon) dies of a cocaine overdose. He was 28. Hoon was the charismatic lead singer of Blind Melon who struggled with drug addiction after becoming a star. He was introduced to Axl Rose by his sister and became good friends with him, singing on both Use Your Illusion I and Use Your Illusion II.