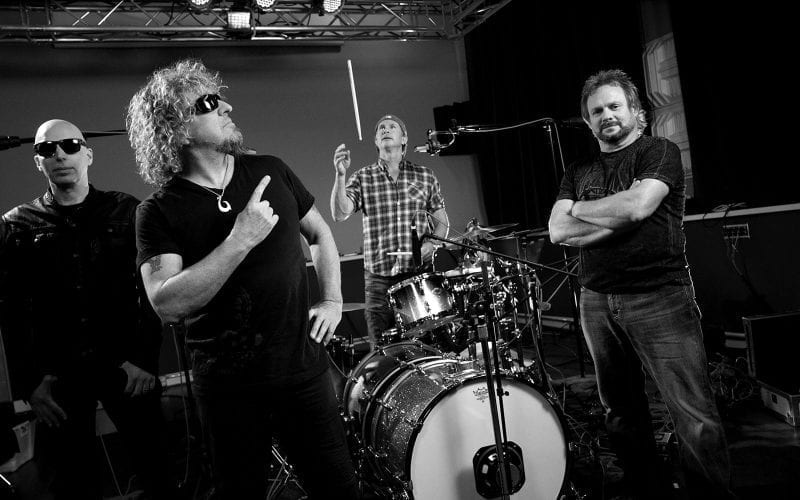 DO YOU WANT TO ROCK!!!  DO YOU WANT TO ROCK LIKE ROCK WAS MEANT TO BE!!!  DO YOU WANT TO ROCK LIKE AC/DC, VAN HALEN, DEEP PURPLE, THE WHO, JUDAS PRIEST, AEROSMITH, ETC., ETC., ETC.!!  DO YOU WANT TO HEAR BIG ASS DRUM SOUNDS LIKE FROM THE 80'S!!  DO YOU WANT TO HEAR BASS LINES THAT WILL RATTLE YOUR PRIVATE PARTS!!  DO YOU WANT TO HEAR THE LOUDEST, MOST BLISTERING, OUTRAGEOUSLY SHREDDING GUITAR ON THE PLANET!!  DO YOU WANT TO HEAR ROCK VOCALS THAT WILL SHEAR YOUR HAIR OFF!!!!!!!!!
THEN YOU WANT CHICKENFOOT!!!!!!!!!!!
Sound like I'm wound???!!!!  Damn straight I am!!  That's cuz I just had a double espresso, cranked up Chickenfoot's new Best + Live album to eleven, listened all the way through, and then listened to their live rendition of "Highway Star" five times in row!!  DAMN!!!!!!!!!!!   This sh*t's HOT!!!
First off, I need to get this out of the way.  I've always felt that the name Chickenfoot hasn't served this group of great musicians as well as it might have.  Sammy Hagar tells the story of his struggling back in the day and on the way to audition a bass player when he passed by a bar that was going out of business.  They were literally boarding up the place and he talked the bar owner into staying open for a week or two more–told him if he did that their band would play for free and pack the place for him.  The bar owner asked if they had a name and Sammy looked down at his arm and saw a small tattoo of a chicken foot.  He didn't even have the band together yet, but he looked up and said, "Yeah, our name is 'Chickenfoot'!"
That was back in 1970, so I guess that name stuck with him when he put this bunch of guys together.  Michael Anthony is on record as saying at first they used the name as a working title in a joking kind of way, then thought it would be funny to really call themselves that.  Either way, or both, it doesn't seem too much thought went into this moniker.
Although the 'Foot has sold gold albums and done successful tours, I've always felt they should have been bigger, more commercially successful, and lasted much longer.  I really don't know all the ins-and-outs about why that didn't happen, but I always thought that this super group of rock musicians, Chad Smith (Red Hot Chili Peppers), Michael Anthony (Van Halen), Joe Satriani, and Sammy Hagar, the "Red Rocker" himself, gelled in an extra special way and had all the ingredients of becoming massively huge.  Not that a name means all that much really, but when you are trying to build something new and get the word out, the name Chickenfoot might have sent the immediate message that this is a funk, chicken-scratch, bluesy kind of outfit.  Nothing could be farther from the truth.  When I listen to them I think of much larger than life titles, like Guns and Roses, or Metallica—that sort of thing.  A band this good deserves a regal title.  At any rate, that's just my 2 cents.
The bigger point is, these guys do it all–hard rock, rock-fusion, and they even have a softer, traditional hit single melodic side as witnessed by the song "Different Devil."  But it's the rock that just blows me away.  Rock is an art form that when done correctly, just makes you go crazy inside, makes you want to jump up and down, pump your fist in the air—all that great stuff.  It's a tremendous emotional release.  Rock cannot be confined, part of it has to lose control and make us lose control–it just has to explode, which is why we love it so much.  Chickenfoot brings that kind of rock in a traditional way that we are accustomed to hearing.  The band has a very huge sound with musicianship that is stellar and incredibly tight, and the vocals of Sammy and Michael Anthony just shimmer.
I think the new package being offered is really top notch because the band is offering a for-real "best of," and track for track it's solid through and through with no filler.  The fact that it's called BEST + LIVE is kind of funny in way because some of their all time best stuff is live!
Bottom line, you can get this 2-CD set, put it into your player, crank it up, and not have to switch around looking for best tracks—they all smoke!
I have my favorite Chickenfoot originals, like "Soap On A Rope," "Oh Yeah" and "Future In The Past," and the brand new track "Devine Termination" stands up well with those, but when you have players like this who also have Deep Purple and other iconic rock bands running through their DNA in such a way as to bring a song like "Highway Star" to such a celebratory place—it's the kind of stuff that personifies what great rock is, and should be.
Watch the video and you will see a true super-group—meaning everyone in the band is just awesome, at the top of their game, and true rockers to the core.  It will give you THAT feeling, the one where you are just exploding inside.
OK, now imagine having this track on a CD mastered to the max, and cranking it up in your car, windows down, and blaring.  "Nobody gonna take my car…gonna break the speed of sound…Ohhh it's a killing machine…it's got everything…I love it, I need it, I bleed it…!"
You get it.
Now imagine a CD collection bringing this kind of high octane as a whole.  With Satriani shredding away, Chad pounding the drums, and vocals by Sammy and Michael reaching far past the decibels of even Steven Tyler, it will rock your socks off!
I also recommend the double espresso before listening.  😉
That's it for now.  Keep rockin' kids!
Rap~
© Paul Rappaport 2017