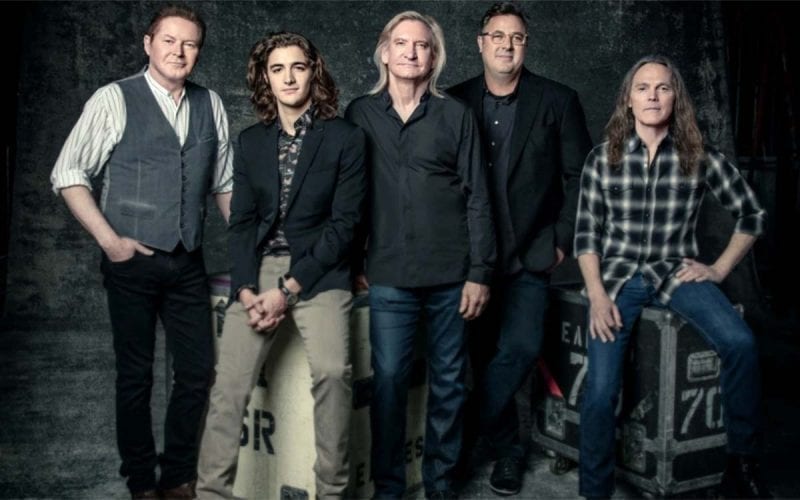 Everyone figured that after Glenn Frey passed that would be the end for the Eagles. Whether Don Henley just needed to be the Eagles again because of the joy, or for the money, it really doesn't matter—Eagles fans can rejoice as they are back performing live. Don Henley is a notorious obsessive perfectionist and that is evident in his choice of who will replace the irreplaceable Glenn Frey.
Glenn's son, Deacon Frey joining the band to sing some of this father's greatest songs is a nice touch to be sure, but the choice of Vince Gill to do a lot of the heavy lifting is a brilliant move. To some, an obvious first choice might have been someone from the rock world—perhaps a singer and player from one of the many talented Classic Rock bands still touring. But the fact that Henley took the country route not only speaks to band's roots and authenticity, fans will be blown away by Vince's voice and his utterly amazing guitar picking. I never thought I'd say this in a sentence, but the great Joe Walsh will really have to bring it to keep up.
Many of you rock fans may not be familiar with Vince. He's had a stellar career in the country world. He is a great songwriter, has a golden honey kind of voice, learned how to really pick from the great Chet Atkins, and just drips with charisma and talent. Back in the day he was touted by the fanzines as one of the most handsome men on the planet, sporting those now legendary hypnotic blue eyes, a great build, etc., etc. With all that talent and looks, he was also a scratch golfer! I was lucky to work with him on a television series I co-created called "A&E's Live By Request."
First off, I have to tell you that Vince Gill is one of the nicest people I've ever met in my life, period. I teased him a bit about having all that talent, and the looks, plus the great golf game. "Vince, it's really a pleasure to meet you, but I gotta tell you, having all that talent, sports ability, and charisma rolled up into one guy just isn't fair to the rest of us!" He laughed and just went on being his quiet southern homeboy self.
At the time of Live By Request, Vince was at the pinnacle of his career. Our show was a two hour, prime time, live television special where an artist performed in an intimate setting in front of a small studio audience and took phone calls from around the country. Fans would call in, get a chance to talk with the artist about anything they wanted and then request their favorite song. It was a very warm show that came across as a nice smile because the artist was able to eschew the big stage show with the larger than life "star" personality to really become intimate with the audience and fans and reveal their everyday true selves. Conversations could be about favorite restaurants they had in common, raising kids, a special performance the fan had seen, music or bands that both the artist and fan liked, etc., etc.—very real and down to earth stuff. Vince was perfect for this show because he is just so down to earth himself. In fact, when we took a lunch break I saw him standing in the line waiting for food in his overalls with all the Union workers. You couldn't even pick him out of the crowd as he looked just like everyone else. I went up to him and told him he didn't have to wait in line for food, that I would be happy to take care of him separately. He said that was okay, he was just fine where he was. Got his food, sat down right in the middle of the crew, and shot the sh*t with the guys—what a refreshing and wonderful thing to behold.
To add to Live By Request's entertainment value we would always have one or two guest celebrity callers. We wouldn't tell the artist about it, or who was calling because we found having it be a big surprise made for great television moments—it was a live show after all.
Being a guitar player myself, I thought it would be great to have the legendary Chet Atkins, who had also become a close friend of Vince's call in, and I set it up.
A lot goes into making a good television special. Talent aside, most importantly are the set and the lights because those are what will surround the artist for the entire show, and in two hours you have to create a lot of different interesting looks to keep the eye fresh and wanting more.
I had a lot of responsibility during each show and part of that was being in charge of the phone request room–stacking up the requested songs in an order that I thought would make for a great television show and would keep people's attention for two hours. As hectic as everything was at the start of a show I would always call home at the beginning and ask my wife Sharon how everything looked and sounded over the television set. Even though we had plenty of big monitors to look at in the production studio it's always good to know how the experience is for the fan watching at home. Sharon has a good eye and will tell you straight how things are or what tweaks might be helpful.
For Vince I thought we'd done an extra special job with a set—it really highlighted him and his big band, and the lights were created to showcase the same. Everything just seemed to pop and I wanted to make sure this was being conveyed to home television sets. I anxiously called home to find out, only to discover my wife (probably along with every other woman watching) completely hypnotized by Vince's voice and great looks. "Hey Sharon! So, how does it look??! How does it sound?!" "Oh Paul, he has such g-e-o-r-g-e-o-u-s eyes! That voice, and he's sooooooooo handsome!" "WHAT???!!! I don't care about his eyes, how does the set look, the lights, the camera angles???" She just swooned away and told me she had to go to watch the show and for me to please quit bothering her, as I was distracting her from her new discovered love—ha, ha. No help there.
On to the phone room and Chet Atkins calling in at the top of the hour. This was a clever ratings trick. If we could get the guest caller to call at five minutes before the top the hour, that phone call and subsequent requested performance by the artist would keep peoples' interest into the next hour and they wouldn't change the channel to start a new show.
Chet called right on time and I had a chance to chat with him while he waited to go live on the air. It was a thrill for me to talk with such a huge guitar legend. I told him how when I was a teenager wanting to buy my first electric guitar I walked into the local music shop (Downey California's, Downey Music) and the first thing I saw was a row of the most beautiful electric guitars I had ever seen—the Chet Atkins model Gretsch. Big, bold orange, with gold plated pick-ups, bridge, tailpiece, and whammy bar—just stunning. Of course I couldn't afford it and had to buy something much less expensive. He laughed a warm proud smile and said, "They are gorgeous instruments, aren't they? But you know Paul that happens to all of us guitar players. The day I went into buy my first electric guitar the exact same thing happened. I can't remember what the popular guitar of the day was but I just stared at it for the longest time, and thought, 'well maybe one day,' and bought what I could afford at the time." We had a real down to earth conversation—guitar player talk, and it meant so much to me.
I went on to tell Chet that he could certainly request whatever song he wished, but that at rehearsal I saw Vince do a song called "Oklahoma Borderline" which featured him doing an outstanding jaw dropping guitar solo that just smoked. Chet said (as any guitar player would), "That sounds like the one to me," and I told the phone gals to put him through to Vince, live on air.
As I said, we never told the artists about these surprise calls and this one was one of the greatest moments ever on Live By Request. Our host Mark McEwen first talked with Vince a bit about him being a "killer guitar player" and about the time he was once asked by Mark Knopfler to join Dire Straights. Then Mark looked down at the floor monitor told Vince that the next caller was 'Chet from Nashville.' In Vince's mind it could be any fan named Chet but you see him realize instantly who it is when he hears that familiar southern drawl of his mentor and close friend Chet Atkins. Vince is so blown away by Atkins calling that he turns away from the camera to hide the tears and takes his guitar off to give his friend full attention. They have a wonderful conversation and then Chet requests "Oklahoma Borderline."
Please enjoy this clip from the show and the performance. When it comes time for Vince's solo, he says, "I'm gonna try to pick it just like you taught me Chester." There wasn't a dry eye in the house and the standing ovation says it all. You will see one of the greatest guitar solos ever—watch out Joe Walsh.
So rejoice Eagles fans, what you will see in concert is extra special. I am sure you will all miss the great Glenn Frey, but I am also sure you will be more than satisfied when you see what Vince Gill brings to this wonderful band.
All the best to our CDJ family of readers!
Until next time,
Rap~
© Paul Rappaport 2017
The Eagles with Vince Gill performing "Take It to the Limit" at Classic West, Dodger Stadium, July 2017: