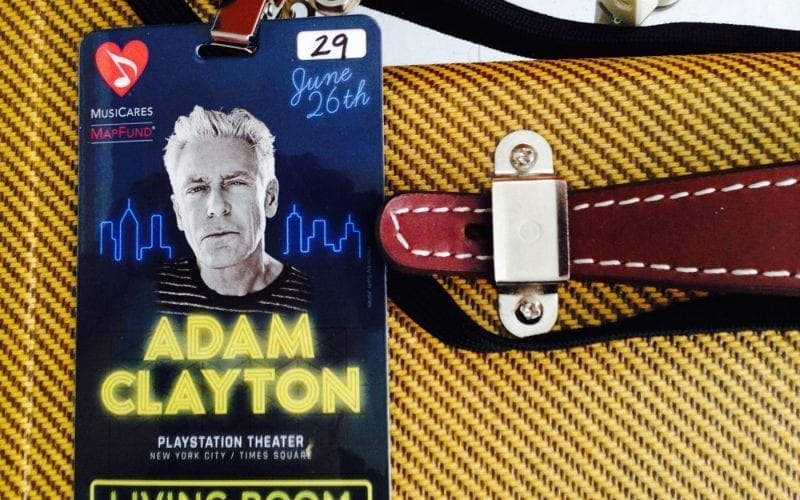 I just saw U2 play three songs in a small theater, without all the big amps, special effects, and big production, and they were still simply amazing!! When a band can totally captivate an audience in this kind of no frills environment—that's the true test, that's when you know how good they really are.
U2 capped off an evening that was the Recording Academy's 13th Annual MusiCares Foundation Benefit Concert at the PlayStation Theater in New York, honoring Adam Clayton, bassist for U2.
The MusiCares Foundation is an altruistic wing of the Recording Academy, the organization that gives us the Grammy Awards. Its mission is to support the literal health of the music community from offering emergency financial and legal assistance to funding medical expenses including those struggling with substance abuse, addiction recovery, and sober living. The foundation makes an incredible difference in people's lives and has given out $48 million dollars to over 16,000 individuals in its nearly three-decade history.
The evening began with a few guest artists invited by Adam to play, including the socially conscious singer-songwriter Michael Franti, great reggae singer Chronix, The Lumineers (currently opening for U2), multi instrumentalist Jack Garratt, and the incomparable Macy Gray. The host for the evening was Cat Deeley (from So You Think You Can Dance), and she was her usually bubbly fun self.
When Adam Clayton was introduced he gave a very down-to-earth and moving speech. First off, he said he felt awkward being alone on stage because he is not a front man and is used to having his band mates with him when he's in front of an audience. Then he cracked a great joke–he said this is kind of funny because it's "an award for not doing something" (in his case, drinking). He told about his life in the band and how he thought (mistakenly) that if you're in a band you're supposed to drink.
He went on to tell about how he became an alcoholic, felt incredibly alienated from the world, and thought he was reaching the end of his days. Just when everything was about to go black, he got a surprise call from Eric Clapton saying, "I know you think your life is over, but it's not. You are about to go on a journey that is going to give you a whole new and better life."
Clapton has been there himself, rock bottom, asking God for forgiveness and to please help him. His prayers were heard and now he supports his own clinic, Crossroads in Antigua. He checked Adam in and saved his life. While there Adam also got a call from Pete Townsend who had suffered a similar fate. Help from these two music icons who had once been as down and out as Adam, yet survived to live great and meaningful lives meant a lot to him and he credits garnering great strength from their support.
Then he melted hearts when thanking his band mates. He said that in U2 they have a pact, "no man is left behind, no one will be a casualty." This "one for all, all for one" bond is part of U2's legacy and admired by many. He went on to say, "I am unreservedly grateful for their friendship, and I am in awe of the extraordinary work we've done together, even beyond the music, with organizations like RED…" (and other socially conscious political and health organizations).
Adam was then joined on stage by the rest of the members of U2, Larry Mullen Jr., The Edge, and Bono. There had been a lot of equipment on stage throughout the evening (at one time I counted four complete drum sets!). So I was getting ready for the BIG U2 extravaganza! But no, The Edge came out with a white Fender Telecaster guitar and plugged right into a small Vox amp, Mullen took the center drum kit (which was sizable), Clayton plugged into a small bass amp, and they handed Bono a microphone with no special effects, just a little reverb. It was like watching a band at practice, except it was U2! Even though the overall sound was smaller and Bono's voice was untouched by any effect to help make him sound like, well, Bono, it didn't matter—they were awesome!!
Check out this fan video of "Vertigo":
Here is the very moving "Stuck In A Moment." The Edge is playing a small keyboard and towards the end he joins Bono on vocals. Again, no frills here, no auto-tune, just musicians who can really play and sing – what a concept!
And here is "I Will Follow"
All and all, a great and intimate evening–one with heart felt thanks, warm feelings, and an outstanding performance by one of the most important bands in rock.
Welcome to summer, and keep rockin'!
Rap~
© Paul Rappaport 2017