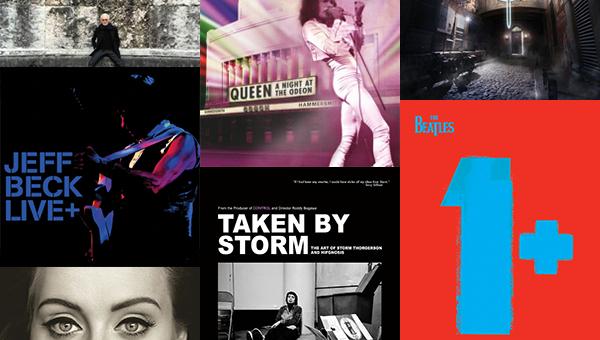 Hi Everyone,
It's Holiday time again and these are some of my favorite 2015 music CDs and DVDs that I recommend as great stocking stuffers, even to stick in your own stocking!  😉
These choices are in no particular order just music and videos that I feel are very special and worthy of your music collection.
1. Taste – What's Going On – Live At The Isle Of Wight Festival 1970
This is one of the most extraordinary music movie documentaries that I have ever seen.  I have always been a Rory Gallagher fan, and am familiar with his solo albums, but amazingly I never new about his first band, Taste.
For anyone out there who is a power trio fan, and especially a Cream fan, this is a must see and well worthy of your DVD collection.  You will witness, in my opinion, a performance that, yes, rivals Cream.  I know those are big words, and they would be fighting words for me, if it weren't so amazingly true.  These three incredible musicians will just blow you away!
The film is a story about a band just about to break huge, and as they are literally walking to the stage to play their biggest gig ever, one that could launch them to superstardom in front of thousands of people at The Isle OF Wight, they decide to break up!  All true.  Because of past gross misunderstandings fueled by a divisive manager the band can't see the forest through the trees and this is their last concert.
But, because it is their last concert, and they know it will be, the fury of this live performance will absolutely stun you.  This film footage has been a hidden treasure for years and finally has been released.  What is captured is timeless, and will inspire both young and old to pick up the bass, drums, or guitar and wail!
2. Van Halen – Tokyo Dome Live In Concert
When this album came out at the beginning of the year some fans decided that they were disappointed in the vocal performances of David Lee Roth.  Some of that bad medicine spread across social media until I was hearing from too many people the exact same campaign line.  It was frightening, almost like no one could think for themselves.  I witnessed one of the dangers of social media—sometimes a notion or bad opinion can spread like wildfire and it just becomes the party line and worse a bad rumor.  I even had a friend tell me on the way into the concert at Jones Beach that he almost didn't come because he'd heard…ya, ya, ya.
Well, I've been around rock all my life and I figure I know a few things myself.  And guess what?  You naysayers are wrong!  THIS LIVE ALBUM IS OFF THE HOOK!!
And Diamond Dave sounds f*cking fine!  In fact, he sounds better than fine—he sounds ROCK!  Mixed by award-winning producer Bob Clearmountain, put this in the CD player, crank it to 11, and it will set your hair on fire!  "Hot For Teacher" on this album (which is the only live Van Halen album that features Roth as front-man) is one of the all time live rock tracks ever recorded!  After the song you can hear Dave say "Wow, where do we go from there??!"  And as far as the live show—talk to anyone who went—absolutely ridiculous rock power and intensity by those killer musicians and Diamond Dave's moves rivaled Mick Jagger.  Most fun I've had at rock concert in a long time.  Quote of the evening from Roth:  "If Eddie is the guy that gets you into the building, then I'm the guy that sells you the bibles!"
3. Toto – XIV
Oh yes!  These guys cranked out another really great record!  Because they are all stellar studio musicians they know the difference, and in recent interviews they said because they hadn't made a record in such a long time that everyone brought their "A" game.  And, they did.
If you like the Toto sound and you want to hear some new, great, refreshing stuff, you will find yourself playing this one over and over again.  Check out the song "Running Out Of Time."  One listen and you'll be hooked.
4. Michael Des Barres – The Key To The Universe
This original glam rocker made an album that sounds like something that could have come from the 70's in style and sound (think Mott The Hoople or David Bowie), but somehow also modern and up-to-date sonically.  It's like the best of old tech meets new tech.  But no artificial flavor here—Des Barres is the real thing from back in the day.  You can't create that rock authentic soul—Des Barres just IS.  If you like authentic rock with no tricks or gimmicks you will really enjoy this.
5. The Beatles – 1 + Deluxe
If you are a Beatles fan, this truly is a must have for your collection.  The original 27 number one hits with companion videos (more like mini-movies).  Some you have seen, but many you have never seen, and all are restored with amazing clarity and brightness.  And the deluxe box carries an extra DVD with more unreleased movies and rarities.  The songs are all newly mixed and re-mastered by Grammy Award winner Giles Martin (yes, that would be Sir George's son) and they sound really great!
6. Jeff Beck – Live +
You might have read my former rave in a blog I did about this album earlier in the year.  This record has fan favorites built in like "Morning Dew," "Superstition," "Little Wing," "Going Down," and more, but the absolute piece de resistance is Beck's version of John McLaughlin Mahavishnu Orchestra's "You Know You Know."
This simply is one of the finest pieces of music I have ever heard.  You think you are supposed to be listening to an electric guitar, but all of a sudden you're not sure what instrument you are listening to—could be a keyboard or could be Wayne Shorter playing sax—these notes are definitely from outer space!
And the band is simply one of the best on the planet.  The bass player is Rhonda Smith, a legend in the making, and the drummer is Jonathan Joseph.  When I met Jeff at a recent party (in the south of France no less), he was very humble.  I was kind of gushing on him a bit since I'm a guitar guy, and he said, "Forget about me, how about that drummer!!!"
7. David Gilmour – Rattle That Lock
Well, if you know me at all, you can probably figure out that all of these music suggestions for sure are in no particular order because David's new album could easily be my number one fave.
Here's the best thing about Rattle That Lock.  David didn't try to remake any particular older sound or relive past Floydian travels.  Instead, it's all brand new.  He still has his signature guitar sound and style of course, but he's gone to an even higher level in music.  It's like when Monet all of a sudden decided to paint water lilies.  You thought the guy was great before, but now you're thinking genius.
This album is so refreshing because of how varied the song styles are.  There is even a straight out jazz track.  The bulk of the lyrics are by novelist/lyricist Polly Samson and they are her best work yet.  It's a must for all Pink Floyd fans, but beyond that, it's a beautiful piece that played from beginning to end will bring anyone who loves great music a tremendous smile.  Of course, if you are a guitar guy—it's a must have.
8. AndersonPonty Band – Better Late Than Never
Talk about some really gorgeous music and two musicians who were destined to work together—wow, this is really something special.  It turns out that Jon Anderson and Jean-Luc Ponty met years ago and felt that one day they should really do a project together.  At that time their music took them in different directions with different bands for years but they finally got here together, hence the title.
This CD and DVD package showcases rearrangements of classic YES hits like "Owner Of A Lonely Heart," "Roundabout," and "Wonderous Stories," as well as some of Jean-Luc Ponty's beloved compositions with Jon's lyrical vocals and melodies enhancing the music and creating a very special unique sound.  The DVD features some really beautiful performances by the band from a recent show at the Wheeler Opera House in Aspen, Colorado.
I had the pleasure of meeting and working with the guys, and they both were so nice and so caring about others as well—two very special souls.  I saw the show in New York and it blew me away.  If they tour your way, this is an experience you won't want to miss—it's a fabulous band loaded with superstar musicians and the music will sweep you into another plane.
9. Queen – A Night At The Odeon – Hammersmith 1975
This concert is from a famous Christmas Eve show that was aired live over BBC TV just as "Bohemian Rhapsody" was breaking big in England.  It is Queen performing at a peak moment in their career and the band is firing on all cylinders–they sound awesome!  There's even a killer drum solo in there by Roger Taylor.  This popular performance has been bootlegged for years, and now, being released officially, the quality of the recording is finally really great.  As you know, that often doesn't happen from something this far back, but someone was paying attention to its restoration into the digital realm because this show sounds big, warm, full, loud, and a blast to listen to.
One of my favorite parts is just hearing Freddie's voice again talking to the audience—really very sweet.  Man, I miss that guy.  And Brian May continues to mystify me—he is playing all of those incredible guitar parts LIVE!!
10. Taken by Storm (Documentary)
A DVD documentary of the late Storm Thorgerson, album cover designer who most likely designed half your record collection! He is most famous for his images, album cover art, and movie-making for Pink Floyd.
This movie is quite personal to me because Storm was a good friend of mine and I miss him dearly.
It's an extraordinary film about an extraordinary character who's mind…well, you know the Led Zeppelin Houses Of The Holy album cover with the kids crawling up the rocks?   That's not computer generated, those are real actors in costumes on a real rock formation.  You know Pink Floyd's cover for A Momentary Lapse Of Reason?  That's not CGI either, that is 700 real beds on a beach!  And, guess what?  The first day of shooting it rained and they had to take all 700 beds off the beach and put them back on the next day.  Do you remember the album cover for Animals where they took a picture of the floating pig between two giant power station chimneys?  The story of the pig escaping its moorings and flying into London airspace amidst all the 747s is legendary.  Do you remember Pink Floyd's live Pulse album with the little blinking red light (which blinks to the beat of a human heart, by the way)?  Storm again.  I remember walking into the Tower Records store in London when the album was released and saw a giant rack of hundreds of red blinking lights—it was the only "alive" record in the store, the rest of the stock which would normally excite you looked dead by comparison.  Genius.
And of course you are quite familiar with the most iconic album cover of all time, Pink Floyd's The Dark Side Of The Moon.
Believe it or not, that's just the very tip of the iceberg.
When you watch this movie you will not only see the iconic images of some of the best known album covers of all time from bands like Pink Floyd, Led Zeppelin, Genesis, Peter Gabriel, Black Sabbath, Steve Miller, Paul McCartney and Wings, and so many more–you will hear the stories behind those covers from the artists, and from the man himself.  You will meet and really get to know Storm–a pretty amazing fellow, quite eccentric, very funny, and insanely talented.  The story of how Storm and his partner Aubrey (Po) Powell started the famed design company Hipgnosis is a warm and fuzzy human interest story that will put a big smile on your face and make you laugh out loud.
The movie features interviews with Robert Plant, David Gilmour, Peter Gabriel, and Steve Miller, just to name a few of the recording artists, and illustrators, photographers, graphic designers, and even yours truly has an appearance recalling the Pink Floyd airship with archival footage showing it flying in all its glory.
This DVD can be obtained through the director Roddy Bogawa at www.takenbystormfilm.com.
11. Adele – 25
Adele is obviously not classic rock, but I can't help suggesting her music to you because I believe she crosses all genres of music and appeals to all age groups—she is a true phenomenon.
I watched the recent NBC TV special and it put such a big smile on my face.  Just when I thought most all was lost in a music business where marketing now seems to come before art, and the talk of the Grammy's in the last few years has been who's had the best production number and who had the most dancers on stage, etc.–along comes Adele–a savior for the authentic, of putting the accent back on the music.
Thousands of people were enraptured by a beautiful soulful voice and the stories (songs) told with that voice.  It was a celebration of pure audio, very little extra visuals needed.   Even though the band was large and the orchestral instruments many, it was all kept in the background just as a canvas for Adele to sing over.  There were no super huge productions that overpowered any one song—simply Adele, and she was powerful and she was exquisite.
If that wasn't enough her demeanor onstage was so refreshingly real and so wonderfully vulnerable.  The way she spoke to the audience, which translated with ease to us the home viewers, made us all feel a great shared human experience.  She doesn't sing at her audience, she is very clear that the audience is her family and even though she's the one doing the singing that all of us together being with her in the moment of re-living those stories of life is what makes the magic happen.
There are a lot of great songs on 25 but I would also urge you to go back and experience her other albums as well.  There is so much great music and story there.
This is not to say that Adele is the only artist out there making authentic music, but having her as a beacon for others to aspire to can only help further the creation of more truly great art–music that will have more importance and add more meaning to our everyday lives.
———-
I hope this write up gives you some worthwhile help in selecting a few gifts and turns you on to some cool items you might like for yourself.
Judy, Brianne, and I really enjoy bringing you this website and our monthly newsletter and we wish you peace and all good things this Holiday season.
Best,
Rap~
© Paul Rappaport 2015