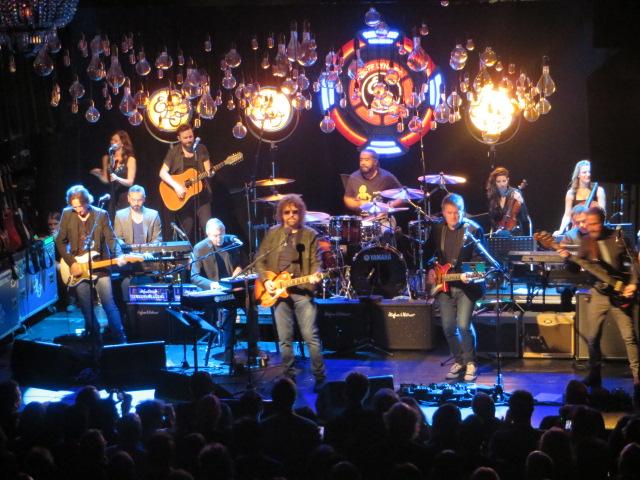 Some artists reform their bands and it turns out ok, and some reform their bands and it turns out pretty darn good.  Jeff Lynne has reformed ELO and it has turned out FANTASTIC!
One of the secrets is, not only is Jeff Lynne a wonderful producer, but he is also a musician extraordinaire.  Not only can be play all the instruments in the band–he plays all of them great!  So, on the new album, Alone In The Universe, Jeff produced and played all the instruments.  When you hear the new album, or even a track or two from it, think about that last sentence.  Here's the thing—I don't know anybody else on the planet that can do that, for real, and make a record sound as brilliant as Jeff Lynne.  He truly is extraordinary.  And oh, by the way, he's a fabulous songwriter and arranger as well.  It is for all those reasons that he has sold over 50 million albums worldwide!
I could go on and on, but all you need to do is click here and you will be magically transported to London's Radio Theater where Jeff played live over BBC Radio 2 last week.  I was lucky enough to attend the New York version of the show at Irving Plaza on Friday evening Nov. 20th.  WOW, WOW, and WOW!  3 keyboards, 3 guitars, cellos, violin, etc., etc., etc..  The music is huge–the harmonies are PERFECT.  This is a good lesson for any up-and-coming musicians out there who aspire to become professionals.  Learn your craft LIKE THIS, and you could really go places, and also last a while doing it.
Here are a couple of fun Jeff Lynne stories:
From 1973 until 1977, the Electric Light Orchestra released an album every year and toured the world.  With each successive album, the band got more popular and the stages got more elaborate.  In 1977 they made a double album called Out Of The Blue, which became their biggest success ever.  The album cover featured a huge spaceship and the band set out on a 9-month tour with an enormous set and hugely expensive space ship stage with fog machines and lasers.
As can be the case with a production this huge, the stage didn't always work with the desired precision.  Here is a quote from Jeff himself taken from a recent radio special produced by Dan Neer here in New York.  Dan asked if the spaceship stage had developed into a kind of nightmare.
"Not so much of a nightmare as a kind of a health hazard. Because, you know, we had these hydraulic lifts that used to, supposedly lift you onto the stage from underneath. And sometimes they didn't used to actually lift you anywhere. You'd just end up staying under the stage, or get stuck!  I remember one night one player was just stuck with his head barely sticking out above the stage. And it was so funny I couldn't play for the first five minutes or so.  And it never moved!  He was going "You bastards!" (laughs).
And here is how The Travelling Wilburys came to be.  To his utter amazement, what Jeff thought was George Harrison just tossing a daydream about and Jeff just going along with the idea in a "well, this could never happen" joking sort of way, quickly turned into reality!
"The Travelling Wilburys came about when I was working with George Harrison on his album Cloud Nine.  I was producing that.  After a couple months, we got to where we were really good pals because we'd been on holiday and everything before we even started recording.  One night, we were having a couple of drinks up in the studio and listening to the playbacks, and he said, "You know what? Me and you should have a group." And I thought, "Yeah. That's good. Why not? Smashing.  Who should we have in it?" And he said, "Bob Dylan."  And I went, "Oh yeah, of course. Bob Dylan, yeah." And then I said, "Can we have Roy Orbison?"  And he says, "Yeah, of course. Love Roy." And we both really liked Tom Petty so we said, "Tom Petty. Right?" And we phoned them all up. Well, George phoned them all up and they all joined immediately. (laughs) It was fantastic! On the phone they joined and they said, "Sure. Let's do it." And then the next thing we knew we were in little studio in LA, banging these tunes out.  We were writing them as we sat round a table, strumming chords. We'd shout like, "A minor" and then "F7" and just all these chords until we got a three or four-minute song, or the basis of one.  And then we'd have dinner and write the words to it while we were all eating and stuff. "Oh, what about, 'she came in behind the fridge' or whatever you know. And it would always work and we'd go and sing them after dinner.  One a day, we'd sing the whole song. Maybe some would take longer than others, but we'd always finished a song a day, so it was 10 days we recorded and we'd come back with 10 songs. And we took the tape back to George's and then added some more instruments to make it into more of a record, you know, like some lead guitar and some slide guitar, piano and stuff. Because they were all just acoustics when we wrote them. And so that's how it worked. And it was amazing!  And it came out and it was like just amazing the reception for it–really good!!
Some things are just meant to be.
Lastly, for all you Jeff Lynne ELO fans and for curious younger folks, Jeff is planning a tour for Spring 2016.  You won't want to miss it!
Keep rockin'!
Rap~
© Paul Rappaport 2015