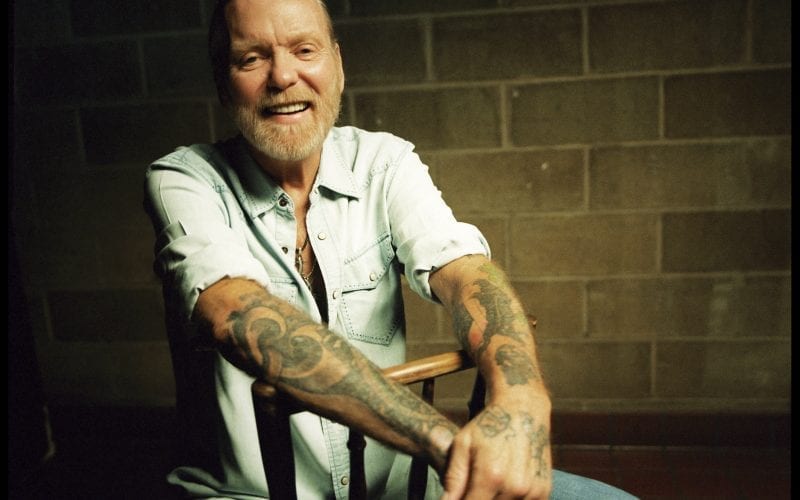 I recently received Gregg Allman's final studio album from Rounder/Concord entitled Southern Blood, which will officially release September 8th. I think it's one of the greatest albums Gregg has ever made, and moreover it is a very important work.
It is important, because Gregg made the album knowing his time on earth was measured and he clearly meant this recording to complete a circle of life, to try and capture his essence and also impart a message to his audience about the relationship he had (has) with us.
To say he was successful is an understatement – I haven't been moved by an album like this in years. When he is singing it's like his heart opened up for all to see – it's simply, 'hey, this is me.' And the playing on this album is truly inspired, not only Gregg's contributions but also by all of the other musicians that participated. Recorded at the legendary Fame Studios in Muscle Shoals the sounds of the instruments and the production are gorgeous. I cannot over emphasize this—the way the drums are tuned, the way they are miked, the sounds of the lead guitars, keyboards, bass, pedal steel, the mix, all perfect. This is a work of art folks.
Official Trailer for Gregg Allman 'Southern Blood'
There is also an accompanying DVD about the making of and you will learn a lot about Gregg and also about Duane and how the Allman Brothers band first began. You will see Rick Hall, the legendary producer and owner of the studio, responsible for the famous Muscle Shoals Sound. In fact, as a side bar, you must see the documentary Muscle Shoals—it's incredible.
Funny story about the DVD, at first I didn't realize there was one (it's listed in tiny letters on the back of the package). I was driving and at the same time struggling to get the audio CD out of the beautiful six panel eco-friendly package to load into my 2002 Ford Escape CD player. I realize this is semi-dangerous while you are driving and I don't recommend it, but having said that, I have gotten very good at doing so while still keeping my eyes on the road. Anyway, I pull the disc out and load it in—but it won't play. Admittedly, I am a very illogical person, so I keep pushing buttons and am trying to figure out why the hell this CD won't play—is it my changer? A new kind of CD technology perhaps??
I call the record company in Los Angeles. I speak to Darnell Gamble from Concord Records (a wonderful guy by the way). "Hey Darnell, I'm driving and I'm becoming very frustrated, I can't seem to get your new Gregg Allman CD to play in my changer! I'm freaking out and wondering if you guys may have a huge problem on your hands with some defective CDs – given that this is about to be shipped to retail, etc., etc.. Have you gotten any other complaints??" Darnell–"Hey Rap, you do know there is a DVD disc in there as well, right?? Is it possible you are trying to play the DVD disc in your CD player?" "Uhhhhhhhhh, no, and YES–I think I'm starting to feel really dumb Darnell, let me look, chances are you are one hundred percent correct. Yep!! Duh, how embarrassing."
I finally stop, look more thoroughly through the package and sure enough I find the audio CD. And, by the way, the DVD artwork is in red so you can't miss it! How dumb can you get? But I was driving after all, and so not looking that close. See, the moral is, don't drive and do this sh*t!
Anyway, I put the album on and from the very first opening notes I am completely mesmerized.
The first song, Gregg's original and autobiographical "My Only True Friend" (co-written with his excellent guitar player and music director Scott Sharrard), talks about the end coming and the only one true friend of the artist has been the road—where he's been the most happy playing music for everyone. Gregg sings "I hope you are haunted by the music of my soul when I'm gone, please don't fly away and find you a new love, I can't stand livin' this life alone." I get it—the artist can't exist by himself. He needs an audience who he communicates with to connect the loop, to make the magic happen. PS. The guitar parts and guitar solo by Sharrard in this are inspiring. And as long as we're talkin' guitars, the guy who plays the pedal steel on the album, Greg Leisz is just a joy to listen to—tasty, tasty, tasty.
Lyric Video "My Only True Friend"
In Tim Buckley and Larry Beckett's "Once I Was," it first appears that Gregg is singing about an ex-lover. But I think he's singing about the fans—a very moving piece.
There are all kinds of music on this album—heavy ballads that turn jazzy, country flavor, rock, blues, up-tempo, down tempo—all exquisite. There are lush background vocals by The McCrary singers, also by Stephanie Brown, and harmonies by Buddy Miller and Jackson Browne. And on top of it all there are great soulful horns. When was the last time you heard horns on an album?!!
One of my faves is Willy Dixon's funky blues "I Love The Life I Live." The catch phrase lyric being, "I live the life I love, and I love the life I live."
Gregg does Lowell George's "Willin'" which is great to hear, a killer version of Bob Dylan's "Going, Going, Gone," and when he does Jack Avery's "Blind Bats And Swamp Rats" you can really feel New Orleans and the swamp itself.
In the up-tempo southern rock "Love Like Kerosene" there is some great honky-tonk piano and whole track just smokes!
At the end of the album Gregg does Jackson Browne's "Song For Adam." In the liner notes, producer Don Was says this song always reminded Gregg of his brother Duane. "When he gets to the line 'still it seems that he stopped singing in the middle of his song' you can hear him choke up and falter. We decided to stop for the day, and Gregg never got the chance to actually sing those next two lines. Leaving them open seemed like a poignant and poetic way for him to make his exit."
Don continues, "The choice of songs for this record said everything that needed to be said. It's the musical last testament of one of the greatest artists of our time. Everything you need to know about Gregg and how he felt at the end of his life is contained in the lyrics to these songs and the raw and expressive approach he brings to these last performances."
I couldn't say it better myself and if you have ever been a Gregg Allman fan and/or a fan of the Allman Brothers, I cannot recommend this album highly enough. It's so beautiful it made me cry.
All the best to the Allman family. Sorry for your and all of our loss. I am sure we will all discover new musical loves along the way, but I'm just as sure that none of us will ever forget Gregg Allman and all the wonderful music he has given us over the years that continues to live in our hearts.
Rap~
© Paul Rappaport 2017