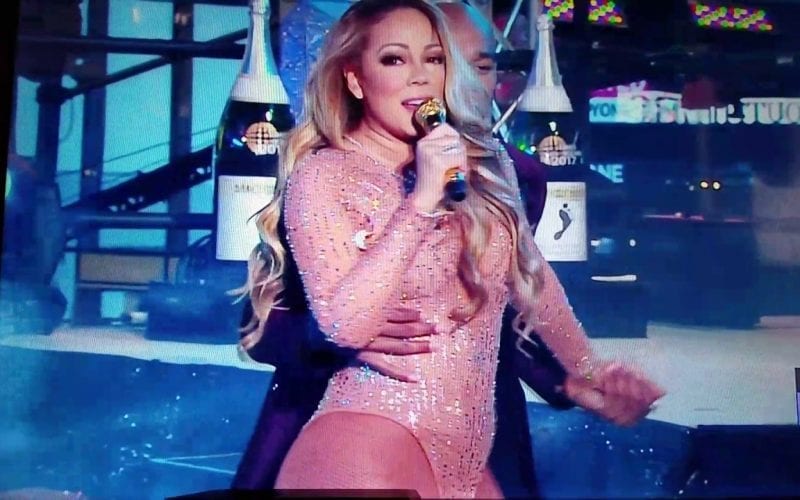 The Mariah Carey flap is important to note.  Not because it will do Mariah any great harm, but because it speaks to the level we have allowed ourselves to sink in regards to the enjoyment of live music entertainment, and especially on big television shows like, Dick Clark's New Years Rockin' Eve, The Grammy Awards and the Super Bowl.
(By the way, if you haven't seen it yet, check it out here and continue reading below.)
Because of many artists' desire these days to be "perfect" and also remain safe from any live performing anxiety during these kind of performances, pre-taped vocals and sometimes pre-taping of a whole band is now commonplace.  All mistakes and blemishes are "fixed" in the studio beforehand and so what we hear is, indeed, perfection while we watch the artist lip sync their song.
But what do we lose by gaining this clinical perfection?  I would argue the real human connection that has the possibility to live in our hearts and minds for quite a long time.
Think about it, how often have you seen a recent music performance on one of these big shows and then felt the need to text or call a friend about it?  Hardly ever I'll bet, unless there was some big wacked out production involved.  But then you find yourself talking about the production—the dancers, the sets, the lights, the "giant egg" or whatever.
The most recent live television performance that I have seen, which just riveted me was Adele live from Radio City.  She had hardly any visual production at all, she didn't need it—just her, the orchestra, and a mic—and she blew minds around the world.  Why?  Because she is so truly talented that we didn't need anything else to move us, all we needed was her voice, her songs, and her sincere personality.  Her performance was so impressive I remember saving the show on my DVR for a month or two, I still talk about it today–and that was back in December of 2015!
That is because there is a very big difference in a performance when an artist is totally performing live rather than singing in a studio for a track to be used later.
I discovered this through personal experience.
Years ago when I was working for Columbia Records I had developed a live radio series called The Columbia Records Radio Hour.  The idea was that on Sunday mornings singer/songwriters would come to the Sony Music Studios in New York City, bring whatever musician friends they wanted, and do an hour show for a small audience of about 200 people.  The show was also broadcast live as it was happening all across the country on over 150 radio stations.  Live performance on radio is pretty exciting because both the artist and listener are sharing a same moment in time.  We had a blast and enjoyed presenting performances like Bruce Cockburn with Rosanne Cash and Lou Reed, Shawn Colvin with Chris Whitley and Mary Chapin Carpenter, Boz Scaggs with Booker T. & the M. G.'s, Jeff Buckley, etc., etc., you get the idea.
The show became very popular and some artists who really wanted to be on just couldn't make a Sunday performance due to their tour schedules or whatnot, so we began to let them tape a show live on another day and then broadcast it on a Sunday.  This was the case when one brilliant young star of the day showed up and asked because we were taping could she perform a song or two over if she felt she needed to.  Of course we obliged–no need to mention her name here as I am just trying to make a point and not trying to throw stones at anyone.  She started off great but being a perfectionist to a fault, she began to abuse the power and ask for multiple takes of all the songs.  What I witnessed was that on each subsequent take, she got more and more into her head and began singing for the tape as if she was making a record, ignoring the audience.  The performances may have been more perfect but they were now sounding clinical, less exciting with less spark and live energy, and she was no longer relating to the audience who were understandably getting restless.  In the end the show sounded polished but just kind of dead.  There was little connection to the live audience, and hence little connection to the radio audience.
We taped a few more artists in the same way, and even though none asked for the same amount of multiple passes I began to see a huge difference in the approach of the artists when they were taping rather than performing live.  Knowing that they were playing for a tape and could always do it over, their performances lacked the intense drive and over-the-top energy they would have had if they were performing live, live where they had only one chance to get it right.  In their head they were performing for the tape and not the audience sitting in front of them.
When someone is about to perform live, even before they go on stage there is an understandably nervous energy that kicks in.  Adrenalin is high and the artist knows that they really have to "bring it," because they only have one shot at it.  Their minds go on overdrive to make sure as best they can that they remember to do everything they need to do to pull off a great performance.  This requires a kind of extra attention to detail on the fly, as it's all happening.  This kind of energy creates a built in excitement, and the crowd feels that, especially because the performance is aimed directly at them with the intent it be powerful enough to move them, to make them clap and cheer.  A real palpable connection takes place between the performer and the audience.
When one is just lip syncing they may prance around and use pointed gestures to accentuate a lyric or two, but the energy isn't the same—how could it be?  There's nothing to worry about, there is no breathing from the abdomen to be able to really belt out the song, and no living on the edge moments in the performance because everything is just being "phoned in."  Without a genuine attempt to sing to the audience the artist is left with only miming to the lyrics.
The most embarrassing thing for Mariah was that she couldn't hear the pre-recorded music track in her in-ear monitors to sing along with, so she stood there silent while we the audience heard the track playing all the way through which included her high vocal notes flown in that she apparently can't reach anymore and/or needs as a crutch to help her during those moments in the song.  To be exposed like that just made the truth too harsh to witness without wincing–ouch!
It reminded me of how disingenuous and fake so much of our live music, especially for the larger television events, can be.  For some pop acts the same can be said for their live performances in arenas, not to mention the countless studio tricks designed to enhance performances by some artists during their recording sessions because they just can't sing well enough to pull it off on their own.
Perhaps all of this is just another passing phase in the music industry.  I certainly hope so.  We need more Adeles who have the desire to be real and genuine, have the courage to go out there and let it all hang out with enough belief in themselves to thrill us and knock us out with a truly live performance.  And even if that performance has some imperfections, some human flaws, it will still connect with us in a true genuine way, and give us that warm feeling like we've all shared something special with the artist, and all at the same moment in time.  As an example there was a spot in Adele's performance where she confided in the audience by letting us know that during a particular moment in a song she might look a bit funny because she had to hold her breath for a big note—everyone laughed along with her about it–how innocent, sincere and charming it was.
This kind of intimate connection between artist and fan binds us closer together as human beings—it brings a knowing smile that we can all share and talk about with others further spreading that good feeling inside.
Such is the power of live performance when it is delivered truly and honestly.
Happy New Year to everyone, wishing you all good things, and some great music in 2017!
Rap~
© Paul Rappaport 2017