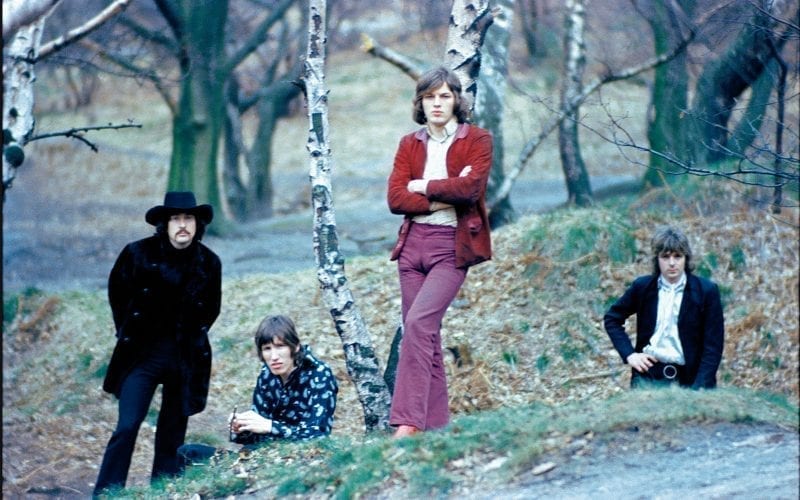 From time to time I hear music that is just so good or a project comes out that is just so special I feel compelled to turn you guys on to it and shout it out loud to the rest of the world.
Earlier this year that was the case with the Jeff Beck release, Loud Hailer. A really stunning work from Jeff mixing old and new sounds, terrific ground breaking guitar work, and teaming up with two very talented gals called "Bones" who helped write the music and also the very timely and meaningful lyrics.
Now I feel equally compelled to let you know, if you don't already, about the Pink Floyd extraordinary box set called The Early Years 1965—1972.
The first thing everyone is dauntingly blown away by when talking about Pink Floyd-The Early Years 1965–1972 is the price.  That is because it lists for something like $600.00.  I see that you can get it from Amazon for $481.00, but even so, the knee jerk reaction is, "Are you kidding me?!!"
However, once you open it up and see what's inside you realize that this magic box contains endless hours of entertainment and historical material that, if you are a Pink Floyd fan, you will cherish for life.  YES, it's that good, and believe it or not, it's worth e-v-e-r-y penny.
It's worth every penny because if you spread out all the viewing and listening over a long period of time, which you must, because it's just so big and there is just so much incredible stuff in there, I reckon you can easily derive months and months of entertainment from it, if not an entire year because the box offers the kind of material that you will really savor, revisit over and over again, and will want to share with friends.  If you begin to amortize the price over how many hours of sheer joy you will receive watching and listening to all that's offered you begin to see that this box set is truly something very special and indeed, worth the money.
We are talking 27 discs of combined CD, DVD, and Blu-ray audio and visual material along with historical explanation booklets, lots of original posters, news clippings, concert advertisements, and original 7 inch vinyl singles, in original sleeves, with original labels.
The box offers multiple hours of never-before-heard tracks, demos, outtakes, live BBC radio performances, television performances, rare concert footage, new surround-sound mixes, etc. etc., etc..  Not only do you get the original soundtracks to some of the movies the band created, you also get the entire feature films themselves!
So far, a couple of my favorite parts of this box are the movies of the band's early performances, at clubs like UFO with Syd Barrett, and also the early recording of songs like "Interstellar Overdrive" being recorded in the studio.  Most folks are familiar with the band's material post Syd, but here's a chance to really see and hear Syd and witness the influence he had in making Pink Floyd the band it became.  I also love the posters included and early concert advertisements—I have no idea who saved this stuff so that it could one day be reproduced.  I grew up in Southern California where some of our rock clubs are legendary.  One of those clubs was The Cheetah Club on a pier in Santa Monica.  I had no idea Pink Floyd ever played The Cheetah but low and behold I started going through all the incredible memorabilia, and there was the concert bill!
The reason I say "my favorite parts so far" is because this box set is so overwhelming, as I stated before, that it will take weeks or months for me to go through it all.  I know many are thinking how can that be?  The answer is because this may be the biggest and most in depth box set ever made in the history of the music business!
At this point I strongly urge you to check out the list on Wikipedia of everything in the box.  (Then come back for a little more "inside" information, and then you are free to go (ha, ha, ha). As you scroll down the list, I guarantee you will be flabbergasted. [Here's the link]
So, did you see all of that?!!!!  Nuts right?!
I know my raving about this box set sounds like a commercial, but I don't want it to.  My message is much bigger than that.  This is a complete historical documentary of one of the greatest groups of all time and they are letting you in behind the scenes to see and hear every part of their evolution and witness their part in the cultural revolution of the late 60's, early 70's.
Honestly I can't see how the band or the label is making any money from this endeavor—the cost of creating and re-creating all the posters, advertisements, new stereo and surround sound mixes, restoring all the old video footage, paying for the rights to include the TV and movies, re-creating the original vinyl singles in original die cut sleeves, with original labels, etc., etc. must be astronomical.
At any rate, as I say I feel it is well worth the money, but if the cost is just too steep, Pink Floyd have also made available a 2-CD set of audio highlights from the box called "Cre/ation" which is also really terrific.  In fact, you have a chance at winning it from us by entering our contest.
The only original member of Pink Floyd who has been in every configuration of the band, drummer Nick Mason, recently came to the U.S. do some interviews about the project.  I've known and worked with Nick and the rest of Pink Floyd since the early 70's when they came to Columbia Records and I've had a lot of fun with them throughout the years.  When he was here he told us a little known fact about the song "Arnold Layne."  While most of us Pink Floyd fans are very familiar with the song and know it as one of their early tunes to gain notoriety, I did not know that indeed, it was their very first single, and that gaining that notoriety took a second.  That is because "Arnold Layne" was based on a real person who was a cross-dresser and who used to steal bras and panties from clotheslines in Cambridge!  Although the song seems relatively harmless it was banned by the BBC, so Pink Floyd's first attempt at gaining some audience from radio backfired as no one heard the song.  Their second single, "See Emily Play" faired much better, became a top ten hit in England, and started the band's radio momentum.  They released both singles before the debut of their first album, "The Piper At The Gates Of Dawn."  The American version of that album had "See Emily Play" included on it as an extra track and it was the first song I ever heard from Pink Floyd that turned me on to the band along with other tracks like "Astronomy Domine" and "Interstellar Overdrive."
Below is a link to an interview with Nick Mason discussing the box with the folks from YouTube Space London, which you might like to see.   Below that is a pictorial spread of what's inside the box set, and also a picture of Nick and myself when we visited Q104.3 in New York for his interview on the morning show there.
It's been another great year at Classics Du Jour!  Hope you have had fun looking at and listening to all that we've had to offer and participating in our fan poles and many contests.
From Judy, Brianne, and myself Happy Holidays to you all!
Best,
Rap~