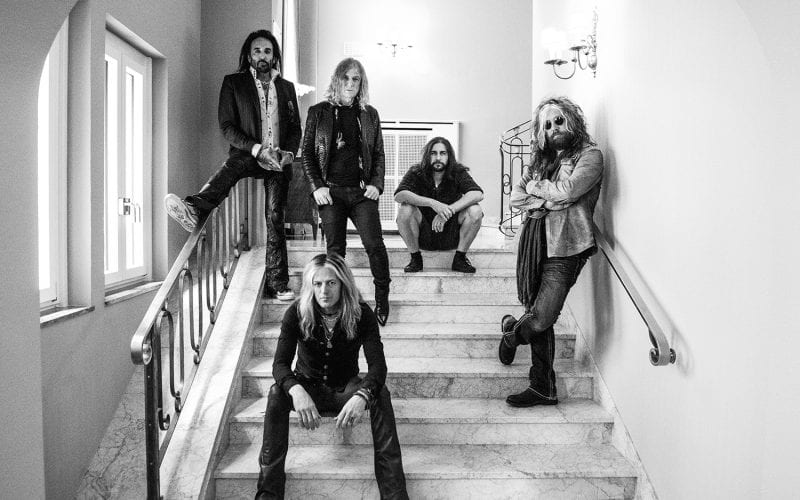 When I first heard the Dead Daisies' music I was immediately attracted to the band.  Their press release puts it aptly, "You need neither an instruction manual nor a university education to love the Dead Daisies' music.  Their songs unerringly hit their listeners' autonomic nervous system, immediately take root in their hearts and souls and force them to move along to the rhythm."
The reason this is true is because the Dead Daisies' songs are steeped in the Classic Rock genre of music.  The musicians who have been, and those that continue to be in this band, all have Classic Rock backgrounds.  Whether it is Charley Drayton (X-pensive Winos), Darryl Jones (The Rolling Stones), Marco Mendoza (Whitesnake/Thin Lizzy/Neal Schon), Dizzy Reed (Guns N' Roses), Slash (Slash/Guns N' Roses), John Corabi (Motley Crue), Brian Tichy (Ozzy Osbourne/Foreigner), David Lowy (Red Phoenix/Mink), and/or Doug Aldrich (Whitesnake/Dio), etc., etc., there is a common thread of musicality that most of us relate to because the riffs, melodies, and beats all come from familiar rock music of the past.
The fact that so many musicians have passed through this band makes the story even more intriguing, because no matter what changes the band has gone through, the music remains consistent and on a high level.  Moreover, the band just remains flat out fun to listen to.
And it seems like fun and good vibes are of the highest priority for the Dead Daisies.  On their new album "Make Some Noise" they have 10 original songs and also decided to cover two classics, the Who's "Join Together," and Creedence Clearwater Revival's "Fortunate Son."  I guarantee you that in every band discussion on the planet before making an album there is a discussion on whether to do a cover song or not.  Most every time the idea of doing a cover song gets voted down because the band is afraid it will seem like they couldn't write enough of their own material, or it may look unprofessional, lightweight, or lounge like.  But, not the Dead Daisies!  They not only covered one, but two songs!  Why??  BECAUSE IT'S FUN!!  I find this to be positively refreshing and a rebellious move in it's own way—"Hey, we don't give a sh*t–we're having fun and adding two cover songs we love to play.  Hope you like 'em as much as we do.  If not, f*ck off, here are 10 originals."  The move to put two cover songs on "Make Some Noise" reminds me of the Punk Movement a little bit.  Kind of like thumbing your nose at the rock establishment of what is thought to be the cool thing to do.  I love these guys!  They are inventing their own cool.  And as far as the originals go, all you have to do is listen to the riffs on the first track, "Long Way To Go," and you'll be hooked through "Song And A Prayer," "How Does It Feel," "All The Same," and more.
And, they are playing festivals in Europe!  What relatively new band plays in front of so many people?  One that sounds so good, even if the audience may not be familiar with most of their songs, it doesn't prevent them from really getting off on the music, enjoying the fun vibe, and having a good time.
Judy and I have always talked about being able to present some new music to our readers beyond the great Classic Rock offerings found on these pages.  Hence our giving time and space to the Dead Daisies.  They are definitely worth your time to check out and I'll bet you will really enjoy "Make Some Noise" if you choose to purchase it.
Other new 'ish bands you may want to check out include "The Rival Sons," "Monster Truck," "Red Sun Rising," and "The Pretty Reckless."
The holiday season is upon us.  Let us all be thankful that no matter what our political differences may be, we all still live in a great and blessed country and we still have the freedom to talk and discuss our feelings with each other and with friends of ours around the world.
Rock on,
Rap~
© Paul Rappaport 2016