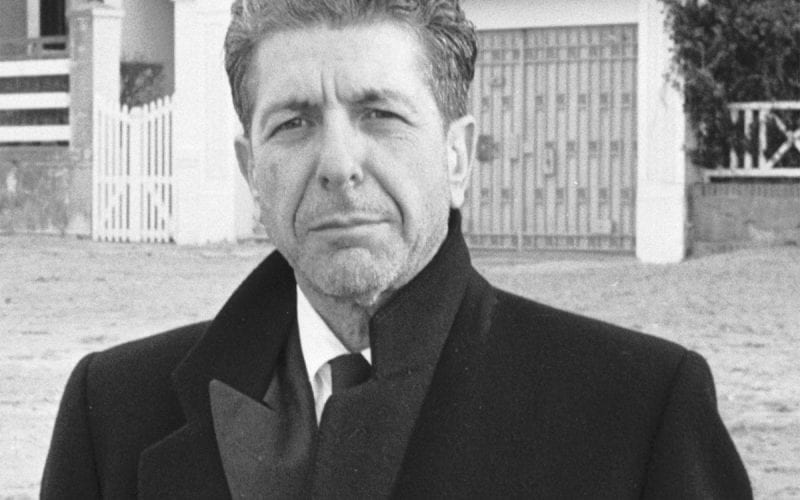 Losing Leonard Cohen is a big one. I had the honor and the pleasure of working with him at Columbia Records off and on for many years. I was so taken by his art that I used to carry a big blue book of poems he had written and every day I would just flip the pages at random and pick one to read.
Leonard was very deep to be sure, but every once in while you'd get a little smile out of him. In 1979 we took a small road trip to do some interviews at radio promoting his latest album Field Commander Cohen. I was calling him Field Commander and he seemed to get a kick out of that. On another occasion out of nowhere he seemed to confide in me for a moment. He looked at me and said, "You know, I have the worst luck with women. But, it makes for great songs!" And he gave me wink.
In the early 1990's my department developed a live radio series that ran for many years called The Columbia Records Radio Hour. It started as a singer songwriter show on Sunday mornings live from Sony Music Studios via satellite and aired on over 100 stations. We featured both new and established artists and put together many great collaborations. On occasion we'd be blessed to have someone like Bruce Springsteen or Leonard do the show. For artists of this caliber we'd often travel to a location where they were on tour or rehearsing for one. The Radio Hour aired live from 11:00AM to 12:00PM noon Eastern time. Leonard said he wanted to do the show at great recording studio in Los Angeles called The Complex. I said that would be great, but the radio audience expected the show to run at 11:00AM East Coast time and that would mean that he and his band would have to perform at 8:00AM in the morning! I'm thinking Leonard is a late night coffee house type guy, and he surprised the hell out of me when he said, "I'm a Buddhist, I get up every day at sunrise and chant, don't worry we'll be there and we'll be great." Sure enough, Leonard and a very big band with back up singers and the whole nine yards showed up at 7:00AM to get warmed up and prepare. Our small studio audience showed at 7:30 and we gave everyone bagels, orange juice an coffee. The show started exactly on time and that band and Leonard were on fire—you would have thought it was 8:00PM at the Bottom Line in New York City! What a pro!
You can hear two tracks from the show on The Best Of The Columbia Records Radio Hour Volume 1, and I know there are bootleg CDs and a bootleg vinyl album of that very special performance.
That reminds me of another good story that a friend who is an old Columbia colleague told me. Leonard had been working with a new artist, Anjani. He wanted to help as much as he could not only creatively but also promoting her. He took a meeting with the head of Starbucks at the time to see if he could get Anjani's album in their stores. So he goes down there all dressed up with a suit and tie, briefcase, etc.. and the head of Starbucks begins to tell Leonard what kind of music they like to have playing in their stores. The guy says, "You know, in our coffee houses…" Leonard stops him dead in his tracks, looks up and says, "What?? These aren't coffee houses!!" Ha, ha, ha. You gotta love it.
Lastly, I was once doing a radio special with Leonard and had a writer interview him for the show. The album Columbia Records was promoting at the time ended with a live track that was an out-take from a particular recording session. I thought it was actually pretty cool and was featured as a "bonus" track. So I'm listening back to this interview and Leonard is complaining about the fact the label had kind of talked him into adding this track to the album. "It's an 'out-take,' he said, "that means I consciously chose NOT to put it on an album…not up to my standard. So why do they think it's all-of-a sudden better now???"
What a fantastic and precious artist. Most of you probably know Leonard's music quite well. I urge you to pick up some of his poetry. Leonard was, and is a very deep and beautiful soul and you will be moved in magical ways by experiencing it.
© Paul Rappaport 2016