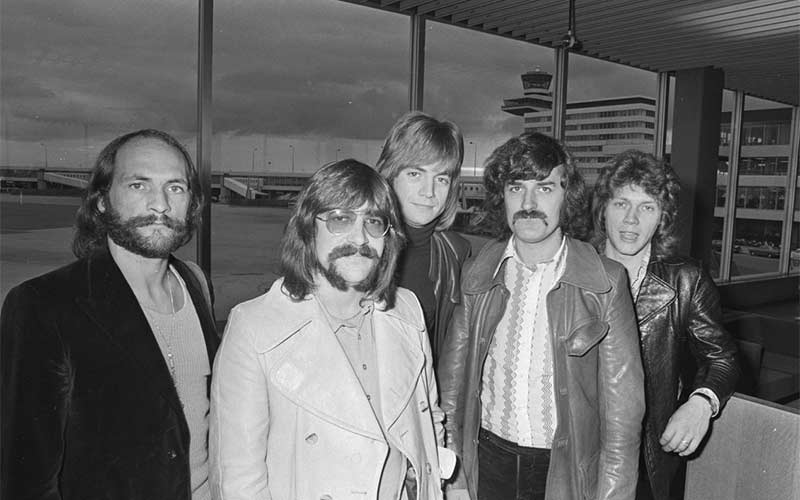 Moody Blues flautist, vocalist and founding member Ray Thomas died Thursday at the age of 76. News of his death was confirmed in a statement by Cherry Red Records and Esoteric Recordings.
"We are deeply shocked by his passing and will miss his warmth, humour and kindess. It was a privilege to have known and worked with him and our thoughts are with his family and his wife, Lee, at this sad time," reads the statement.
Thomas was diagnosed with prostate cancer in 2013. In 2014 he revealed that was in-operable and that he would be receiving treatment for the rest of his life.
Raymond Thomas was born in Worcestershire, England on December 29, 1941. In his 20s, he formed El Riot and the Rebels and was later joined by keyboardist Mike Pinder. While the band once opened for the Beatles, the group didn't last long. Thomas and Pinder went on to form Krew Cats in 1963 and finally teamed up with Denny Laine, Graeme Edge and Clint Warwich to form The Moody Blues.
The Moody Blues signed to Decca Records and released their debut album The Magnificent Moodies in 1965. The album yielded the band's first #1 hit in the U.K., "Go Now".
Over the course of their career, the Moody Blues were awarded 18 platinum albums and sold an estimated 70 million albums worldwide. Thomas also released two solo albums in his career.
Thomas will be inducted into the Rock and Roll Hall of Fame in 2018 as a member of the Moody Blues.
In the video below, Ray Thomas performs lead vocals on "For My Lady" with the Moody Blues, a song featured on the band's Seventh Sojourn.
The Moody Blues – "For My Lady" Live at Red Rocks