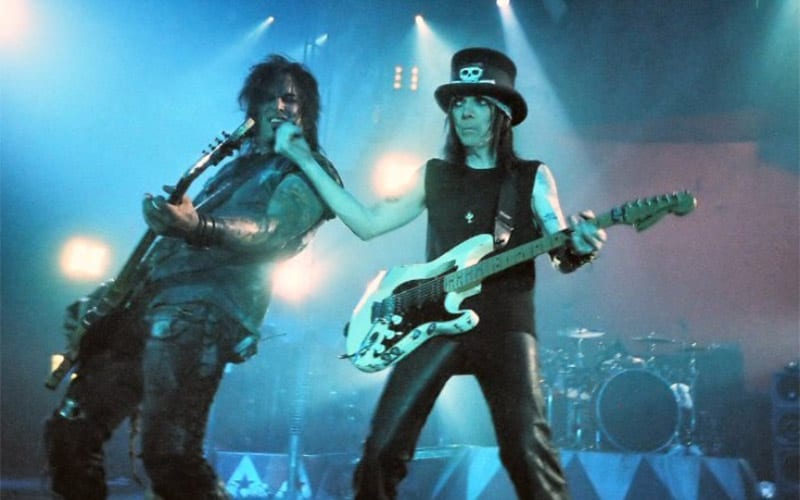 Mick Mars may be in the midst of planning a reunion tour with Mötley Crüe but, in spite of a suddenly busier schedule in 2020, the guitarist hasn't given up on his own projects. Last week Mars confirmed via tweet that his debut solo record will drop in April. Mars has been working on the album off and on for the last four years – since Mötley Crüe completed their so-called Final Tour in December 2015.
When a fan tweeted on November 25 that he hoped Mars' solo record was nearing completion, the Crue guitarist replied: "No one will ever stand in the way of my solo record. Ever. Watch for it in April . 2020."
In an interview with the Talking Metal podcast last March, Mars spoke of his solo project, "I've been working on this for years, trying to get it right. In my way of thinking, I didn't want to put out a record just to put out a record. It has to be right, for me," he explained. "People wanna hear my music, it needs to be right. I'm not just cutting corners to -like I said – put out a record to put out a record. I just can't do it. So it's taking me a while."
He also explained that his debut solo effort will not sound like anybody else. "Well, I guess it's my own style," he said. "It isn't really blues. My playing has a blues element to it, of course, but it isn't what you would call a blues record. It's more of a heavier rock thing, but I don't wanna even try to 'out heavy' the heavies, you know what I mean? It's just something hopefully just a little different than what's going on now. You're not gonna hear a Mötley-flavored song, except for the guitar, [because] that's me. They're gonna be a bit harder than that, but not as hard as the heavies, like MINISTRY and some of those guys."
And in an interview with Billboard in September he further discussed the musical direction of his solo material: "[It's] not like today's music, which to me is pretty much pop-metal and more growly guys. It's all cool and it's all good, and I'm just searching for something that's just a little different than that. I [also] don't want to be living in '85. It's hard to reinvent yourself, but that's what I'm doing now. I'm trying to reinvent the way that I approach music writing. I've got a lot of crap, and I've got a lot of good stuff too."
The forthcoming album is being recorded at Blackbird Studio in Nashville, with producer Michael Wagener, who is known for his work with Ozzy Osbourne, Accept, Warrant and Skid Row.
Last month Mötley Crüe announced that they have "blown up" their cessation of tour agreement and that they will be hitting the road in 2020 with Def Leppard and Poison. Though official details have yet to be confirmed, fans can expect an announcement of dates and locations on Wednesday, December 4, 2019. Mötley Crüe is also expected to also tour in 2021 for their 40th anniversary.