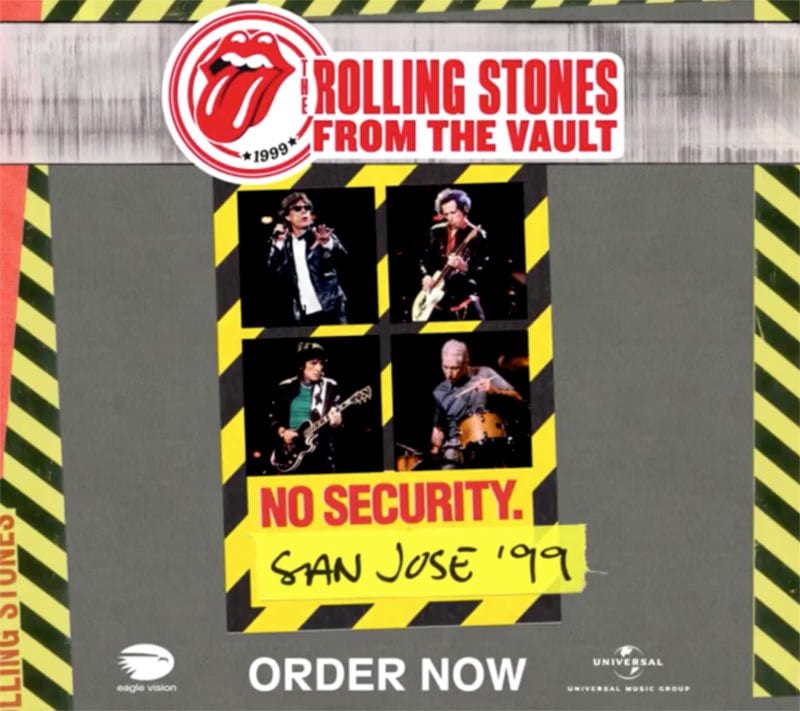 The Rolling Stones' No Security tour is documented in the latest installment of the band's From The Vault series. San Jose '99 is due out on July 13th on DVD, Blu-Ray, 2CD+DVD and 3-LP formats as well as digitally.
The trailer for the concert film, released Thursday, can be seen below.
Filmed at the San Jose Arena for a crowd of over 30,000 fans, the set list spans from the band's mid-sixties hit singles to the Bridges to Babylon album, including a bluesy, dramatic version of 'Midnight Rambler', a dark and swaggering 'Out of Control', and the rarely performed live, 'Some Girls' and 'Saint of Me'.
Previous releases in the From The Vault series include: Roundhay Park, Live in Leeds 1982, Sticky Fingers Live at the Fonda Theatre 2015, Hyde Park 1969 and Live at the Tokyo Dome 1990.
No Security San Jose '99 is available for pre-order now.
The Rolling Stones From the Vault – No Security San Jose '99 Track Listing
1. Jumpin' Jack Flash
2. Bitch
3. You Got Me Rocking
4. Respectable
5. Honky Tonk Women
6. I Got the Blues
7. Saint of Me
8. Some Girls
9. Paint It Black
10. You Got the Silver
11. Before They Make Me Run
12. Out of Control
13. Route 66
14. Get Off of My Cloud
15. Midnight Rambler
16. Tumbling Dice
17. It's Only Rock 'n' Roll (But I Like It)
18. Start Me Up
19. Brown Sugar
20. Sympathy for the Devil