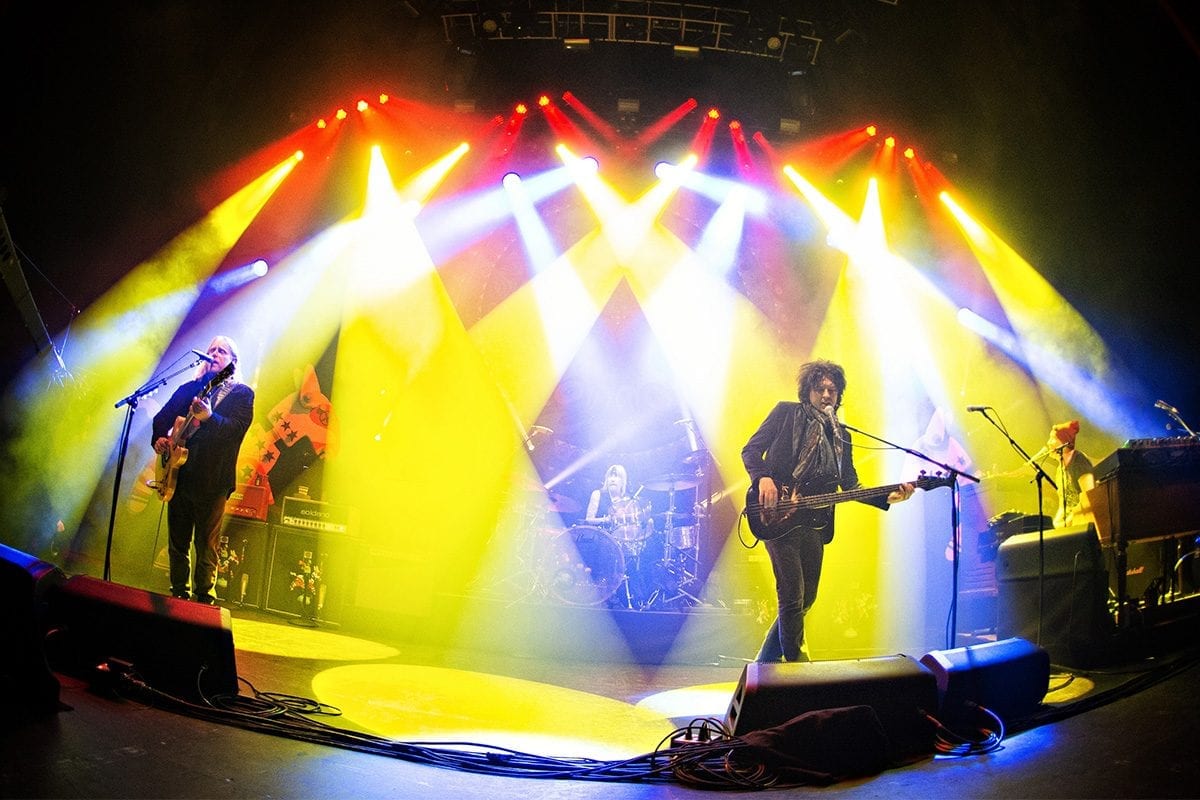 "I have the best job in the world. I'm able to do exactly what it is I want to do musically speaking and somehow get away with it. And I'm forever grateful for that."
In addition to his well-earned status as a master musician, Warren Haynes is as humble a human being as you'll find. The Asheville, North Carolina native has wielded his six-string axe alongside some of the finest practitioners of southern rock, blues, jazz and just about any other genre you can think of. As a key member of The Allman Brothers Band, The Dead and his own longtime group Gov't Mule, Haynes has cemented his place in rock and roll history. In addition to giving joy to millions around the globe, Haynes has continuously given back to those in need by hosting his long-running annual charity benefit concert "The Christmas Jam" in his hometown.
Haynes' latest sonic and scenic gift to fans is Gov't Mule's live album and film package Bring on The Music – Live at The Capitol Theatre (available here). Meanwhile, continuing to earn his reputation as an ultimate road warrior, Haynes and Gov't Mule are back on tour and coming to a city near you.
Gov't Mule – "Mr. Man" from Bring on the Music
Warren Haynes! Jim Villanueva.
Hey, Jim. How are you?
I'm good, brother. How are you?
I'm good.
Beautiful. Good to talk to you again, man.
Yeah, man. You too.
We got lots to talk about. Of course, this new live thing, and tours and stuff. So, if you're ready, let's get into it.
Yeah! Sounds good.
I can't think of a more appropriate title for this new live album and film Bring on The Music – Live at the Capitol Theatre. You guys have certainly been bringing it since you gave birth to The Mule in '95. But who cares what I think, why did you find the title appropriate?
Well, you know, let's start with the fact that it's amazing that it's been that long. It doesn't feel like 25 years. The song "Bring on The Music," which is the title track, talks about the relationship between the band and our audience. And about what came before us. You know, personal relationships. And that's kinda what this whole film and this live packaging is all about. It's celebrating all these relationships and including the one with the four of us. We're still doing it, you know.
Yes indeed, you are. The package was recorded in Port Chester, NY. It's available in just about every format you can think of, minus 8-track and reel-to-reel (laughs) last time I checked…
(Laughs) Yeah, it's a little nutty. There's a lot of choices, but that's okay.
So, what's your favorite format and why?
Well, I think the deluxe version that has the two DVDs and two CDs is my favorite. That's for the hardcore fans because the two CDs are completely different track listing than the DVDs. So, you get over five hours of actual music. That's the one that I recommend. But the vinyl's great, the Blu-ray's great. I think any of it is a good way to go, but for the hardcore fans I'd go with the deluxe.
And five hours seems like a short set for The Mule (laughs).
(Laughs) It's reasonably priced, so you know it's cool.
I'm gonna reference a couple of songs, Warren, throughout the conversation here that are on these packages. The first one is "Traveling Tune," which is of course originally found on the 2017 album Revolution Come, Revolution Go. Again, the song has an appropriate title, I think, for the live collection. After all these years, do you still enjoy the traveling from town to town?
Yeah, I do. You know, I mean you get better at it as you get older. And it also gets less challenging, I guess. But at the same time, you know as you get older you probably want to spend more time at home. I kinda have the best of both worlds. You know, these days I'm either working or spending time with family. But the song "Traveling Tune" also talks about the history of the music. Where it came from. It probably is paying more homage to The Allman Brothers, musically speaking, than anything Gov't Mule's ever done.
The CD, vinyl and digital sets are available now. Meanwhile, the film version will be available July 19th. What led to the decision to film this gig?
You know, (film director-photographer) Danny Clinch, who directed the film – Danny's done so much great stuff, the two Pearl Jam movies, he's done Dave Matthews, Phish, Neil Young, Ben Harper, Willie Nelson. We've been friends for close to 30 years. And he has a big history with Gov't Mule. He shot the photos for all of our early records, including the first album with the front cover with the mule with the American flag draped around it. He and I have been talking for years now that he's turned into the go-to film director for rock and roll about doing something like this. And with the 25th anniversary kind of on the horizon we thought it would be a good time. And we also felt like Gov't Mule was in a really good place right now. The band, musically, is really excited about where we are. And I feel like every night – consistently – we're very proud of the shows that we're doing. And it seemed like the Capitol Theatre in Port Chester was the right place to do it. That place has great history. It sounds great. It's a beautiful venue and they have this psychedelic lightshow that can be utilized kinda throughout the venue. All over the walls and everything. So, we captured some of that in the film as well. It's the first concert film that Gov't Mule has done. You know we've had some just regular DVDs, but (this is) the first time working with a director and getting his artistic vision. I'm really happy that we did it. It turned out beautifully.
You answered what was gonna be my next question, which was what make the Capitol Theatre so special to you and the band, and I think you definitely summed it up there.
Well you know that place has a lot of historical significance. I saw The Rolling Stones there be fore it closed down ages ago. In one of their tours where they did a small theatre special show for like promotion or something. Now that it's reopened, I've played there many, many times. It's just one of our favorite places to play.
I wanna ask you about the song "The Man I Want To Be." Again, it's off Revolution Come, Revolution Go. Are you the man you wanna be?
Well, I'm trying (laughs)! I'm getting closer, I think. That song is about realizing self-reflection and I don't think any of us are who we want to be, really, and all you can do is try to get closer to that. But that song is dealing with the personal relationship side of my life and how sometimes that gets neglected. You know, even if things are going great in the business side – in the musical side – you know, sometimes your personal life suffers as a result. So, that was one of those two in the morning, heartfelt kind of songs that I needed to write.
Warren, I think you know me well enough by now that I'm definitely a lyric guy. I get into it, so, I wanted to pull out a line and have you unpack it for me. "I can be everything those people see/everything. I can't be the man I want to be."
I guess that's a way of saying that I can be what's expected of me onstage, but offstage things aren't quite so easy, you know.
You mean, that's life.
Yeah, I think so. You know I think the most you can do is find some sort of balance. And it's illusive. And then we have no control over it. We just have to do our best. And if you're not doing that then things get even worse.
You mentioned the word "balance," Warren, and that is one of my two favorite words in the English dictionary. Balance and perspective.
Both important, for sure.
Another song I wanted to bring up here is "Dreams and Songs." Another standout tune on this collection. I don't know if I've ever asked you this question Warren, but I'm gonna fling it here. When did you first dream of writing, playing and singing songs? What was your – what I call – proverbial, and sometimes literal, Beatles on Ed Sullivan moment? Did you have one of those?
I probably had several. The first thing I remember moving me from a musical standpoint was being really young, like six years old, and hearing "The Sounds of Silence" by Simon & Garfunkel on the radio. That was the first musical memory that I still kinda have a connection to. And then after that is was hearing black gospel music on the radio in North Carolina where I grew up. And then James Brown. Hearing James Brown and then seeing James Brown on black & white television was for me just extremely inspiring. And then, you know, that all led to me wanting to learn how to sing, and then eventually hearing Clapton and Hendrix and Johnny Winter led to me wanting to play guitar.
What was your first guitar?
Oh, god it was a $59 Norma – N-O-R-M-A – and a $49 Norma amplifier that my dad got at the local hardware store. And, I guess after I had it a year or so and he realized that I was still interested in playing – that it wasn't just a passing thing – he got me a little better guitar. He got me a copy of a Gibson SG. It wasn't a real Gibson. It was only about 100 bucks, but it was a big improvement.
I think I can speak for all the fans: God bless your dad for picking that sucker up (laughs). It was a good investment.
My dad worked double shift all the time. You know he raised three boys by himself and he had no time for anything other than working and raising kids. And he always made sure that I had a little bit better guitar, a little bit better amplifier, you know. And it wasn't easy, but he could see how important it was to me.
Speaking of not being easy – a perfect segue to my next question here, and I'll be referencing another song. Which has been your perhaps most painful (reference to the Gov't Mule song) "Thorns of Life?"
I think losing close friends is one of the hardest things to get over. The last several years have been really riddled with loss for us and our extended family. You know even though that song is more of a personal relationship kind of song, when you pose the question that way the things that are the hardest to deal with are the losing friends and family, especially unexpectedly. Because we bury those emotions. We don't deal with it and then it comes pouring out at the weirdest times. When we lost (Allman Brothers Band drummer) Butch (Trucks) and Gregg (Allman) and (Atlanta musician) Colonel Bruce (Hampton) and our tour manager Peter Banta all in a short period of time, it was really hard for me to keep from burying all that stuff. And I was kind of trying to convince myself that everything's okay and everything's normal. And then at the craziest times you would realize, no, things are not so good.
Yeah, you can only suppress that stuff for so long. Just a couple more for you Warren, and again as always thank you for your time, and it's always great to talk to you, brother. This hardly qualifies as news: Gov't Mule is currently on tour (laughs) with U.S. dates scheduled through September 22nd in Buffalo. Meanwhile, you've got a few solo dates later this month, which include two sets at The Peach Music Festival July 25th through the 28th in Scranton with Phil Lesh and Friends. And then a separate set with Grace Potter. Is that correct?
Yeah.
Tell me about the Peach Music Festival.
Well, Peach Fest is something that was started as an Allman Brothers festival. And it still carries on some of that musical spirit. I've played almost every year. Gov't Mule's played. The Allman Brothers. I've played there with so many different configurations. And this year I'm playing with Phil Lesh, but also for the first time myself and Grace Potter are doing a duo set together. And we're just gonna back each other up, sing harmony, some of her songs, some of my songs, some covers. It's the first of what I hope turns into many more.
So, a fun, final and very hypothetical question for you. So, let's just have some fun with this one, alright?
Yeah.
Imagine yourself just being a fan and The Allman Brothers, Gov't Mule and The Dead are playing in the same city on the same night. Which show would you be at?
Probably The Allman Brothers. I say that because I was the biggest Allman Brothers fan, starting in 1969, and it would never occur to anyone that someone like myself would eventually be in what was one of their favorite bands. I didn't become as big a Grateful Dead fan till much later. So, the things that hit you that strong that early stay with you very hard. And of course it was through The Allman Brothers that I had a chance to work with the guys in The Grateful Dead and that I had the opportunity to start Gov't Mule. So, I would have to prioritize it that way.
There you go. Anything else, Warren, that we need to cover in the conversation that I haven't brought up?
No. I think, you know, I have the best job in the world. I'm able to do exactly what it is I want to do musically speaking and somehow get away with it. And I'm forever grateful for that.
And you know that's funny. I say the exact same thing. I get to talk to folks like you, brother.
Well, it's good to talk to you, man. It's been a while.
Yeah, it has been a while. You may remember the last time we spoke was on the (tour) bus here in Sacramento.
Yeah, yeah! Would love to see you.
Alright, brother. Take care. Always good to talk to you. Love ya.
You, too, Jim. Thank you, brother. Love ya.