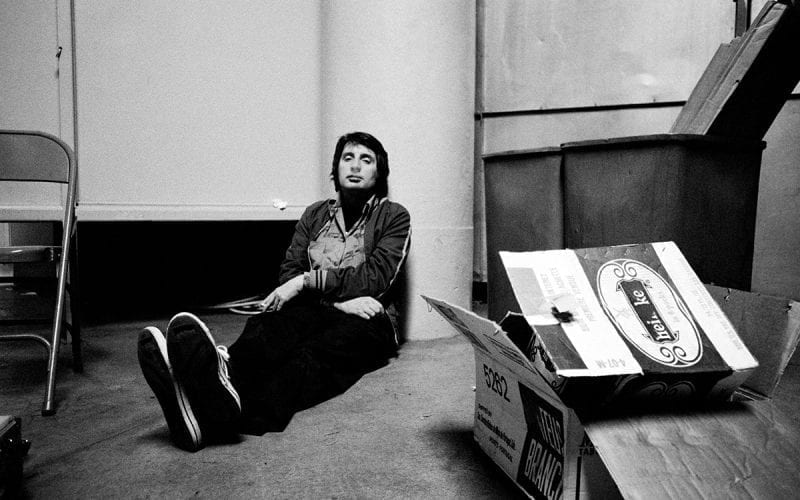 The title of this blog is absolutely true.  If you are a collector of rock albums, believe it or not, Storm Thorgerson probably designed about 80% of the album covers in your collection!  Mostly known for his brilliant work with Pink Floyd and creating the most famous album cover of all time, The Dark Side Of The Moon, he is also the man who created Houses Of The Holy for Led Zeppelin, and hosts of other iconic album covers for artists such as Peter Gabriel, Black Sabbath, Megadeth, Scorpions, Styx and on, and on, and on.
For Pink Floyd in so many ways Storm was almost like the fifth band member, envisioning and conveying the music through his transcendent artwork.  For album covers, posters, videos, movies, etc. he made sure that all of us got a comparable visual experience to match the incredible audio experience of Pink Floyd.
Some of you may remember a bit of the writing below as I have chosen to tell some of the same stories I did when I wrote about Storm's passing in 2013.  But they bear repeating and there is also more new information here.
The most important thing you need to know about Storm and his work is that none of his images were done with computer graphics.  They were all photos taken of physical scenes built and/or created by Storm first. So, the Wish You Were Here cover is a photo taken of an actual actor on fire (perhaps connoting being burned in a business deal).  For the Animals cover it's a photo of a real flying inflatable pig tethered in between the smoke stacks of the Battersea Power station. The first day of shooting the pig got loose and caused havoc as it flew into airspace between the jumbo jets flying into Heathrow Airport!  The band had actually hired a marksman to shoot it down, just in case, and as you can imagine the press coverage the next day was pretty big.  This was unplanned, of course, as Storm and the band thought they might be put in jail for a photo
session prank gone wild, but in the end it brought more attention to the group and it all worked out. For Led Zeppelin's Houses Of The Holy, Storm hired child actors and put them in costumes to climb a real rock formation.  And, for Momentary Lapse Of Reason those are 700 real beds on a beach.  Not ten beds with a computer filling in the rest of the images—700 freaking beds!  The funniest thing about that photo shoot was, it rained on the first day of the shoot and they had to take the 700 beds off the beach, and then put the 700 beds back on the beach next day.  Whew!  That was a bit of work.  It had all started when David Gilmour had told Storm he had an idea for the cover, he had a vision of a boy sitting on a bed.  Storm said, "OK, great, how's about one boy and 700 beds!"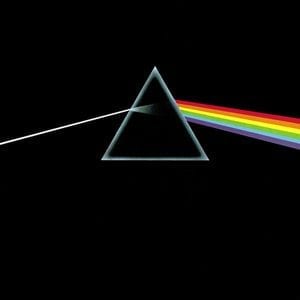 In an interview Storm did with my buddy Ken Dashow at Q104.3 in New York, he recounted the story behind The Dark Side Of The Moon cover.  He told Ken that Rick Wright had said, "For once, why don't you stop with all the big things, big ideas and expensive stuff and just DRAW something."  So he did, and it became the most internationally known album cover of all time!
Storm had an endless supply of inventive ideas.  After some time having worked closely with him we became friends.  He was incredibly funny and entertaining to be around.  We had a similar appreciation for art and he knew I would always take his side when the art vs. commerce game had to be played.
Towards the end of the Division Bell tour I flew to London to see the last show at Earls Court.  After the show I was invited backstage to attend a carnival party that was being thrown as thank you for all the Pink Floyd band members and crew along with family and friends. Pink Floyd never does anything small, and this was no exception.  It was a for-real carnival with rides, booths, games–the whole shot.  The Earls Court facility is huge and the carnival was built in a space behind the stage that was as big as an aircraft hanger.  They even had a Ferris wheel!
Storm came running up to me extremely excited.  He said, "Rap, Rap I just came up with a brilliant idea and I have to tell you!!  But you cannot tell a soul because I don't want anyone to copy it!"  He made me promise like seven times before he'd tell me.
He said, "Remember how at the beginning of 'Dark Side' there is a heart beating?  Well, there is going to be a live recording of this Division Bell Tour, and the title of the album is going to be 'Pulse.'  I am going to create a package with a tiny red light on the spine that is going to pulse at the same rate as a heart beat.  The actual package will come to life–be LIVE just like the music!  True to form, Storm had a vision and an image that would meld with and express the music found inside the package.
I thought this was truly an amazing idea, as it was so creative and at the same time a stroke of commercial genius.  I told Storm it would be an extremely hard sell to the record company because of all the extra costs—the light, battery, wiring, etc., etc., but that I would try to help.  I'd seen the band work closely with the company before in helping defray some of the costs for items they really deemed important and because the band was so big they usually got their way (God knows I had been successful talking the company into a million dollar airship that traveled the countryside promoting the album and tour!).  Well wouldn't you know, Storm prevailed, as art trumped commerce, one more time.  That always seemed to happen when Storm was involved.
I flew back to London during the release week of "Pulse" to do some key interviews with the band.  I walked into Tower Records and there staring me in the face was an entire step-down shelf fully loaded with about one hundred "Pulse" CD packages all blinking away like crazy!  And as Storm predicted, they seemed alive. Not only could you not miss them, every other package in the store looked dead by comparison.  "Pulse" became one of the most brilliant record packages in the history of the music business.
Here's another amazing fact about Storm.  He was so into getting his images right that if he went over budget, which is not uncommon when you are photographing objects you've built and then have to deal with accidents, the weather, etc., that he would dip into his own pocket and use his own money to help finish the job.  He was a perfectionist and a true artist–it had to be perfect so that the viewer would be uncontrollably and emotionally moved when they saw an album cover, poster, single sleeve, etc..  Anything short of that was a failure to him.  When you view any Storm Thorgerson album cover, it just draws you in, takes you away from reality for a bit, and makes you think.  They are all that good.
Storm also took his time, which drove people nuts, but he didn't do it because he was a diva (well, maybe just a little bit), he needed real time to create, and to design images that none of us could ever imagine.
I think he subscribed to Peter Gabriel's artistic viewpoint, "A deadline is a point you pass on the way to completion."  Ha, ha—easy if you are the artist and not the record company with sales, press, promotion and marketing deadlines already locked in stone on the calendar.  Sometimes it got pretty damn tight, but he always came through.
Well, that's the tip of the iceberg of so many more incredible Storm stories.  We have been running a contest to win "The Taken By Storm" DVD, but if you don't win and you are interested at all in album cover art and/or the history of the music business, or even just the story of one very funny special and eclectic artist, I really urge you to buy it. You will not be disappointed, in fact you will be riveted by what you see and hear, and I'll bet you will want to share the experience with your friends.
Watch the trailer for "Taken By Storm" here.
Lastly, I want to give a tip of the hat to Roddy Bogawa who made the film.  Just like Storm he worked so hard to get it right, even re-editing the movie after it's first showing.  Storm would approve—now it's perfect.  😉
All the best to you and yours.  And thanks for hanging out with us at CDJ – Classics Du Jour.
~Rap
© Paul Rappaport 2016