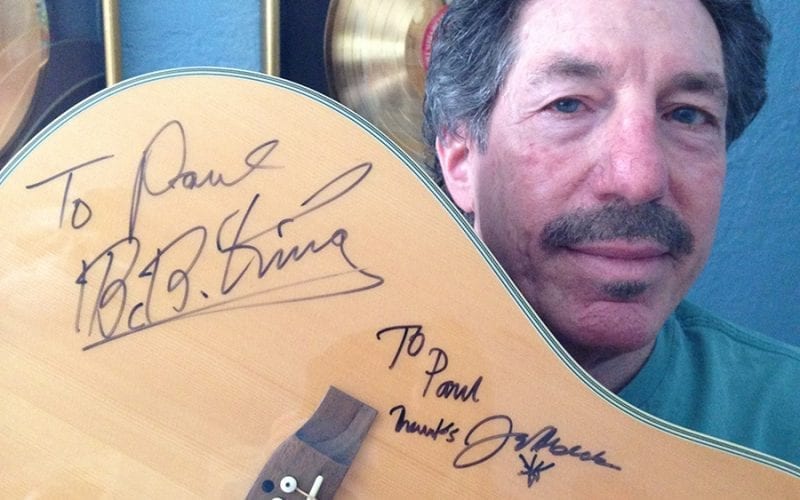 When I became serious about learning to play electric blues guitar, my first influence was Michael Bloomfield playing along side Elvin Bishop in the Paul Butterfield Blues Band.  Man, that was a lot of notes, but I began to pick them apart, note by note-phrase by phrase.  He played relentlessly to make his points, but wow, you could really feel what he had to say.  Then came Eric Clapton—amazing!  But the same idea, a lot of long phrases jammed with tons of notes, and in his case with hammers and triplets, so even more stuff was crammed in.  Again, with all those notes, both Bloomfield and Clapton could really emote feelings of sadness, hopelessness, frustration, and they could also convey joy, and the kind of euphoric freedom that one feels when they truly understand a bit about life.  Next up for me was Peter Green who let more space in between both notes and phrases but still played a fair amount.
These new blues artists along with others had one thing in common, they had all gotten their ideas from the original black bluesmen who came before them, and moreover, to their credit, they encouraged young players like me to go see the originals and not just be satisfied listening to the copies.
Really wanting to know, I went to see B.B. King at the Whiskey a Go-Go in Hollywood—this had to be circa 1970.  First B.B.'s band came on and warmed up the crowd which was different than what any of us were used to, but I could see how this device really set up B.B.'s appearance in the same way that a piece of music played long enough sets up a good lead guitar solo.  A good amount of anticipation was created and just as everyone was really getting into the groove, the announcement came, "Ladies, and gentlemen, please welcome the king of the blues, Mr. B…B…KING!"  The place went nuts with excitement as B.B walked onto the stage with Lucille, his famous guitar.  Then, the real magic happened.  B.B. acknowledged the crowd, plugged his guitar wire directly into the amp (no fancy sustain foot pedals—just straight into the amp), turned around and hit ONE note.
Just one note—but it rang out with such a force and intensity that it physically rattled my entire body, and all the bodies that were in the Whiskey that night.  The roof came off the place as people cheered.  And the thing that blew my mind most was, that B.B. King could say in just one note what it took all these other guys to say in twenty!  My whole view of the blues and how one can "talk" with a guitar changed that evening.  In one note, with that famous vibrato movement using his whole hand, that big black beautiful hand, B.B. had said it all—sadness, frustration, joy, and euphoria—all with just one note.
Fast forward to 2003 and I am co-creator and one of the executive producers of A&E's Emmy Award winning music television series, "Live By Request."  It's April and this show stars B.B. King with special guest Jeff Beck—I am in heaven.
Just to explain, "Live By Request" was a show, where for two hours viewers were invited to call in live, speak to their favorite artist, and then request their favorite song.  This made for an extremely intimate experience for the caller, the viewers, and the artist alike.
During rehearsals I got to ask B.B. the question I'd long wanted to ask since seeing him at the Whiskey so many years ago.  I wanted to know how and when he decided to become so sparing with his notes—how did he decide upon this unique style, saying everything he had to say with just a few phrases at a time.  Did he consciously want to be different than his contemporaries so that he stood out in his own way?
He looked down at me and laughed a very big belly laugh.  He said, "No, I didn't plan anything at all.  Listen son, (I was 55 at the time) I am a blues singer first—have always thought of myself as that.  I only learned enough of the guitar to accompany myself, to accent what I was singing.  Yeah, I could be as good as Eric Clapton or Jeff, but I don't practice!  Ha, ha, ha—another big laugh.  I don't practice because I am not trying to be a guitar virtuoso.  But EVERYBODY knows my few notes (he began to sing those B.B. King patented guitar phrases)–everybody knows THAT'S B.B. King!
Wow, secrets revealed.  Reminded me of when I talked with Les Paul who had told me that he only invented multi-track recording because it was something he needed to get his art to the next level—invention for the sake of need, not with any larger agenda in mind at all.
Because B.B. had seen and been a part of so much history I also asked him what was one of his biggest life changing experiences.  He went into his pocket and pulled out a little white iPod, which had just been introduced by Apple in 2001.  He looked up in a bit of amazement and said, "I can't believe that everything I have ever recorded is in this little white box!  You have to remember, I started behind a plow."
Needless to say, getting these kinds of insights and others during a conversation with B.B. (nick name started as "Beale Street Blues Boy" shortened later to "Blues Boy" then to B.B.) really opened some new life windows for me to look through.
Later, during a portion of Jeff Beck's rehearsal segment where he accompanied B.B. on a song, Jeff seemed to be playing in atypical reserved manner.  Out of respect, he didn't want to overshadow B.B.'s sparse style with his own tour de force kind of playing.  B.B. looked up and said, "Jeff, don't be laying back on my account.  My stuff will hold up very well and I'll be just fine being me.  You need to be you—the best Jeff Beck you can be, that's why you're here."  With that, Beck smiled, nodded, and then opened up with some blistering solos that had B.B., myself, and the entire crew of camera and sound men, smiling some very big smiles ourselves.
After the show I asked both players to sign a guitar I had for a nice memory.  B.B. motioned me over to a corner and said, "My manager doesn't like me signing stuff because so many people try and sell my signature, but I don't think you're one of those kinds of people, so here.  Thanks, I had a great time."
© Paul Rappaport 2015