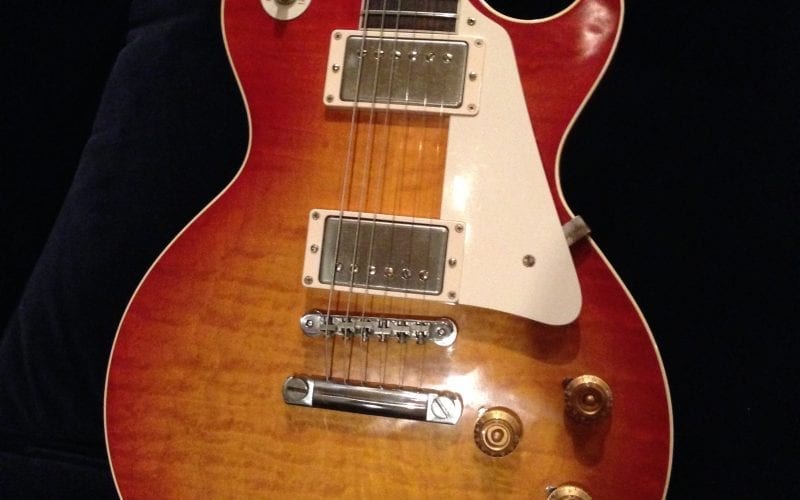 This post will be a little different as I usually wouldn't write about something this personal, but I know all the guitar players out there will especially like it.  😉
When I'm not playing with Pink Floyd (ha, ha), I love playing blues in jam sessions and sometimes playing out with friends' bands.  In fact, I've gotten so heavily back into playing that I've even started a little combo of my own with some very talented cats.
About five years ago I bought my first proper Les Paul.  I had played an original 1962 Les Paul Junior for years (a thank you gift I got from the Blue Oyster Cult in the early 70's—some gift!).  Being a huge fan of Michael Bloomfield, Peter Green and early Eric Clapton sounds, I don't know why it took me so long to realize that I should really get one.  At any rate I chose a beautiful 1952 re-issue Gold Top "Tribute" model.  Gibson made a handful of them to commemorate the very first Les Paul that was ever made.  I chose P-90 pick-ups because they have a particular big growly sound, also sound especially warm and wonderful at lower volumes (think early Santana), and also because that's what the original model was built with.
I love that guitar, but the single coil P-90's can also get very noisy especially in clubs with bad lighting and no ground.  That, and the fact that I've always dreamt about owning a Les Paul with legendary Humbucker pickups, which have that famous rich and creamy sound sent me off on a long journey to find "the one."
Turns out that as much as I like Gibson guitars the quality can be sketchy these days and I played a lot of Les Paul's this past year, both in NY and in LA.  Found a few nice ones, not many that outstanding, and then stumbled onto this beauty.
I was looking at Sam Ash (Carle Place, Long Island) and my friend Ray who is kind of the guru of electric guitars there (same guy who turned me onto the Gold Top five years ago) pointed to it and said, "That guitar sounds GREAT."  And boy, did it ever.
I usually first play electric guitars without plugging them in.  You can more easily tell that way what the guitar will sound like when it is plugged in—you can hear if the guitar will sustain and really sing out.  Also, your fingers have to feel at home on the neck, like they belong with the guitar—like you could become friends and even lovers of sorts.  So for all of that, you don't need to plug it in.  If you get past the first test then you take the time to plug it in and really hear the guitar's entire personality.
When I played this one acoustically it immediately had surprising presence, was a bit lighter than most (Les Paul's can get very heavy), and more importantly, the neck felt ultra comfortable–my fingers magically hit every note I wanted, and effortlessly.  I was really taken aback—felt like the guitar almost played itself.  We plugged it in and holy sh*t!!  The PAF (patent applied for) pickups were hotter than hell—this guitar had overwhelming sustain, easy harmonics (think Billy Gibbons' 1959 "Pearly Gates"), and had some of the best tone overall that I'd ever heard, played loud or very quiet (think Mark Knopfler).
I must have played for an hour and a half in the store (unusually long for me) and then drove home to think about it.  As soon as I got home I had done all the thinking I needed to—this was THE ONE!  I called Ray, asked if they'd keep the store open for me, and drove right back!!  Had to trade in an '85 Tele and Blackstar amp to help ease the pain though—this thing was pretty expensive.
Turns out the guitar I fell in love with happened to be a 1959 Gibson Custom Shop Vintage Official Spec re-issue made in 2013.  Apparently that was a banner year for Gibson 1959 re-issues.  Who knew?  I just knew I loved the guitar and it being a copy of an original 1959 wasn't lost on me.  So, curiously, I took it to show my friend Perry who is the New York ultra collector connoisseur for guitars, especially the coveted 1959 Burst (named for the cherry sunburst paint jobs they had).  Funny story about that.  In 1959 Gibson was having trouble selling these guitars.  So they painted them with this fancy sunburst color to attract folks.  It worked, and the 1959 became the most famous Les Paul ever–not because of the paint job, ironically, but because of the pickups and more comfortable neck than the previous 1958 model.  It was the year that it all came together for the Les Paul model guitar.
We compared my new one to an original (an original sells for about $250,000.00 these days!  Yes, that is correct, I did not make a mistake adding too many zeros).  Well, no guitar is going to compare to an original Gibson made in 1959 when everything was made by hand—but this one came frighteningly close and the pickups were even a bit hotter than the original.  We were both mightily impressed.  Except for one funny thing.  Gibson had mounted the bridge on backwards!!  (I told you some of the quality these days is more than just a bit off).  No worries, we just turned it back around to the position it's supposed to be in—done and done.
I bought this guitar at the same time my wife left for LA to visit her folks. Kind of worked out perfect because I was so excited I kept waking up in the middle of the night wanting to plug in and play it some more—except I didn't sleep for the entire week!!  All of you players who read this will relate.  In fact, they know me now at Sam Ash.  I walked in to buy more strings (now going through them like crazy) and one of the guys asked, "How's the honeymoon going?"  Ha, ha, only a player will understand.
One beautiful side story to all of this is that when I bought the guitar it looked very dull and not so good looking.  Even though it appeared as not having one of the more flashy paint jobs Gibson makes these days, I felt I just loved the guitar so much for the way it played and sounded that I could get used to its kind of lack luster look—people would just have to feel its beauty through all those wonderful tones.
But one night at 2:00 AM when I got up to play it, I really took a closer look and I wondered, "Hey you're a 2013 model and have been on the shelf for a very long while—maybe you're just dull because no one has polished you in a long time."  Sure as sh*t, I get out some of my Gibson polish and start working on it.  Low and behold, a frog turns into a Prince!!  It polished up to become a stunning beauty—what a fairy tale from beginning to end, and quite a long journey to get there.
So there you have it—the story of finding the perfect "one".  If you've got a similar story let me know and I'll reprint it on these pages.
More good music is coming out later this month that I will talk about next time.
Until then, answer these questions:
What artist has had a strong connection with both Sydney Poitier and Iggy Pop?  Who's first gig fronting A Very Big Band immediately became the most watched TV music event of all time?  Who stole Jimmy Page's girlfriend then married her and inspired the best and most read groupie bio in history?  Who appeared naked on the London stage in the 1960s and then immediately formed a band that helped kick start the glam rock movement?!!!
Keep rockin'!!
Rap~
© Paul Rappaport 2015