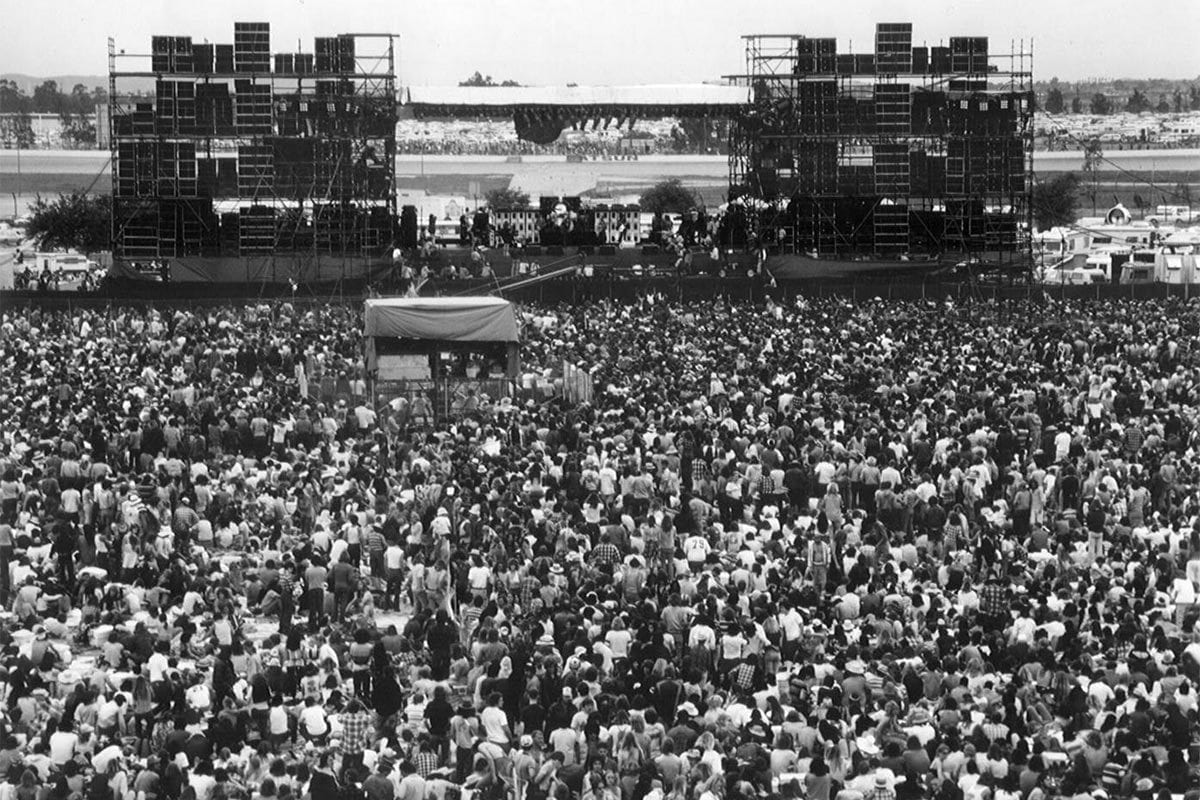 March 18, 1978 – An estimated 350,000 rock fans attend the largest festival of the 70's, California Jam II in Ontario, California. Performers include Aerosmith, Ted Nugent, Foreigner, Santana, Heart, Frank Marino & Mahogany Rush and Rubicon, featuring a young Jack Blades.
March 18, 1975 – The Who's Tommy premieres in New York.
March 18, 2002 – The Ramones and Tom Petty and the Heartbreakers are among those inducted into the Rock and Roll Hall of Fame. The Ramones are inducted by Eddie Vedder, lead singer of Pearl Jam, and Wallflowers member Jakob Dylan inducts Tom Petty.
March 18, 2003 – Former Metallica member Jason Newsted becomes Ozzy Osbourne's bassist, but it only lasts until the end of the year.
March 18, 1993 – Bassist Darryl Jones replaces Bill Wyman in The Rolling Stones.
March 18, 1983 – Billy Squier kicks off his first arena headlining tour in support of Emotions in Motion, featuring the huge hit "Everybody Wants You". Newbies Def Leppard are the opening act.
March 18, 1958 – Jerry Lee Lewis is the first artist to sing three songs on American Bandstand – "Whole Lot Of Shakin' Goin' On," "You Win Again" and "Breathless."
Classic Rock Birthdays
March 18, 1963 – Jeff LaBar, guitar, vocals (Cinderella) (d. 2021)
March 18, 1966 – Jerry Cantrell, guitar, vocals (Alice in Chains)
March 18, 1950 – John Hartman, drums (Doobie Brothers) (d. 2021)
March 18, 1947 – B.J. Wilson, drums (Procol Harum) (d. 1990)
Rock Remembrances
March 18, 2001 – John Phillips dies of heart failure in Los Angeles. He was 65. Phillips was the vocalist and guitarist of The Mamas & the Papas. He was also a promoter, most notably of the 1967 Monterey Pop Festival. His life was marked by many scandals including drug trafficking, alleged incest, and alcoholism after a liver transplant.
12 Rock & Roll Romances That Inspired the Music
March 18, 2017 – Chuck Berry, a pioneer of rock and roll music, dies of a reported cardiac arrest at his home near St. Louis, Missouri. He was 90. Berry revolutionized music by transforming the major elements of rhythm and blues into what we now know as rock and roll. His career started in Chicago when Muddy Waters introduced him to Leonard Chess of Chess Records, where he recorded the million-selling single "Maybelline." He followed that with"Roll Over Beethoven," "Rock and Roll Music," "Sweet Little Sixteen," "Johnny B. Goode" and so many others. His influence cannot be underestimated – from John Lennon who said "if you tried to give rock and roll another name, you might call it 'Chuck Berry'" to Bruce Springsteen who proclaimed "Chuck Berry was rock's greatest practitioner, guitarist, and the greatest pure rock 'n' roll writer who ever lived" to Rolling Stone magazine who best summed his career up by saying "he's the father of rock & roll" who "gave the music its sound and its attitude, even as he battled racism – and his own misdeeds – all the way." Among many other honors, Berry received the Grammy Lifetime Achievement Award in 1984, was inducted into the Rock and Roll Hall of Fame on its opening in 1986 and received the Kennedy Center Honors in 2000.
March 18, 2014 – Joe Lala, co-founder of Blues Image, dies from complications of lung cancer in Tampa Florida. He was 66. Lala was an accomplished drummer who guested on albums from The Bee Gees, Crosby, Stills , Nash & Young, Joe Walsh and many more. He garnered 32 gold records and 28 platinum records during his career, and also became an accomplished actor and voice actor due to his mastery of Spanish, Cuban and Puerto Rican accents.