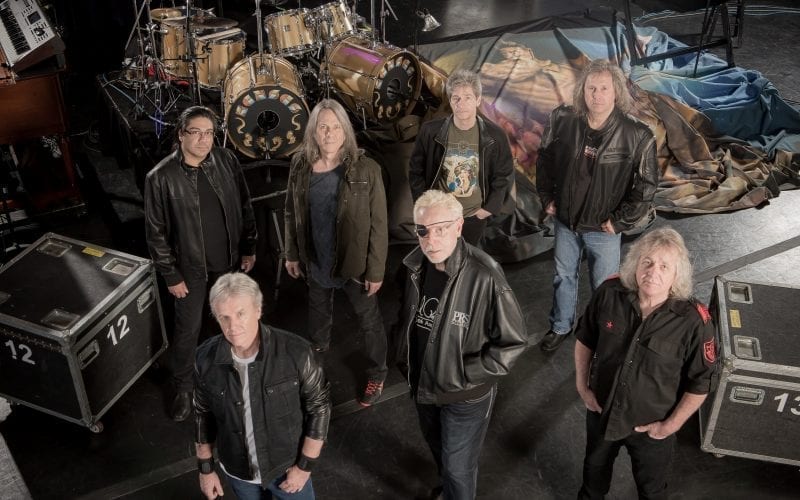 Having been in the music business for over 45 years, sometimes I think I've seen and heard it all. Then I find myself in a small studio eight feet away from Kansas as they perform acoustic versions of "Dust In The Wind", "Hold On", and their new song "With This Heart", and it is truly an amazing moment.
Real voices, real instruments, and in an acoustic setting were there is no place to hide—no big band to cover any mistakes, no auto-tuning voices, etc., etc. This is when true talent shines—perfect guitar parts, beautiful lead and vocal harmonies, and with a soaring violin full of emotion that really moves you. Not to mention that "Dust In The Wind" is so deep in many of our DNA's that the interviewer, cameramen, and myself all really got choked up hearing it presented in such a personal way.
This performance happened recently at the taping for the Nights With Alice Cooper radio show. It was a stripped down version of the band featuring Richard Williams on guitar, Ronnie Platt on lead vocals, David Ragsdale on violin, and also on guitar and adding backing vocals was band member and album co-producer Zak Rizvi.
I know I've spoken about this before, but so much of today's music is fashioned in the studio using whatever tricks are necessary to bring on a kind of pseudo-perfection. Because most of today's artists rely on radio, the Internet, and social media to break through, they haven't spent the years needed on tour to really hone their craft. Hence, they are often lack luster, and sometimes even downright boring when you see them live in concert. Before MTV and the Internet bands could only be seen performing in person, starting at the club level, working their way up to theaters and then if lucky, to arenas and stadiums. This kind of work not only produced seasoned entertainers who knew how to bring fans to their feet, but also played a most important role in just how perfect their music would be in general. Simply put, the more you play the better you get. That kind of talent with years of experience is what the Kansas guys were putting forth in front of us that day.
Kansas is a band that has been making records and touring for over 40 years, and even though they've gone through some personnel changes, they have remained true to their signature sound with that special Kansas magic we all feel when we hear big hits like "Carry On Wayward Son," "Point Of Know Return," "Dust In The Wind," "Portrait (He Knew)," and others.
With the latest addition of Ronnie Platt as lead vocalist and keyboardist the band has continued on that steady course and have also received a heavy jolt of new musical energy and creative ideas. One really has to give credit to original members drummer Phil Ehart and guitarist Richard Williams for taking such great care of this American progressive rock treasure and working it like fine sculptors over the years, replacing retired members with the very best players who have a natural affinity for the band and who also can bring something new to the table at the same time.
KANSAS is: Phil Ehart-drums, Billy Greer-bass and vocals, David Manion-piano, keyboards, organ, Ronnie Platt-lead vocals and keyboards, David Ragsdale-violin and vocals, Zak Rizvi- electric guitar and vocals, and Richard Williams-electric guitar and acoustic guitar.
For the first time in 16 years these guys, with renewed energy and vision, decided with this line up they could go back into the recording studio and make an album they could be really proud of. The result of the time spent in the studio was even more than the band had imagined. Richard Williams says it best, "This is definitely a KANSAS album. Whether it is the trademark Prog epic like 'The Voyage of Eight Eighteen,' a biting rocker like 'Rhythm In The Spirit,' or a mindful ballad like 'The Unsung Heroes,' there is something on this album for every kind of KANSAS fan. After years of pent-up creativity, the entire band is very proud of 'The Prelude Implicit.'"
And that's not only Richard's opinion. My good friend, long time air talent and superb interviewer Redbeard while preparing for his interview with the band was telling me that every single song on the album was strong and that made it easy for him to pick favorites to play on his show In The Studio.
And that is the reason I am writing this article. Too often bands that have been around this long just can't muster the energy or find the muse to create something new and worthwhile that will move their careers forward in today's world. But the Kansas guys have done exactly that. Track for track "The Prelude Implicit" holds up to give the listener an entire album full of really exquisite music. My faves are "With This Heart," "Visibility Zero," "Rhythm In The Spirit," and "Summer."
Here is fun behind-the-scenes story: When original lead vocalist Steve Walsh decided to retire Phil and Richard wondered what to do, finally retire the band or keep going? It turns out that quitting isn't something that is in their nature. While looking for a new lead vocalist Ronnie sent them an e-mail throwing his hat into the ring for the job.
Richard knew about Ronnie because he had seen him perform as lead singer for the band Shooting Star who had opened for Kansas during one tour. Richard had been mightily impressed with not only his vocal ability but also with what a great front-man he was "I couldn't believe how he was just holding the audience in the palm of his hand!" It also turned out that Ronnie was a huge Kansas fan and had covered many of their songs with previous bands of his own, so he was no stranger singing and performing Kansas material. Phil and Richard invited Ronnie down from his home in Chicago for what Ronnie thought was an audition. When Ronnie showed up they told him, "We really don't need to audition you. We already know you can sing your ass off, we just want to find out if you're a nice guy!" Huh?–wow! Ronnie, of course, was blown away with a greeting like this. The three musicians sat around for a long time telling stories and sharing bits of their lives. They really hit it off on all fronts and the very next day Ronnie got an e-mail inviting him to join the band—he was elated–a true dream come true.
Richard explains this was no frivolous question. Being in a band is like joining a family and requires a lot of time together and work in close quarters. It's always best when a band can be a great team who get along with lots of positive energy.
The rest is history. Ronnie turned out to be a GREAT guy and one hell of a musician to boot. Kansas today is as strong as ever and bringing a lot of new music to share.
Don't miss them when the Leftoverture 40th Anniversary Tour comes your way, and be sure to check out their new album The Prelude Implicit.
And see? Nice guys can finish first!
Keep rockin' out there!
Best,
Rap~
© Paul Rappaport 2016