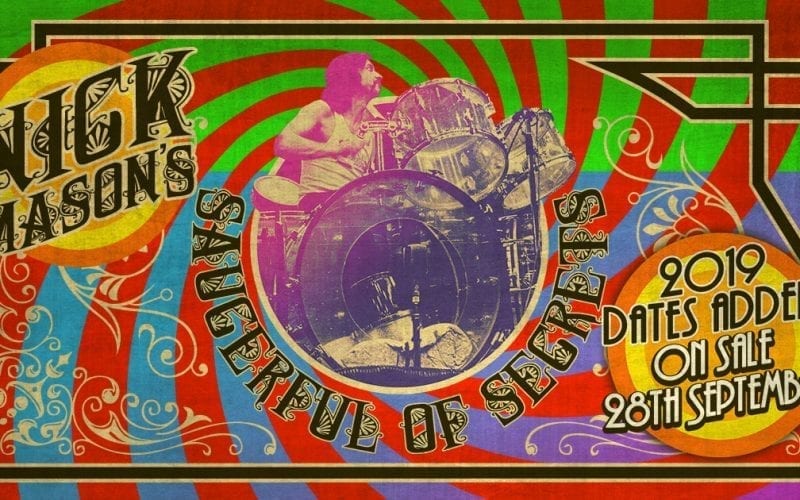 Nick Mason's Saucer Full Of Secrets tour will be coming to the U.S. next year.  The band, named after Pink Floyd's second album, is an English psychedelic rock outfit formed in early 2018 by the legendary drummer, which celebrates the early music of Pink Floyd, before the release of The Dark Side Of The Moon.
The band consists of guitarist Lee Harris, formerly of the Blockheads, Gary Kemp from Spandau Ballet, on guitars and vocals, and longtime Pink Floyd collaborator Guy Pratt, on bass.  Mason has been quick to point out that this is not meant to be a tribute band trying to capture each of the early songs note for note, but rather a band that will try to "capture the spirit" of the era.  This is a most important point which brings a lot of integrity to the whole project and ensures that what we will be experiencing, while familiar, will also be fresh and exciting.
As an aside, this fact also highlights the schism when watching Roger Water's new incarnation of The Wall.  Because the musicians do play the show note for note, what immediately becomes apparent is that you are watching Waters with a cover band—no matter what they do it doesn't sound quite right.  You cannot replace David Gilmour, Nick Mason, and Richard Wright and think that the music of Pink Floyd will ring true.
Done the way Nick is doing it, we can indeed "celebrate the era," feel some real intensity, and enjoy the new bits these musicians bring to the party.  The tour debuted in England this fall and Pratt described the first show as "totally punk and totally fresh."  "'Interstellar Overdrive' has one of the greatest punk riffs ever written," he explained.  "'Bike' is fucking bonkers.  'Set the Controls for the Heart of the Sun' is the greatest song that Joy Division never wrote."  To quote Pink Floyd's manager, Paul Loasby, "It's a great time to be had by all."
Pratt pointed out that, even though his seven years with Pink Floyd from 1987 to 1994 taught him to deal with the intricacies of the band's bass parts, he was grateful to have Mason's support during "fluid" time signatures that moved from three-four to four-four as a result of early leader Syd Barrett's compositions.
"On 'Bike," I've actually invented a time signature called 'Syd/4,' he said.   "You couldn't count it if you tried, because it has so many different time signatures within in it.  Nick sails through it, though.  He gets it in a way that no other drummer could, because no other drummer played with Syd Barrett."
That reminds me of a quote that David Gilmour once gave me when I was interviewing him about Pink Floyd and Nick Mason in particular.  He said, "I could go out and get the best drummer in the world, and it would sound great,…but it wouldn't sound right."
And RIGHT is what we are looking for here.  Many people have forgotten what it was like to see the original Pink Floyd in person.  The true magic of their psychedelic performances was that all of the production, lights, lasers, movies and pyrotechnics, all moved in time to the music.  This provided an amazing audio and visual sensory experience—add the quadraphonic sound (even in the largest of venues) and you were totally transported to another world.
Early Pink Floyd music was quite experimental and used very far out ideas.  For instance, one of their early shows was titled, "The Man and The Journey."  It consisted of two album length suites of music that were performed in concert during their 1969 tour.  The music consisted of several of their early songs, some unreleased songs and material that made it on to the More soundtrack, as well their album Ummagumma.  It was the beginning of the concept stage show for the band.
Besides the music, the concerts featured visual performance elements such as the sawing and construction of a table, and boiling a cup of tea onstage so that the teakettle would whistle in the key to begin the next song.  Let me repeat that, boiling a cup of tea onstage so that the teakettle would whistle in the key that would begin the next song!  Now, that's psychedelic!
Nick Mason is the official historian of Pink Floyd and so it is very fitting that he bring this early music to light once again, not only for us original fans, but for new, younger folks who can now get a genuine glimpse of the experience as if going back in time.
Here is the set list for the European dates:
1. Interstellar Overdrive
2. Astronomy Domine
3. Lucifer Sam
4. Fearless
5. Obscured by Clouds/When You're In
6. Arnold Layne
7. Vegetable man
8. Medley: If (excerpt)/Atom Heart Mother (excerpt)/If (reprise)
9. The Nile Song
10. Green Is The Color
11. Let There Be More Light
12. Set The Controls for the Heart of the Sun
13. See Emily Play
14. Bike
15. One of These Days
Encore:
16. A Saucerful of Secrets
17. Point Me at the Sky
I don't know about you, but I'm in!
Another funny quote from bassist Guy Pratt:  "The band came together incredibly easily.  We did a single rehearsal in this little room, which was hilarious because I've only ever been in an aircraft hanger with Nick!  We rehearsed for a week and then did those four shows,…I don't think any of us were ready for the reaction, although we knew we had a good band.  There were five-star reviews everywhere."
I remember the aircraft hanger well.  In 1994 the band needed to create a stage show and rehearse for The Division Bell tour.  Their legendary huge production was so big the only place to rehearse was a freaking aircraft hanger!  A bunch of us from Columbia Records visited the Norton Air Force Base in San Bernardino, California with a group of key local rock radio station personal to get a glimpse of what was in store.
I immediately went backstage to say hello as I had gotten to be very close to the band members over the years that they were on Columbia.  The first person I ran into was Nick.
"Hey Rap, you missed all the action!"
"What are you talking about??"
"The production crew have been working on a giant fly wheel that was going to rise from the ground by the sound board out in the audience.  The contraption broke loose and the giant wheel came flying toward the stage—went right between me and Dave and came within two inches of my head!!  Nearly killed me!!!"
"Well Nick, you know we always sell a lot more CDs when an artist passes away."
"Ha…ha, right."  He wasn't laughing, it had been quite serious, and a true near death experience.
However, Nick can be a very funny guy, especially if alcohol has been applied.  After rehearsal we went to a local Mexican restaurant for dinner.  I had wanted to talk to Nick and David about meeting key radio and industry people backstage after the shows because it had proved so successful on the previous A Momentary Lapse Of Reason tour.
Some artists make meeting key industry personnel a part of their overall marketing strategy.  It's a people business and when an artist takes the time to meet a radio, retail, or press person it creates a real relationship and those folks try harder for that particular artist because of the connection made.  A few artists who've become superstars and were never trained to understand the value of such meetings most often don't want to know about it and remain aloof.
During Pink Floyd's early years they pretty much kept to themselves–not only did they not meet people they hardly did any interviews.  They were signed to Columbia just before their huge breakthrough album The Dark Side Of The Moon, which would be their last recording for Capitol-EMI.
When I first met them during the Columbia release of Wish You Were Here, I asked them why they didn't do more interviews and would they be willing to talk more.
"Do you guys not do interviews because you are trying to keep a mystique?  Do you want people to think that you are alien beings who have landed here to record this music?  Cuz right now that's what a lot of us think you are."
They laughed and said no, that mostly they didn't do interviews because no one really knew how to talk to them and all they wanted to know was who's shirts and underwear they wore.  I took them to meet Jim Ladd, who at the time was a legendary FM disc jockey on KMET in Los Angeles.  He was steeped in their music and knew very well how to talk with artists of this nature.  They loved Jim and over the years we did some very successful interviews with the band.
But now it was 1994 and the band was on their second album and tour sans Roger Waters, and proving to be very successful carrying the Pink Floyd torch all on their own.  They had made a ton of money—David was buying period airplanes and Nick period racecars.  In fact, at one time Nick was reported to have a car collection worth over thirty million dollars.  When I visited England he would invite me to one of his garages and let me sit in all the Ferraris and Formula 1 cars, which was tons of fun!
So I'm sitting across from Nick at the Mexican restaurant and after we downed three margaritas I figured it was time to broach the subject.
"Nick, because you and Dave were good enough to meet all those radio people backstage on the last tour, they gave your album at least two months worth of extra airplay—I'd like you and Dave to do the same on this tour."
Nick looked up, in a very funny and sloshy mood.  With a glint in his eye and weaving a bit two and fro he uttered, "Rap, we are far too old, far too tired, and frankly, far to rich to have to put up with this bullshit."  And then we both broke out in uncontrollable laughter.
I said fine, we won't do it in every city but I needed them to make a commitment to do some meet and greets in key cities.  On our fourth margarita Nick came up with the idea of how to convince David.  "Rap, you know how much David loves sushi right?  Here's what you do—in every city you want us to meet radio people, you build a sushi bar backstage.  Then you come into the dressing room and announce 'sushi!"  Dave will give a sniff and say "ah, sushi" at which point he will follow you anywhere.  All you need to do is line your people up and Dave will shake all of their hands on the way to the sushi bar!"
A brilliant piece of marketing strategy from my beloved friend Nick Mason.  Now let me see, how much will that cost per city??  Got to buy the sushi, have a chef or two… hmmm.
Nick Mason is one of the good guys, as is David Gilmour—both gentlemen through and through.  Here's another interesting fact about Nick.  He once told me that he had learned how to fly because his whole life the success he had achieved came through being a part of a larger whole (i.e. Pink Floyd), and he wanted to prove to himself that he could also be successful on his own.  I found that a very human and touching piece of information.  Sometimes we forget that even our superstar heroes are very human indeed.
When I look at the videos surfacing from Europe I wonder why David and Nick ever bothered to include extra percussion on The Division Bell Tour.  Now that I see Nick "on his own" I remember what an incredible action drummer he truly is and how individual his accomplishments having been the engine that drove Pink Floyd for all those years, and he is playing at the top of his game.
The Saucer Full Of Secrets project is Nick spearheading the performance of some of the most important progressive rock music ever made.  Judging by how incredibly successful the European tour has been, I'd say we're in for a rare treat!
Click here for 2019 U.S Tour dates and beyond.
Until next time,… Set The Controls for the Heart of the Sun.
Rap~
© Paul Rappaport 2018