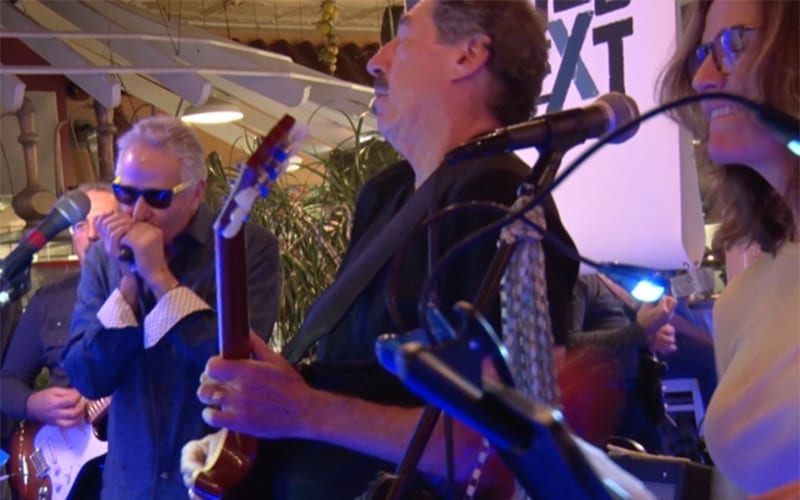 This is a headline that I could not have, and would not have written a year ago. I haven't been good with the getting older thing—not for a long time. I am guessing that many of you can relate. But this year some major events took place that really turned my head around and I got some very deep and valuable insights, which have totally changed my views on the matter. In fact, I feel great about turning 70 and am ready to celebrate. I would like to pass some of these thoughts along in this blog to those my age and to those on their way.
I guess the biggest part of getting older is dealing with how one defines oneself. Since most of our time on this planet is spent being young or at least younger, when things change you might begin to worry about what you are losing—that was a big one for me. This fact is especially hard for those of us from the "youth generation" who somehow thought we'd be more like Peter Pan and never grow old.
My first personal freak out was at age 40–I thought my youth was over. When asked my age in doctors' offices and I said "forty," it used to reverberate in my head, 'forty, forty, forty, forty'–my world was changing. For the first time both the doctors and nurses were beginning to look younger than me which made me feel even older, and given this country's obsession with youth, I worried that my relevance in the world was over. I was a classic mid life crisis case, went out bought a bright red Porsche, the whole nine yards—ha, ha. It literally took me a year to get over it. But I started going to the gym, got in shape, stepped up my creativity at work and I realized there was much more to come. I got to develop a great live singer-songwriter radio series and that led to an Emmy Award winning live music television series—blew my mind, irrelevance avoided.
When I hit 50 I was fine and actually rejoiced. I felt like I belonged to some special club and somehow had managed to make it to this landmark age.
My 60's were mostly cool but I was not happy about the fact that I was starting to look older and there was nothing I could do about it. I was so into defining myself as a younger macho kind of dude, I am embarrassed to report that when I heard the news that I was going to be a grandfather, my first thought was, "F*ck, I can't be that old!" Pretty lame, especially when I later realized what a blessing it was and now having such a blast hanging out with my granddaughter.
Turning 70 is different. It's a time when you pause, look around, and take stock of where you've been and where you are going, because you realize that more of life is behind you than in front of you.
Like many of you who are a bit older, I am starting to lose friends and family. I have lost too many to the big C and currently know many folks fighting that and other diseases. I have not had to deal with this personally but living an active lifestyle has led to a couple of very painful back injuries, both of which took a long time to heal and knocked me down for a while. The Doc showed me an X-ray of my spine and said, "Look, this isn't just happening to you, ask your friends, those discs aren't 25 years old anymore." These kinds of things force us to face into our own mortality—how much time do any of us have left? And given the givens, how do we make the most of that time.
But before you run for your Leonard Cohen and Janis Ian records, get ultra depressed, and decide to take pills, I would like to share some personal insights that have brought about some big changes within me and have really helped me from feeling down to actually looking ahead with joy and celebration.
My biggest mistake has been obsessing about what I was losing, instead of paying attention to what I was gaining!
For example, all my life I've wanted to become a really good guitar player. Like most players, I've progressed in spurts, playing, learning, leveling off and then back to learning more, etc.. I put a blues band together a while back, once again to try and take my guitar playing to another level. I learned a lot from the other guitarist in the band (one of my secrets—always play in a band where the other guitar player is better than you, you will learn a lot and it will push you to new heights), I listened to a lot of tracks by Peter Green, Eric Clapton, Billy Gibbons, Freddie, Albert, and B.B. King and practiced every day.
More Backstage Access: B.B. King – Special Insights from the Man Himself 
Low and behold, at age 69 I have finally become the guitar player I always wanted to be. Not that I'm done growing by any means, but for the first time in my life I am playing solos that I can listen back to with a smile. If it took until age 69 to get there, so be it—I made it! And if my 70's are partly about enjoying playing on that level, I'm in!
Another thing you gain from growing older is what you learn along the way in life.
I've learned as an entertainer that once you realize it's not about you showing off, but about ENTERTAINING THEM, the audience senses that you are really there for them and a shared appreciation takes place between the audience and the performer, creating a genuine bond. Spend enough time watching Bruce Springsteen or U2 close up, and you get it. This kind of understanding can only come with age and experience.
I like to think my band, Blues Next, understands that dynamic and we have a lot of fun being super audience friendly. Here's a short highlight reel from a recent show we did. I hope you get a kick out of it. Whatever I've lost in my youth, all I can say is, at 69 about to turn 70 I'm having the time of my life!
This next part is a bit deeper. A short while ago, I wrote about one of my best friends who had passed away all too soon, Jim "Rocky" Del Balzo. We spent so much time together at Columbia Records enjoying one of life's special bonds that I just haven't been able to get over his passing. A few weeks ago it hit me, I don't want to get over it—I don't want to forget him or repress or push his death into the background so that I can somehow reach a happier state of mind. It occurred to me that all my life I've needed to have everything and everyone around me in perfect order—when things are going good that's when I've been happy. But this major revelation showed up—being happy isn't what it's all about. I have found richness in my grieving, a warm smile every time I think about him. Instead of trying to suppress it, I welcome remembering his voice and the way he called my name, his unique laughter and humor. And somehow he is alive again, albeit in a different way.
There is something to having a quiet cup of tea and appreciating all of our human feelings and emotions, not just those of happiness. I suppose it's like an incredible rich stew where you taste a myriad of flavors, some sweet, some spicy, some even bitter—in the end, the stew wouldn't be that great without each and every one of those ingredients. And therein lies another revelation—the joy in just being.
Since I was 14 in Southern California during the 1960's surfing explosion, I've always taken pride in being a strong waterman, even able to help save others in big wave conditions. That changed with the back injuries (and one bad concussion—forgot about that one). I'm still able to surf but have had to come to grips with not being that 40 or 50 year old ultra strong macho guy who has the ability and stamina to survive heavy waves. But what's the most important thing, being that guy or still being able to surf?! The truth is I am lucky as hell to still be able to paddle out and ride waves. I still get to experience that feeling and I am still an active part of the tribe.
And the granddaughter thing—wow! I'm just a big kid myself so it's quite easy for me to get on her level. Her name is Kaya and loves singing, so when she visits I mic her up, put a little echo on her voice, and back her up on guitar. I try to turn her on to rock and the blues and so far she loves Tom Petty's "Runnin' Down A Dream," and the blues standard "Key To The Highway." Of course at 7 years old, she makes me watch all the new pop stuff she sees on YouTube—Katy Perry, Taylor Swift, Rihanna and all the rest and I have great fun teasing her about pop vs. rock.
More Backstage Access: My New Les Paul Guitar – A Personal Journey
This past summer we all visited our family in Southern California and put Kaya in surf camp. She is now the official youngest surfer in the family. This means an awful lot to me having been able to pass surfing down to my sons and now to my granddaughter.
After taking a good look at what I have gained with age, I have found a way to embrace it, instead of trying to fend it off. Yes, some of the greatest things that happen in our lives happen during our youth, but I'm here to tell you a whole lot can happen during the later stages of our lives that bring all kinds of fulfillment. I know there is even more to learn. If I'm blessed, I'd like to hang around for some more years and learn it.
As this year comes to a close, I'd like to take this opportunity to thank Classics Du Jour's Judy Libow for all her love and friendship over the years. She is truly one of the finest human beings I have ever met and makes this world a better place every day.
I would also like to thank Brianne, a wonderful gal with a big heart who amongst other things is the Classics Du Jour web Queen. While we all had votes on what this web platform should look like, she essentially created what you see and continues to deliver all the content you are reading. Pretty awesome, right?!!
I will check in with you all again early next year.
Until then,
HAPPY HOLIDAYS!
Rap~
© Paul Rappaport 2018
Related: The Top 20 Rockers Over 70