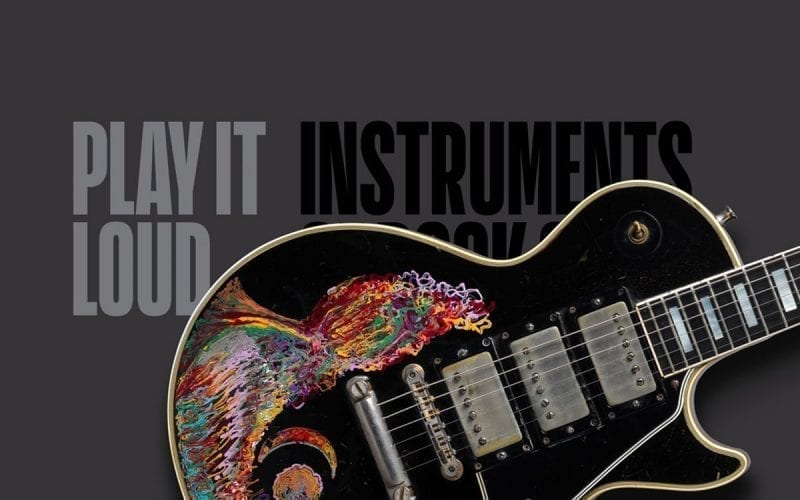 One of the coolest things that happened working closely with so many great musicians while I was at Columbia Records was talking music with them and especially talking guitar with all the great players I met.
The most fascinating thing was the discovery that at the end of the day, after all the fame, all the celebrity, all the gold and platinum records, and all the money, these guys, and gals, were just people who loved to play the guitar. And like any other player, loved to talk guitars!
As soon as they found out that I was a player, they were anxious to show off their prized possessions, ask my opinion about certain ones, and even give me pointers and/or a guitar lesson.
After one of my interview sessions with David Gilmour on the houseboat/recording studio Astoria, he pulled down a 12-string acoustic guitar that was hanging on a rack and started strumming the chords to "Wish You Were Here." Then he gave me a Cheshire cat grin knowing that his playing would light me up, not because it's just the chords that were so familiar and moving, but it's also that particular guitar he recorded the song with—the guitar which makes the unique sound and voice that lives in our hearts when we hear "Wish You Were Here."
Keith Richards was very excited to teach me his secret to open-G tuning. It had nothing to do with his celebrity or him being a Rolling Stone… just one guitar guy anxious to share a "guitar thing" with another. He'd learned the tuning from Don Everly while on tour with The Everly Brothers. Keith told me as a guitar player, "My job is to pass it on. What I learned from Chuck Berry, Don Everly, etc;. etc., it's my job to pass it along to other players. In fact, on my gravestone it would be great if they wrote, 'He passed it on.'"
I would be at a party Ronnie Wood was throwing and he'd push me down on a couch and throw a Fender Stratocaster in my lap and say, "Hey Rap, Fender just sent me this, what do you think?"
Any guitar player can tell you that guitars have souls, each one is very different (even if they're the same model type), and when you get one it can become your friend and it will gift you a tune, as David Gilmour has said.
So when my friend Perry Margouleff, songwriter, producer, and most notably the foremost vintage guitar collector buyer/seller in the country, invited me to the opening of the Instruments of Rock & Roll exhibit at the Metropolitan Museum Of Art, I jumped at the chance. He helped acquire a lot of the guitars for the exhibit and owns some of the very special ones on view.
If you love rock & roll and especially if you are a guitar player, this is a MUST SEE exhibit. These guitars created many of the records you love and many you've seen played at your favorite concerts. I saw my life pass in front of me as I walked through each of the rooms.
Here are some highlights from the exhibition:
Eddie Van Halen's "Frankenstein"

One of my favorite pieces in the exhibit is Eddie Van Halen's original creation of the guitar named "Frankenstein."
Van Halen was searching for a sound and tone and couldn't get it from just one manufacturer, so he built his own from modified factory seconds and mismatched odd-lot parts. He then spray-painted it himself which became his signature guitar look.
All of this because he didn't have the money to do much else and he needed to design a guitar that would suit his groundbreaking and unorthodox style of playing. It is one of the most recognizable guitars of all time and has spawned legions of copies from other manufacturers.
This is a GREAT interview with Eddie. Well worth your time, and part of which is featured in the exhibit, Eddie explains it all here and more.
Muddy Waters' Guitar
One of our most well known blues fathers, Muddy Waters, played a Gretsch and then a Les Paul Gold Top equipped with P-90 pickups in his early years. But in 1957 he bought a brand new 1958 Fender Telecaster. Originally white with a maple neck, he replaced the neck with rosewood in 1961, had the guitar painted candy apple red, and replaced the knobs with those from a Fender amplifier. Nicknamed "The Hoss," this was Muddy's workhorse until his death in 1983.
Buddy Holly's Guitar
No explanation needed~
Jimmy Page's #1 Les Paul Guitar
Jimmy Page's #1 Les Paul — this is THE ONE! A 1959 Les Paul Standard, Page bought it from Joe Walsh in 1969 for $500.00. He used it to record Led Zeppelin II and it remained his favorite guitar throughout his years with Led Zeppelin.
Duane Allman's Gibson SG
Duane Allman used this as his main slide guitar with the Allman Brothers Band, most famously on the live recording of "Statesboro Blues" from At Fillmore East (1971). Co-guitarist Dickey Betts gave Allman the instrument in 1971 so he would not need to spend time in between songs re-tuning his guitar for slide playing.
Eric Clapton's "Blackie"
This was Eric Clapton's main recording and performance guitar in the 1970's and 1980's, and has become his most famous instrument. Clapton's guitar tech Ted Newman-Jones assembled it from three late 1950s Fender Stratocasters: it has a 1956 body, a 1957 neck, and 1950s pickups. My favorite thing about it is how well worn the neck is from so many years of use.
Although mostly guitars are featured, there are some other kinds of very notable instruments in the exhibit as well.
Keith Moon's "Pictures Of Lily" Drum Kit
Keith Moon received this drum set at the beginning of the Who's 1967 U.S. tour and used it extensively for the performances that followed. The custom artwork features nude photos of Lily Langtry, the subject of the Who's 1967 single "Pictures of Lily. The psychedelic design incorporates a Union Jack and the text "Keith Moon Patent British Exploding Drummer," a reference to Moon's tendency to pack his drum shells with flash powder and detonate them onstage. The two original bass drums are lost, possibly destroyed by Moon's pyrotechnics.
Keith Emerson's Moog Analog Synthesizer
Inspired by the 1968 Wendy Carlos album Switched-On Bach, Keith Emerson of the new band Emerson, Lake, and Palmer sought out one of the synthesizers that Robert Moog built for a 1969 Museum of Modern Art concert. The band's 1970 hit single "Lucky Man," with an expressive Moog solo by Emerson, helped establish the synthesizer as a lead instrument in popular music. Emerson collaborated with Moog to expand the synthesizer and optimize it for live performance, adding additional components and preset modules that recall sounds.
These photos are just the tip of a huge iceberg. The white Fender Stratocaster that Jimi Hendrix played at Woodstock is here, the psychedelic guitars that Eric Clapton and Jack Bruce used in Cream are here, as well as Stevie Ray Vaughan's famous SRO guitar, Bruce Springsteen's renowned Fender Esquire, Paul McCartney's Hofner bass, Prince's "Love Symbol" guitar, the Fender Telecaster used by both Jeff Beck and Jimmy Page in the Yardbirds, two of Jerry Garcia's prized possessions "Wolf" and "Tiger, and so many more.
There are also the entire rigs (amps, pedals, and guitars) of Jimmy Page (with the Theremin), Keith Richards, and Eddie Van Halen on display with short films by each explaining some of their techniques. Jerry Lee Lewis's gold painted piano that he played in his home from 1957 to 2017 is here, and there is so much more it's mindboggling.
I found that as came upon each treasure, I couldn't just look at it and move on. I had to spend a moment with each, I wanted to sink into each instrument and perhaps let each sink into me as well. The music is that strong inside and I felt a kind of kinship with these instruments of rock & roll – they all have shared their souls with us for so many years.
Rock On!
Rap~
© Paul Rappaport 2019