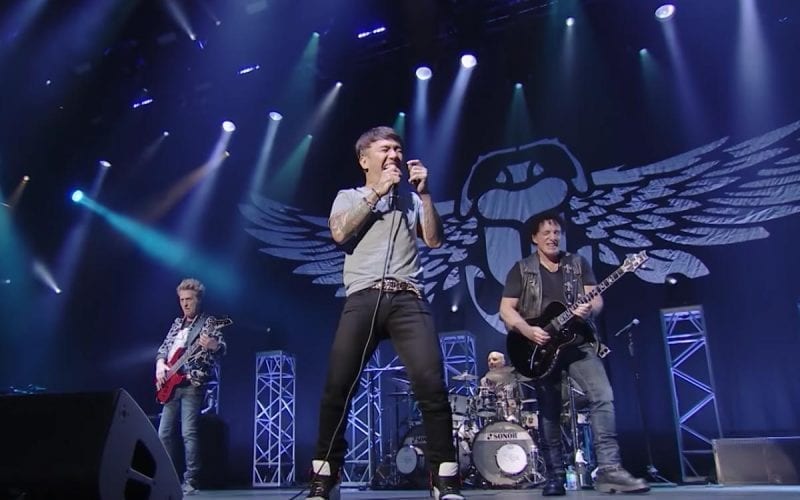 I think this new live Journey CD/DVD is something to be excited about.  Even though we all miss the one and only Steve Perry as frontman, for the last ten years Arnel Pineda has done a fabulous job singing all the songs, sounding incredibly like Perry, and hitting all the high notes. Moreover, the band is so professional they remain as good as they ever were, and bring high energy to every performance. 
I saw them not too long ago at Jones Beach and they were just phenomenal. Neal Schon is doing some of his best guitar work ever. Mostly known for those sing-along guitar solos, during the show the band also gives him room to really open up and show-off his guitar prowess. Neal is so good he's worth the price of admission alone. Add original members, Ross Valory on bass and vocals, Jonathan Caine on keyboards and vocals, Steve Smith on drums, and hearing all those fabulous songs, you get the soul of Journey lock stock and barrel.
Watch this!
Journey – "Separate Ways" Live in Japan 2017
They are as exciting as ever, and if you close your eyes you probably can't tell if this is from the new CD/DVD package recorded in 2017 at Japan's Tokyo Budokan Arena or if it's from a show in the mid 70's or 80's! The band played this special show, performing the albums Escape and Frontiers in their entirety, for legendary Japanese concert promoter Mr. Udo in honor of his 50th anniversary in the business. Journey does those kinds of things being trained well early in their career by renowned manager Herbie Herbert. They understand it takes a large team to make a career happen and they have the best relationships with promoters all around the world.
The show features many of Journey's most enduring songs, including "Don't Stop Believin,'" "Faithfully," "Separate Ways," and "Open Arms," but the show also allowed the band to play tunes like "Lay It Down" and "Back Talk" that hadn't been attempted in decades. On March 29th, this performance will be released on CD/DVD under the title Live In Japan 2017: Escape + Frontiers.
Journey's shows have for years become one giant sing-along with their audiences. Because listening to live performances can be so moving and powerful, I can foresee many fans riding in their cars, just singing away at the top of their lungs along with these recordings. And that is, in part, a testament to Steve Perry who wrote or co-wrote all those timeless hits. He may not be there singing them in person but here we witness the power of great music – the songs will live forever.
Having worked closely with the band from their very beginning, even before Perry joined as frontman, I can attest to how great these guys are as musicians. Check out this video of the band playing the first track off their first album live in Osaka Japan before Perry came on board. It features Gregg Rolie on vocals, the very talented keyboard player and vocalist that was in the original Santana band and sang all of their original hits.
Journey – "Of a Lifetime" (Live in Osaka 1980)
One interesting fact about the band's legendary career after Perry's arrival is that the press, somehow eschewing their musical expertise, branded them as "corporate rock," as if their propensity to write enormously wonderful hit songs, the kind that live in our hearts forever, somehow made them less talented. It drove the band nuts. They could be heard all over the radio, sell out large arenas tour after tour after tour, yet they got bad press.
To this day I still have arguments with many industry colleagues over how amazing the musicianship in this band truly is. That may be because the band got slagged for some of their videos made for MTV back in the day, which admittedly were a bit cheesy. Making videos in general was difficult for a lot of groups who previously only had to be concerned with sound. Trying to capture the essence of a song visually was brand new territory back then and some artists were much more successful at it than others. Videos were certainly not Journey's forte, and the band did look pretty lame in some of their early films. As an aside, it was always interesting to me that Pink Floyd, a band known for their powerful films and images in their live shows, also struggled to make great videos for MTV.
But videos aside, the Journey band, even throughout some personnel changes over the years, has always boasted exceptional musicianship. They also had and continue to have a tremendous work ethic–the word "filler" on albums does not exist in their vocabulary. One of my all time favorite quotes is from Steve Perry himself, who while recording often drove the rest of the band crazy with many re-takes. He would often be heard repeating these words, "Making timeless music, takes time."
Related:
Watch and Hear Steve Perry's New Single
Perhaps he learned that from famed record producer Roy Thomas Baker who produced Journey's fourth album, the one that would debut Steve as the band's new lead singer and become their breakthrough album. RTB, as he is affectionately known, produced five of Queen's biggest albums including A Night At The Opera, featuring "Bohemian Rhapsody." In the movie, when the band is recording and they ask, "Roy, what do you think?"… that's him. Known for those wonderful stacked harmonies, RTB was the perfect choice for Journey's new direction with Steve Perry on lead vocals.
Infinity would be the title of that fourth offering, and I went to visit the band in the studio while they were making the record. Perry saw me and immediately grabbed me and yanked me into the record room. Obviously very anxious and upset he blurted, "I'm going to KILL this guy!!" referring to Roy. "He's made me sing the same song twenty f*cking times, and every single time I sing the song perfectly. I can't sing it any better and he keeps asking me to sing it again!"
I walked out to talk with Roy but I knew better than to get into the middle of that one, and sure enough as Steve followed me into the control room Roy, choosing to speak in his "womanly" voice (it was rumored that Roy was bisexual) giddily trumpeted, "Please sing it one more time darling!" Steve's eyes rolled back and he looked at me like he was going to explode, but he dutifully went back in and sang the song again – the performance, as Steve would have predicted, was… perfect.
The story of how Steve Perry became Journey's lead singer is a pretty remarkable one.
Steve had been singing in bands, made his fair share of demo tapes, and had auditioned for numerous record labels for some time. When nothing clicked, totally demoralized, he finally just gave up. Steve went home to northern California where he worked on a turkey ranch doing every day chores.
Journey manager, Herbie Herbert had gone to Columbia Records' headquarters in New York to get an advance for the bands' next album. Even though they had reached a degree of success, Columbia didn't see much further potential growth and was thinking of dropping the band from the label. At the same time, the head of marketing, Arma Andon was working with a potential new talented singer named Robert Fleischman but couldn't get him placed at the label. Herbie went to Arma and made him a deal–if the label would keep Journey on for one more album he'd hire Robert as Journey's lead singer—voila, everyone was happy, at least for a short time.
Robert was singing all right but apparently his ego quickly got out of hand and he started making demands for what was needed to keep him in the band. Herbie, having been steeped in the music business for years, having first worked very closely with Carlos Santana and his band was quickly beginning to lose patience.
As fate would have it, Herbie had also gotten hold of one of Steve Perry's cassettes, and had fallen in love with his voice. He thought Perry might just be the answer to take Journey to the next level.
He phoned Steve's home and Steve's mother answered. Herbie excitedly told Steve's mom about his idea to have Perry audition for the band but Steve's mom said that her son had been so heart broken about his former music business experience that he didn't even want to come to the phone — he couldn't stand one more rejection, he was just done. It took everything Herbie had just to be able to talk to Steve. Somehow he convinced Steve to trust him and to come on board as a live sound engineer for the next Journey tour while Herbie figured out how to get him to be able to sing with the band.
Herbie gave the cassette tape he had of Perry to Neal Schon's wife at the time. He told her not to sit Neal down and play it for him, but to just put it on as background music in the house while they went through their daily lives — he just wanted Perry's voice to seep into Neal's brain slowly and organically. This went on for about a month before the band was due to hit the road again. As agreed, Steve came on board to help with the sound mixing. Spending a lot of time at both rehearsals and live shows Steve learned all the Journey songs by heart.
One day when Robert was getting on Herbie's nerves again, Herbie finally had had enough. He told the road manager to make up something that required Robert to be away long enough to miss sound check. "I don't care what you do, just don't let him come back until gig time." At sound check the band reported Fleischman missing in action and so Herbie suggested Steve fill in for rehearsal as he had been on the road with the band and knew all the songs. Why not? Easy-peasy. So Steve starts to sing and the whole band perks up at the sound of his voice, especially Neal, who could swear he'd heard Steve's voice from somewhere before – he just couldn't remember where, but that it sounded great, and very familiar.
Fleischman finally returned to the gig and started in again on Herbie with his demands. Herbie turned around, looked at the guy, let loose with a flurry of expletives, ending in, YOU'RE FIRED! Fleischman, visibly shocked, was shown the door and that was that. I want to make it clear that I have no axe to grind with Robert Fleischman, who I believe over time kept up a good relationship with the band and in fact, was a co-writer on three songs for the Infinity album including "Wheel In The Sky." For his side of the story, he admits to being a bit cocky, and to his credit is quoted as saying, "But name me one lead singer who isn't a little cocky?" In the end, bands and their organizations try to create an environment with as less friction as possible and it just wasn't working out between Robert and Herbie.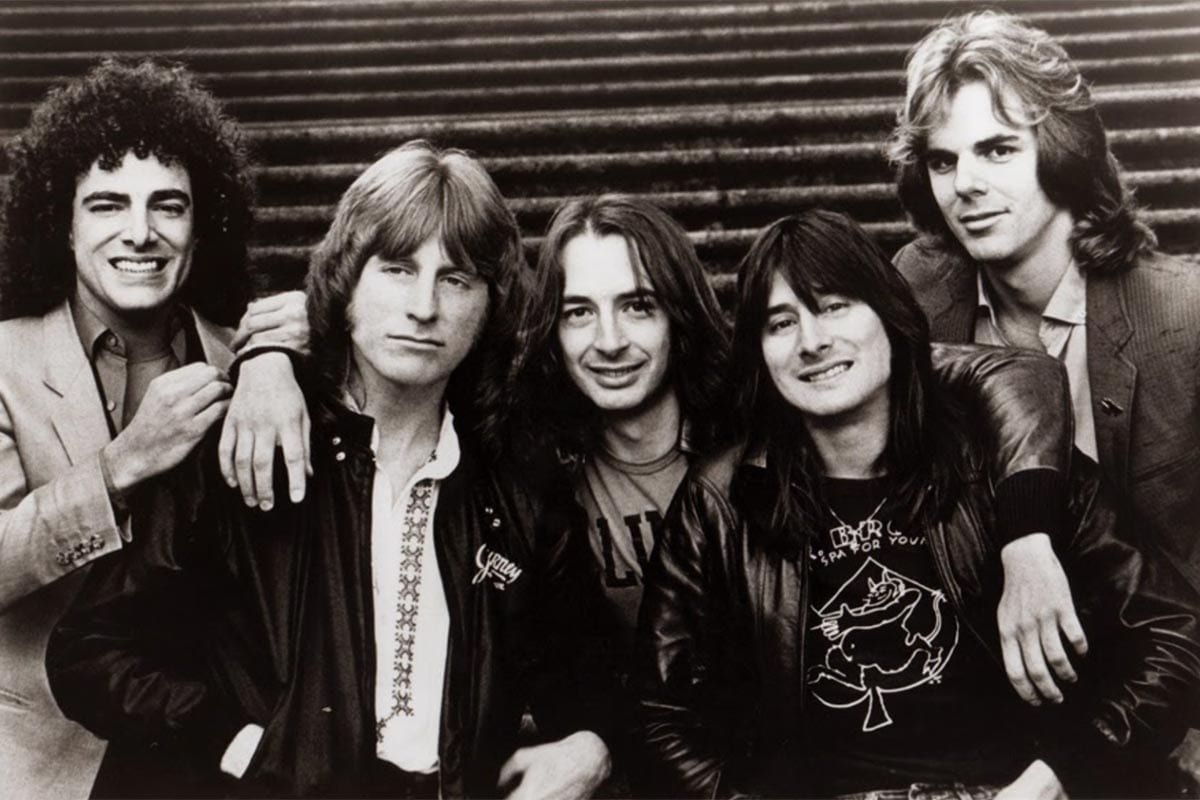 If you think about all the events that had to take place in order to bring Steve Perry to Journey's doorstep and then have him walk through, it begins to make you feel like some things are just written in the Universe beforehand. The rest is history as they say, and here are some fond memories from those heady times.
Herbie wanted the band and its business to be as independent from the record label as it could be. At it's pinnacle, Journey had over seventy employees working for them. Not only a large road crew but a management office that even boasted its own art department. Journey could record an album, produce its own album cover, produce its own posters and point of purchase material, and set up an entire marketing plan aligned with a big tour, all on its own! They'd even bought their own Semi trucks and trailers to haul their large stage show — they didn't owe a dime to anyone.
I remember Herbie asking Neal one day to please stop riding his motorcycle across the Golden Gate Bridge at 100 miles per hour. The business had grown so big that Neal and the band were no longer just responsible for themselves, but were now employing seventy people, many of whom had families with mouths to feed.
Herbie was so proud and into Journey's success that he actually bought an office building that looked directly over the Tower Records store in San Francisco because he loved to see all the kids walking out of the store with Journey albums in droves anytime there was a new release. A notorious marijuana smoker, and also a notorious joint roller, and sometimes having to yell at people as any manager can attest to, he earned the nickname "Twist and Shout" — we all got T-shirts.
One day I received a book at my office that was entitled something like The Joys Of Yiddish, or Yiddish For Klutzes. Along with the book came a note from Herbie and his sidekick, the legendary road manager Pat Morrow, lovingly referred to as "Bubba." In the note they said they thought it was time that more people learned to speak Yiddish. I found this fascinating since neither of them were Jewish. Upon further reading they said in the near future they'd only be speaking in Yiddish and that everyone who received a book should study up if they wanted to communicate with the Journey camp—this not only included everyone at the Columbia label, but promoters, other managers and agents all across the country!
Sure as shit one day I get a call from Herbie. "Rap, Vos Makhstu?" (how are you). Not having read my book and knowing very little Yiddish, I laughed and countered in English, "Ha, ha, hi Herbie, that sounds really authentic. I know we need to discuss the first single off the new album." Herbie, answered in Yiddish — I couldn't understand a word he was saying. No matter what I said in English I only heard a Yiddish reply. Finally, a very upset Herbie Herbert broke from the Hebrew/German dialect and scolded me in English, "Rap, you of all people, a nice Jewish boy, can't speak just a little Yiddish?!! Look man, me and Bubba are serious and if you want to discuss the new Journey single I strongly suggest you read your book, and when you can speak at least three sentences of Yiddish, call me back."
I did, I had no other choice. Nor did any of the great and famous concert promoters across the country, nor any radio or press people, nor ANYBODY at Columbia Records including the President! The good news for Herbie was that Walter Yetnikoff the head of CBS Records at the time could speak Yiddish!
More Backstage Access:
Amazing Tales from the Record Biz – You Can't Make this Shit Up!
Yep, those were the days. Even in a business as big as ours, there were countless moments of wacky fun like this going on all the time. Somehow a band of hippie freaks from the counterculture, which included most of us who'd arrived to work in the music industry from the mid 60's, were now running all things rock and roll. We had been given the keys to the asylum — yes, the inmates were totally in charge!
Until next time, keep rockin,'
Rap~
© Paul Rappaport 2019