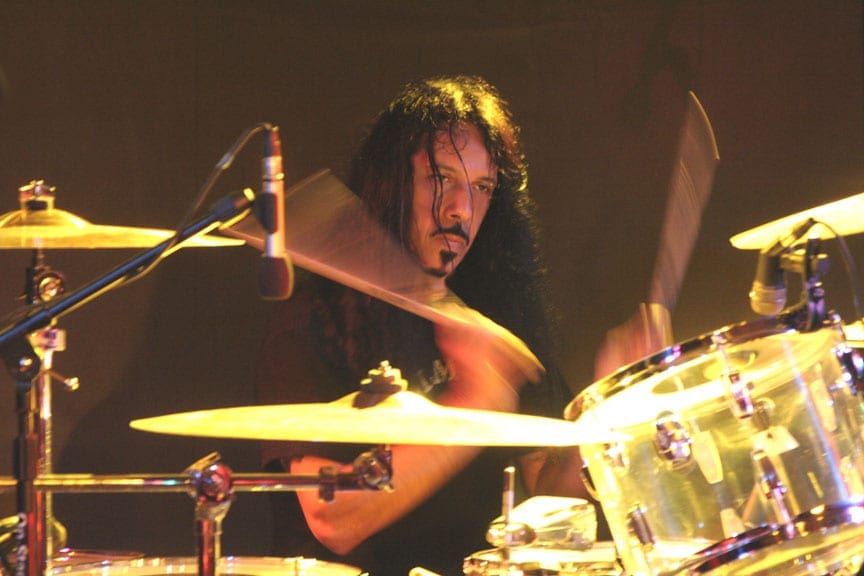 Quiet Riot drummer Frankie Banali was hospitalized in California Monday night. The 68-year old is battling stage 4 pancreatic cancer, a diagnosis that was made public last fall.
"Just admitted to the emergency room at Kaiser," Banali said in a Facebook post. "It occurred to me that this is just like Disneyland except the lines are shorter and the rides are painfully slow – and the price of admission… OMG!"
Banali did not reveal his condition or why he was hospitalized, however his wife Regina posted on Facebook on Tuesday afternoon to clarify rumors. "Frankie is not on his death bed. He has been in the ER several times during this journey. He currently has an infection, again."
She then goes on to say that they expect the infection to clear up and Frankie to be sent home.
Frankie Banali confirmed the update, sharing her post along with the caption: "This is from the lady in the know."
Earlier this month, Banali spoke with Eddie Trunk on his SiriusXM radio show about chemotherapy and losing his trademark hair.
"..right now you probably wouldn't recognize me because not only did it take all the hair on the top of my head, but it took my beard, my eyebrows, my eyelashes. Let me put it to you this way: I have just really improved my Olympic swimming chances with the loss of body hair," Banali joked on the show.
The two also spoke about Quiet Riot's scheduled July 4th performance in Hot Springs, Arkansas. The metal band is booked to play at the Magic Springs Theme and Water Park on Independence Day for a crowd of 3,000 people with social distancing measures enforced.
Banali's ongoing battle with cancer makes him particularly vulnerable to COVID-19 and even before his hospitalization, Banali seemed unsure the performance would actually go ahead as scheduled.
"I'm still waiting to see what's gonna happen," Banali told Trunk.
Banali re-formed Quiet Riot in 2010 after the 2007 death of frontman and founding member Kevin DuBrow. Their latest studio release was 2019's Hollywood Cowboys.