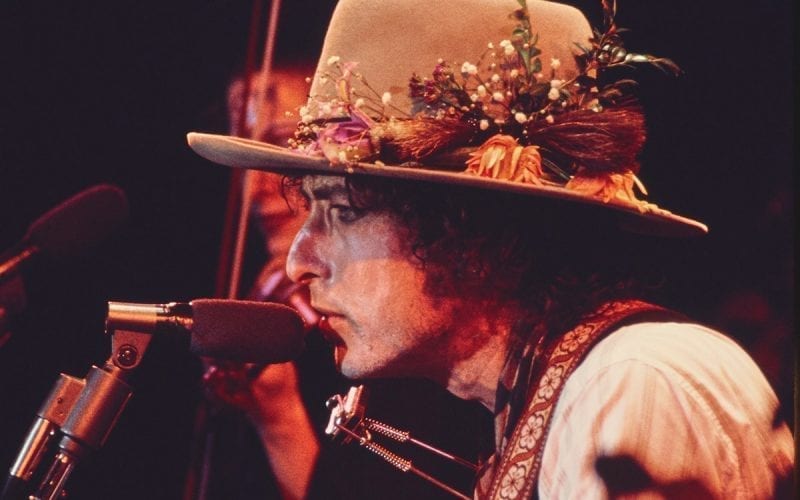 The Rolling Thunder Revue documentary by Martin Scorsese is a fabulous piece of music history as it captures a time when pure art was celebrated, when art was what the counter-culture musicians of the 60's and 70's were striving for. And when that counter-culture found a mass audience in the Baby Boomer generation, even the corporate driven-for-profit record companies found themselves in the business of selling art and creativity.
At Columbia Records we were told to be artistic and creative in our approaches to promotion and marketing as well — it was what the public wanted, and at that time not only from music but also from film, painting, poetry, novels — even commercial graphic art had to be hip and creative to connect with possible consumers.
The idea of a "band of gypsies" crisscrossing the country on a tour that was made up as it went along, not only the cities and venues played but also the forever changing lineup of musicians, fit right in with the overall artistic vibe of the times and generated a lot of interest. And not just from fans but from the artist community as well, which gave the tour great credibility —everyone wanted to be a part of it.
It was also a time that everyone wanted to be a part of Bob Dylan. Bob had just come off the release of Blood On The Tracks, one of his greatest albums ever, and he was at the top of his game in both songwriting and performance.
Because of that and the fact that many of his 60's songs helped change, create, and literally define the culture of an entire generation, Bob was looked upon as not only a great artist but also a kind of oracle, a prophet, a seer of things beyond what most of us knew. Of course, that part wasn't entirely true, but at the time most of us believed it, at least to a certain extent. I think Bob got off on it to a degree because it helped build his mystery. But the truth is, as Bob once told me, "The problem with people meeting me is that they think they're meeting the lyrics. I know my songs are good, and I know how heavy they are, but I'm me, not the lyrics."
The first time I met Bob, sure enough, I thought I was meeting the lyrics, and the oracle. It was because his music, above everyone else's, had truly helped shape my life, the way I thought about the world, and what kind of person I wanted to be. He was at a party in a Los Angeles restaurant that Columbia had thrown and I grabbed my wife Sharon and walked right up to his table. Sharon wasn't sure that was the best idea but I told her it was the chance of a lifetime and who knew if our paths would ever cross again. Little did I know then that Bob and I would spend more than few years working together and actually form a nice relationship.
I think I mumbled some stuff about how much he and his music meant to me and then went on to explain that I was the Regional Album Promotion man for the western states and was currently working his Blood On The Tracks album at FM radio. "How's it going?" He asked. I told him the record was so good that all I had to do was deliver it to the radio stations and that they immediately grabbed it and had been playing the hell out of it ever since. "Great," he said, "Well, I guess we'll call ya when we need ya."
It wasn't the meeting or conversation that I had wanted it to be — I really wanted to bond with him in some way, but that would come later. I like so many others, for some reason, needed to be close to Bob, to be in his camp; be a part of his world. I thought perhaps that would somehow give me more credibility, more authenticity, and somehow more importance in my job and the world in general. It was that way for so many people—that somehow being connected to Bob you acquired some of his superpowers, became a part of the overall aura of the things he stood for — anti war, anti-establishment, like waving a flag letting the Madison Avenue "suits" know that you weren't going to fall for their attempt at manipulating you, confining you to living your life in a traditional box, like most everyday people, "…20 years of schoolin' and they put you on the day shift…look out kid, they keep it all hid…."
The Rolling Thunder Revue – Trailer
The Rolling Thunder Revue included a large array of artists, like Joan Baez, Roger McGuinn (The Byrds), Joni Mitchell, Ramblin' Jack Elliot, Bob Neuwirth, and others from the recording sessions of what would be his next album, Desire, which was released in January of 1976 in between the two legs of the tour. In the film, Bob says that during the tour every artist wanted to join him for a song on stage, but since all of them were headline artists in their own right, he couldn't understand why, "…I never understood the point of it." The part he couldn't see was that each artist thought that sharing a song with Bob on stage somehow upped their importance on the tour, somehow blessed them into a special hierarchy.
One of the key musicians on the Desire album and on the Rolling Thunder Revue tour is violinist Scarlet Rivera. Bob met her by chance one day when she was walking on the Lower East Side of Manhattan, her violin case in tow, on the way to a rehearsal with some Latin band. Bob spied her from his car and his interest was peaked by her exotic looks, gypsy flair, and the instrument itself. He invited her on the spot to his recording session. And that's the way stuff like that happened back then — very organic. That kind of happy surprise can reap some very magical rewards, as it did with Scarlet.
The idea of the tour, as Bob described it, was to "play for the people," in auditoriums that were smaller than large arenas. He wanted to get closer to his audience, to be more intimate, but also because of the simple fact, "…the atmosphere in small halls is more conducive to what we do." Indeed, in the beginning, Bob's vision was that the group would be formed more like the Jim Kweskin Jug Band. But so many musicians organically showed up and became a part of it that the show naturally swelled into a much larger proposition. And it kept growing and evolving as it went along. Artists like Joni Mitchell would come just to see the show, and afterward backstage when they came to say hi to Bob, he would invite them to join the tour.
At its peak, the tour boasted sixteen to eighteen people onstage and fifteen more working the backline. Because the largest auditoriums played were 3,000 seats (as opposed to 20,000 seat arenas), monetarily, the tour was a disaster. But as Bob explains in the film, the success of this tour was not measured by profit, it was measured by, "…a sense of adventure," and in so many other ways was a great success." I long for those days when everything wasn't measured by money. As one of my all-time favorite characters, Captain Jack Sparrow, from the Pirates of the Caribbean says, "Not all treasure is silver and gold, mate."
And the Rolling Thunder Revue was a treasure indeed. The original filmmaker who documented the whole thing, Stephan van Dorp, explains that it was quite an incredible experiment, "…to put highly motivated and ambitious people on a train without supervision, and let them become the most extreme versions of themselves." There was a lot of free space, which allowed a synergy and a magic to just organically develop. And we get to see much of that during the behind the scenes footage—how Scarlet Rivera decides to add more makeup appearing on stage as Bob's counterpoint, and how Joan Baez puts on white face and dresses exactly like Bob as a cute spoof on one of the dates. "…We could have used even more masks on that tour."
One of the fascinating things is to see in the film is the show playing for some incredibly small audiences at some very unlikely venues, like an old folks home or a prison. The tour was booked haphazardly at times, and the record company wasn't being apprised of the dates as they were added so it was hard to advertise Bob's albums locally around each show. This was a subject discussed at the big Wednesday Singles Meeting that was held every week at Columbia where all current projects – albums, singles, and tours – were discussed, and future plans made for each. I had been flown to New York at that time to visit headquarters and be groomed for futures. I was very naïve at the time so I got up and said, "Since Bob is so counter-culture driven, maybe he doesn't want us to advertise around the dates. Maybe he thinks that would be too commercially overt." I got a polite chuckle from the crowd of execs who assured me that no matter how hip or non-commercial Bob seemed to the public, that he was, indeed, very keen on selling as many albums as he could and having big support given by the Columbia Records machine wherever and whenever he could.
Bob Dylan – "Hard Rain" (Live from the Rolling Thunder Revue tour, 1975)
I saw the show in Connecticut that week with my boss and good friend Michael Pillot. To this day we are both huge Bob Dylan fans. When we arrived at the venue Mike needed to check on something while I waited in line at Will Call to get the tickets. So, I'm standing in line when I notice the guy right in front of me, wearing a jean jacket, looks quite familiar from the back. I tap him on the shoulder. Bruce Springsteen turns around and says, "Oh, hi Rap, how's it goin'?" I say, "Why are YOU standing in line Boss?? He says, "I don't mind standing in line for tickets to see Bob Dylan." That was Bruce then — just a regular guy, not looking for any special treatment. In fact, in those days he eschewed limousines and all the other rock star trappings — drove himself everywhere.
Bruce went backstage too after the show was over but he was not invited on the tour (not that it was a Bruce Springsteen kind of vibe anyway). At the time, Bob actually hated Bruce because he thought Bruce was totally ripping off his style — a complete imitator. As Bruce grew in popularity Bob thought people might be more interested in the newer version of Bob Dylan. Over the years, as I got to know Bob better I would tell him, "Bob, you are a big inspiration to Bruce Springsteen. He has been highly influenced by you, which is quite apparent, but he isn't flat out copying you. Just like Woody Guthrie was a huge influenced you and you emulated him to some extent–it's the same for Bruce and you. No Woody Guthrie, no Bob Dylan—no Bob Dylan, no Bruce Springsteen—it's the natural artistic progression of things." But no matter how I tried to explain Bruce Springsteen to Bob, he was having none of it. One day he came into my New York office when I was the national head of album promotion and saw a poster of Bruce on my wall. He pointed to it, turned and looked at me and asked, "Is he still driving that stolen car?" Only Bob could come up with something so poetic to describe his feelings.
I remember that day well because we also shared a natural down to earth guy to guy conversation about our lives in the 60's and about having kids. I said, "Bob, my kids are starting to grow up and be aware. I'm not sure how to tell them about the 60's culture and all the drugs I experimented with, etc., etc., etc.." He looked at me and spoke in that distinct Bob Dylan drawl, "Heyyy, at least you have a choice about what to tell them. How would you like to be me? E-v-e-r-y-thing I've ever done has been totally documented in the press — the drugs, the women, all of it–I'm totally busted!" He went on to give me some good advice, "You can tell them some things — you don't have to tell them everything."
The Rolling Thunder show itself was fantastic. And one of the best things about the documentary is that it is part concert film and most all the songs and performances are shown in their entirety. Because the show ebbed and flowed with different performers along the way, every night was unique and had a sense of adventure and unbridled energy to it. We were all on the edged of our seats for the entire show. One of my fondest memories, besides Joni Mitchell's set, was seeing a very young T Bone Burnett in the backing band wearing large aviator goggles. Between Bob in his legendary white-face makeup, Scarlet with her exotic looks, and T-Bone with those goggles, the group took on this circus troupe sort of look — a total bunch of freaks for sure — but the music was and very powerful and very meaningful.
One of the show's other highlights was the performance of "Hurricane," a protest song co-written by Jacques Levy about the false trial and imprisonment of boxer Rubin "Hurricane" Carter. Performed at every show on the tour, released as a single, and one of the most important songs on Desire, it brought national attention to Carter's plight.
Here is a stellar audio version from the tour. It's a long song and I thought about including the lyrics but it plays much better as a total movie in your head and every word is sung crystal clear. "Hurricane" is thought of as one of Bob's best songs ever.
Bob Dylan – "Hurricane" (Live from the Rolling Thunder Revue tour, 1975)
The film ends with Bob admitting that he's always been searching for something. When pressed he says, "The Holy Grail." For me, that means the meaning of life or that higher reason for being. But it also answers one of my long Bob Dylan questions.
In all my experience I've never seen an artist tour as much as Bob Dylan — he is seemingly always on the road. At the very end of the film, they list all the dates Bob has played since The Rolling Thunder Revue — the list is staggering. I always thought that Bob over-played, didn't give his audiences a chance to rest, to build anticipation for a next album or tour. But there was something else afoot. Once I had to get hold of him to discuss something. I called his office and they said he was on the tour bus. "But the tour's been over for two weeks," I exclaimed. They said, yes, but that Bob was just traveling around the country. I often wondered if he was running from something. Maybe he was searching for something. According to him, he still is.
I highly recommend this film, especially because as I said, it really captures a special moment in history. I do think you probably need to be a Bob Dylan fan to stay with it throughout. But if you are, you'll love it — it's Bob very close-up and revealing as he was then, and as he is now, and the music and performances are some of his best ever.
And don't miss your chance to win The Rolling Thunder Revue: The 1975 Live Recordings 14-CD box set!
Until next time,
"You don't need a weatherman to know which way the wind blows."
Rap~
© Paul Rappaport 2019