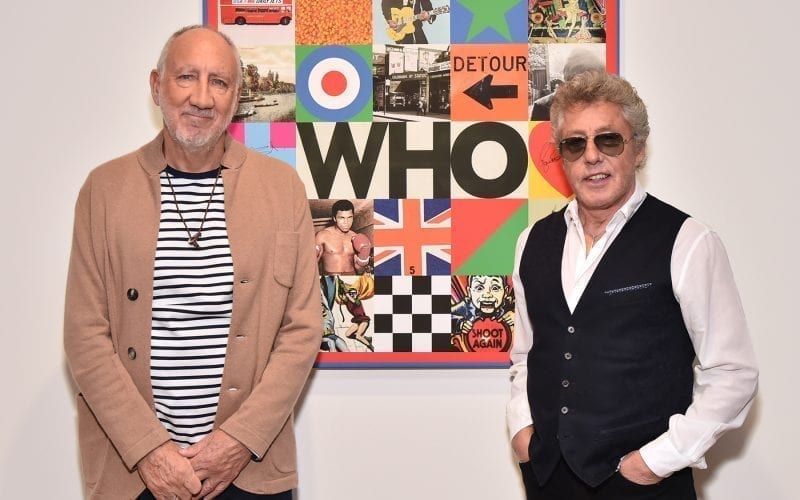 If you are a true Who fan, you're going to love this band's first new release in thirteen years, titled WHO — despite Pete Townshend's opening cynical lyric, "I don't care/I know you're gonna hate this song."
I've wanted to write about this album since I first heard it in early November of last year. The release got pushed to December 6th, which I think was a bit unfortunate. Back in the day, it would have been great—everyone would have bought the album for Christmas and sales would have been huge.
But in the age where streaming accounts for over 70% of the public's consumption of music, guess what most people are streaming in December? Christmas songs.
So the more momentum we can help muster to keep the album relevant into 2020 the better. And relevant it is, considering what's going on in the world today.
Pete Townshend has always written biting lyrics with sociological and political underpinnings — "I hope I die before I get old," "Meet the new boss, same as the old boss." Unbelievably, even though Pete's older now, he hasn't lost a step.
Check these out:
From "I Don't Wanna Get Wise" – perhaps a Who life's history lesson?
Let's admit our mistakes
Are what triggered our breaks
We were shits, so no disguise
And it is no surprise

That the crap that we did
Brought us money, God bless
And those snotty young kids
Were a standing success

Helped us conquer and rise
And we learned in this hell

We didn't wanna get wise
(I don't wanna get wise, I don't wanna get wise)
Life teaches us well
From "Beads On A String"
Don't you ever say never
It don't mean a thing
Going to get us together
Like beads on one string
There's always someone to blame
You don't have to look far
Now the world is a fleeting dot in the stars
I don't care how you name Him
He is always the same
I just know that we shame Him
When we kill in His name
This can't go on forever
This war in a ring
Gotta bring us together
Like beads on one string
From "Detour"
The people try to crash right down
Shoot at the sky, a craze with rage
We're all good people if you go deep down
But we gotta be in keeping with the brand new age
Time for a detour
We oughta take the curve (Detour now)
Taking the detour
Ooh it's time for a swerve (Detour now)
The world's in a spin now, it's time for a change
We know we can win now
We'll share the wage, we cause no pain
We can't explain, we lost the force, went off course
Ooh, we need a detour (Detour)
The Who's music has always had a message, perhaps even some deep profound meaning that we could all take to heart. It's so refreshing to hear these songs. This record is not some older band trying to recreate their former selves. It's the Who, full-on, full blast like nothing has changed in the last fifty years.
Early on in the band's career, Pete Townshend, who has always been an intellectual philosophical thinker, used to write articles for Rolling Stone and other worthy rock magazines regarding his thoughts on music and the culture of the day. To my knowledge, he's the only rock star to do so and his writings were always fascinating and quite special.
For instance, well aware of the intrinsic power of the Who and their music— being able to slam you against the wall both lyrically and musically with iconic power chords, and a rhythm section that couldn't be topped (citing Keith Moon's unique explosive style on drums and John Enwistle on bass who's nicknames were "The Ox" and "Thunderfingers"), Townshend pondered, what would happen if the band could gather a good number of fans together in a theater for an "experiment" to see how the music affected them if the band played for the audience three days straight?
The idea was for the audience to get so familiar with the band that all the celebrity and rock stardom would eventually wear off, leaving the audience to experience just the pure music with no artificial attachments. Pete wanted to know how the music, all by itself, would enter people's hearts, minds, and souls. That's pretty evolved thinking for a rock star who's usual M.O. can be nothing more than "Look at me, aren't I great!"
"All This Music Must Fade" (from WHO)
Roger Daltrey sounds magnificent on this album and it's not surprising since he always eschewed drugs and partying for a healthy lifestyle to take care of his voice. And even though no one can replace Keith Moon, Zak Starkey is about as close as you can get. Moon taught Zak how to play the drums and if you see the band live, Starkey emulates Moon's unique style.
Pino Palladino does an admirable job on bass, but no one can play bass like Entwistle did, so one misses those bass lines that used to sound like a bass playing lead guitar. Having said that, even though there are only two original band members left, the band sounds like the Who — indeed, it's the Who 2020, which is pretty f*cking awesome!
And let's talk about the production for a minute. In a word, stellar. I've covered this subject before, but the recording style in the heyday of rock accentuated dynamics. All the instruments had their particular placements in the mix, which left a lot of room for the vocals to shine. In many of today's recordings, everything is compressed to the same level so that it comes at you like a very loud solid brick of sound. The thought behind this is that the music will "sound better" in your little white earbuds. The TRUTH is, it doesn't sound better, just louder, so you are tricked into thinking it sounds good.
In today's world where we can actually see what the music looks like on wav files, as soon as I opened the files for the songs on WHO, I saw so many peaks and valleys in the lines spread across the page I immediately knew that this record was going to sound great. And, it does. Crank this baby up and you'll feel like you are in the band!
"Ball and Chain" (from WHO)
I remember the first time I saw the Who. It was in Los Angeles at the Shrine Auditorium during the late 60's. It was a two-night engagement and the bill was the Who, The Crazy World Of Arthur Brown, and a new band called Chicago Transit Authority.
The ticket price? $3.50! It was so reasonable (read cheap) I went both nights.
I was such a huge fan I got right up close to the band. The music and energy coming off the stage was just incredible. Of course, we were all anticipating the end of the show, as the band was famous for destroying their instruments. They did not disappoint. I remember smoke bombs going off behind Moon's drums as he kicked and toppled them over, and Townshend smashing his Fender Stratocaster over and over on the hard wood stage trying to get it to break.
For you non-guitar players out there, a Stratocaster is made from such solid wood and the neck of the guitar bolted on in such a way that it can be run over by a truck and not break (indeed, Dick Dale's legendary gold Stratocaster was once run over by a truck with little to show for it). So, Pete's wailing and wailing away building up quite a sweat and finally pieces start to fly off — I actually caught one and saved it in my guitar case for many years.
Later he switched to playing Gibson SG's — those will totally explode into pieces with just one good whack. Easy peasy. P.S. That guitar also sounds great so I'm sure it was chosen not for breaking purposes alone.
Me being such a fan I waited outside the auditorium after the show to get another glimpse of the band. In those days the big money had yet to roll in and there were no limousines — just rent-a-cars. The funniest thing was to see Pete Townshend's six-foot lanky frame trying to be squished into the backseat of a two-door Ford Mustang.
The next night I got to see rock and roll history. I was standing in front of Daltrey when he announced that they were going to try a new song that hadn't been recorded yet. He took out two wooden sticks (in the percussion world known as claves) and began a Bo Diddley type beat. Then he said, "This is called Magic Bus."
The song ripped through the auditorium and everyone present knew we were hearing what would become one of the biggest rock songs of all time.
If you haven't experienced this album yet, I urge you to buy it, stream it, get it anyway you can. Not only will you thoroughly enjoy it, it's a great reminder of what an excellent rock album should sound like.
I hope the next generation of rockers will take notice and learn from it.
Happy New Year to all,
Rap~
PS. I always try and share with you guys as many little tidbits of inside info as I can. Although this was documented years ago, many of you may not know the origin of the famous Pete Townshend 'windmill' guitar strum or why he gyrates around so much on stage. Turns out, Pete was very self-conscious of what he thought was a big nose and he wanted to avert attention to it. Yep. Once again something famous and legendary born out of necessity.
© Paul Rappaport 2020