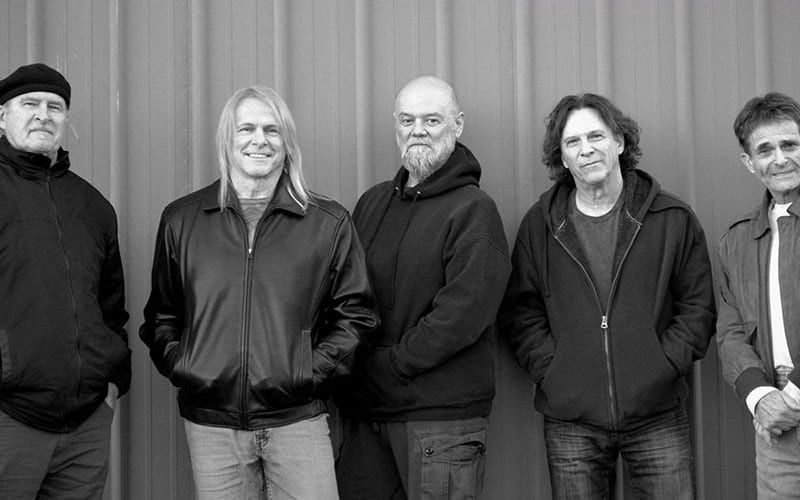 This is simply one of the best bands I have ever seen! I am embarrassed to say that I am very late to the party on this one as somehow they were not on my radar during their heyday (late seventies into the 80's). This is quite surprising to me, an avid guitarist, since Steve Morse happens to be one of the best guitar players on the planet!
I saw my first Dregs show a few nights ago at the Paramount Theater in Huntington Long Island and it blew my mind!! I am sure a fair amount of you readers know all about the band but for those that don't, here is a brief explanation.
This is a reunion tour called Dawn Of The Dregs, featuring all the original members—Steve Morse, Rod Morgenstein, Allen Sloan, Andy West, and Steve Davidowski. The most interesting thing about the band is that it's all instrumental music, yet extraordinarily entertaining.
To me the band is reminiscent of groups like The Mahavishnu Orchestra, Weather Report, Rush, Kansas, and even Pink Floyd — with a dash of Gentle Giant thrown in. But they are much more than all of those bands in that they play every kind of music imaginable, from hard rock to southern rock—to progressive metal to classical, and all of it quite astoundingly. If you think Rush has a lot of changes these guys play in every time signature imaginable and some that haven't been invented yet!
Every single one of these players is just off the charts amazing—they have to be to keep up with one another. Besides the Dregs, lead guitarist Steve Morse has played with numerous other great bands including Kansas, and since 1994 has been with Deep Purple. I used to think that the lead solo to "Highway Star" was difficult, but after witnessing what Morse accomplishes on guitar with the Dregs I figure he's yawning through any solo that Purple requires. The drummer, Rod Morgenstein (some of you may know him from Winger) is just fabulous and I put him right up there with Neil Peart from Rush—different style but on the same level. For me Morgenstein has a little more built in natural swing like Elvin Jones. And talk about eclectic, the violin player, Allen Sloan, besides being an incredible violin player is also a physician! The bass player, Andy West is smooth and effortless and the keyboardist, Steve Davidowski has an arsenal of many different styles but sometimes reminds me of Jon Lord, the original keyboardist for Deep Purple–and even though the other players steal a lot of the show for their gymnastic type playing abilities, Davidowski is like the secret sauce of the band, the glue that keeps it all together, not unlike Richard Wright was for Pink Floyd.
This band is a MUST SEE for anyone who is interested in jazz/rock fusion or progressive rock in that it's music that was born of a time when listening to long stretches of great music was very much a part of our culture. Whether that was a long jam from The Allman Brothers (it's not a coincidence that the Dregs were first signed to Capricorn Records, the Allman's label), Santana, The Grateful Dead, or Miles Davis, or listening to a long beautiful piece of music from Jimi Hendrix or Pink Floyd, our mind set, probably forged by smoking copious amounts of marijuana, was one where we enjoyed a musical journey as much or more than a good hit single.
That fact makes it more important than ever to see the Dixie Dregs now, as this kind of music is not likely to pass this way again in our lifetimes.
Here are a few YouTube videos showing off the versatility of the band. For a list of tour dates please go to dixiedregs.com – As you can see there are still a fair amount of dates left.
One last thing — if you go to the show and are so wowed by the first set that you think you've seen it all and decide to leave early, don't. The second set is twice as good as the first, and that's hard to believe because the first set is stellar — yes, they are that good!
Videos are from the Dawn Of The Dregs Tour – Capitol Theater, February 28th 2018 Clearwater Florida.
Dixie Dregs – "Cruise Control"
Dixie Dregs – "Go For Baroque"
Dixie Dregs – "Odyssey"
All the best, and keep rockin'. And go see the Dixie Dregs!
Rap~
© Paul Rappaport 2018