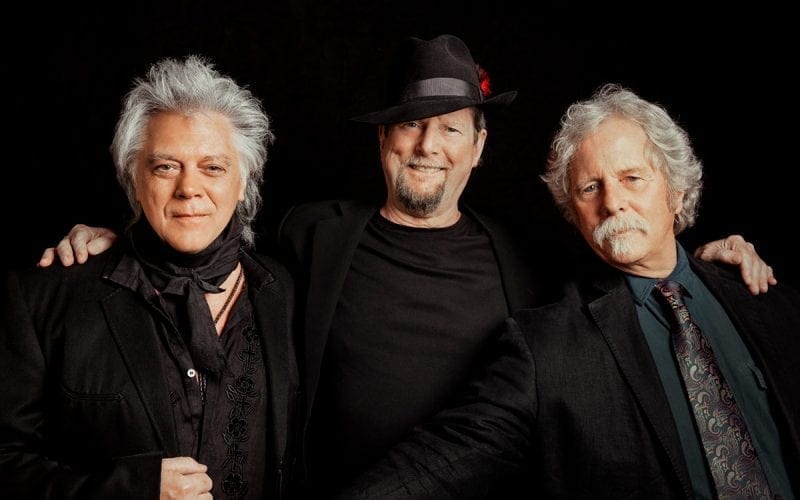 I am a HUGE, HUGE, Byrds fan.  So I am especially excited that Byrds co-founders Roger McGuinn and Chris Hillman will celebrate the 50th anniversary release of the Sweetheart Of The Rodeo album by performing that landmark work in its entirety at a series of upcoming concerts.  Roger and Chris will be backed by Marty Stuart & His Fabulous Superlatives.  For all you guitar aficionados out there, Stuart will be playing renowned session musician Clarence White's 1954 Fender Telecaster. (I originally thought this was a guitar also used on the Sweetheart Of The Rodeo album, but at the end of this blog please do not miss my conversation with kindred spirit Mark who was kind enough to comment, correct my statement, and furthermore take the time to write much more fabulous information about the recording of the album and how Clarence White would emulate the album's steel guitar sounds using the Stringbender Tele when the Byrds played live.  And be sure and watch the video Mark posted—it's great! )
Rolling Stone magazine once described the seminal offering of the Sweetheart Of The Rodeo in these words:  "Driven by new member Gram Parsons, the Byrds nailed a bold Nashville classicism, dressing Bob Dylan and Merle Haggard songs in steel guitar and rock & roll drive–the results set the stage for country rock."
Well there you have it, setting the stage for country rock–quite an important record indeed!  The album came about organically as Hillman states, "On March 9, 1968, Roger McGuinn and I along with many fantastic musicians began recording the Sweetheart Of The Rodeo album at Columbia Studios in Nashville—it was truly a pivotal moment in our lives taking a turn toward the music we always felt a strong kinship with."
McGuinn says, "The (upcoming) concerts will include songs that led up to that ground breaking trip to Nashville."  I only hope that means we will hear some of the Byrds' all time classics.   I know "Bells Of Rhymney" is Chris Hillman's all-time favorite Byrds' track and it is mine as well.  So I'm secretly hoping they will do that one, and perhaps if this tour goes well the two might convince David Crosby to join them in having a proper Byrds full reunion tour—that would be a dream come true!  But one step at time.
Here are a couple of sneak previews of how these three sound together!
Roger McGuinn & Marty Stuart "You Ain't Goin' Nowhere"
Roger McGuinn & Marty Stuart "My Back Pages"
I worked with Roger during my tenure at Columbia Records a couple times when he released solo albums.  The first was in the mid 70's and at that time he was living footloose and fancy-free.
We took a road trip promoting his new Cardiff Rose album, visiting FM radio stations from LA to San Francisco, up to Oregon, and Washington State.
Staying up late and partying with radio folks and other music industry types, we adopted a particular lifestyle while on the road.  We started our workdays at the crack of noon.  For breakfast we always had a hamburger and a beer.  We had a hamburger and a beer every-single-day.  I'm not much of a beer drinker so mostly I had coffee, but you get the idea.  I must say, if you're a little woozy after a night of too much indulgence, a beer and a hamburger is a good combo that will straighten you right out.
Roger was famous at the time for carrying one of the world's first mobile phones.  It was housed in a special briefcase, and it was the first thing everyone wanted to see when they met him.  It looked like something from the CIA, or like something someone traveling with the President of the United States would carry.  It was the first time I ever heard of cell towers as he explained to me that there were many around and that was how the phone worked–sometimes he would dial up a secret operator to make a call.  At the time it was very futuristic, and verrrrrry cool.
Roger was a real tech freak in general.  His full name is Jim Roger McGuinn and when he first burst upon the scene he went by the name of Jim McGuinn.  But he soon dropped the Jim part because he was so enamored with the idea of the two-way radio where people used the word "Roger" to confirm they understood a previous message.  He said he liked the fact that everyone was always saying "Roger" this and "Roger" that, and thought it would be great if he could become the Roger that everyone was always talking about!
The 70's were a very loose time in the music industry and it was not uncommon for artists and industry people accompanying them to get high on this and that and sometimes even during the day.  One morning after our traditional hamburger-beer breakfast we were driving around the Marin County hills overlooking the San Francisco Bay and feeling no pain.  Out of the blue, Roger exclaimed that he felt very rich:  "I have a tan, a gold American Express card, I travel whenever I like, and I never see any bills."  I thought, what a great life—obviously he has an accountant handling all the mundane stuff.
Feeling frisky, he asked if he could drive the rent-a-car.  I thought about this for a second because although I was buzzed, Roger was twice as buzzed as me, and we were driving a brand spanking new beautiful chocolate brown Ford Granada.  I gave in and we were whizzing around the narrow roads (a little too fast for my comfort) when we spotted a gardener's truck parked on the right side of the road just around a bend.  Roger swerved to the left to miss it but this particular truck had a huge oversized bumper with hooks that wrapped around both sides of the front and stuck out quite a bit.  "R-R-R-I-P-P-P!!"  We heard the sound of crunching metal just behind the rear wheel fender of our car.
We got out to see the damage.  The bumper on the gardener's truck was made out of heavy steel so nothing happened to it at all.  But the entire rear fender of the Granada was folded up like an accordion!  It was just destroyed.  Roger was completely unfazed–I was heartsick.  "Oh sh*t, I said, I'm gonna really get in trouble for this one.  "No you won't," he was emphatic.  "They don't care.  When I was on the road with the Byrds we used to wreck cars all the time.  In fact, sometimes out of sheer boredom we'd drive them into rivers."  "WHAT??!!  You guys drove cars into rivers,…on purpose?!"  "Yep, and never heard a damn thing about it either."
I was incensed, and in a lighthearted manner I scolded him a bit, "Roger, the reason you never heard a damn thing about it is, you never hear about anything!!  You have a freakin' accountant handling all this stuff for you!  I'll betcha he heard about it!!  And got the bills too!"  We both laughed like crazy, because the fender looked so incredibly funny folded up like it was, and the fact that the car was brand new made it even more unbelievably ridiculous looking.
Anyway, we calmed down, drove to the local radio station, did our interview, and then went to the airport to drop the car off at AVIS and continue on our journey flying on to Portland.
When we got to the airport Roger said, "Now remember, don't say anything, just drop the car off and get your receipt."  "Roger, do you think they're not gonna see this?!!!"  "Trust me on this one," replied the voice of rock and roll road experience.  I am honest to a fault and this was very difficult for me, but I just turned the car in like everything was normal (in those days you just left the car in their lot and went into the office to get your receipt—they didn't have people meeting you at the car with cellular print outs).
We continued our trip, in a foggy state for most of it, but we accomplished what we needed to do.  While in Oregon we went on a hayride with one of the local stations and they had horses you could ride.  Roger jumped on a Palomino bareback and I got very nervous.  But the most amazing thing was, Roger could ride, and he was GREAT at it!  Blew my mind, and everyone else's as well.  He had written a song called "Chestnut Mare" which I had always thought was just sort of made up, but no, it was written from real experience.  I will never forget the vision of him galloping across a field of beautiful wild flowers his long light brown hair flowing in the wind and both he and that horse in such a blissful state.
We finished our promotional tour and flew home to LA.  I waited for a month for AVIS to call me, or send me a letter scolding me with some huge bill attached.  But just like Roger had said, I never heard a damn thing about it!
As the years went by and most all of us straightened out, Roger became a Born-Again Christian and created a great solo career for himself.  I did a live performance radio show with him years later from Electric Lady recording studios in Greenwich Village where I met his then grown teenage children.  I had fun telling them and their father how in the 60's I was such a fan growing up that I used to even dress like their dad.  Yep, skin-tight pants, black turtleneck, green suede jacket—the whole bit.  They thought this hilarious and we all had a great time hanging out.
One last small piece of rock and roll history.  Because I was such a fan of Roger and the Byrds back in the day, I chose a Rickenbacker guitar as my first real professionally made instrument.  It cost $450.00 at the time, which was a fortune for a high school blue-collar kid, and it took me two summers of work to save up for it.  Even though Roger played the twelve string version, giving the Byrds their signature sound, I bought the six string as I needed a more versatile guitar at the time.  It served me well in my high school years and I wound up giving it to Elvis Costello when he was first starting out because he was having trouble finding a 60's model with original pickups.  Elvis used that guitar to make his Armed Forces album.  Even a six string Rickenbacker has a particular jingle jangle sound that can only be had using those pickups and musicians like it to play rhythm on — Tom Petty was a big Rickenbacker proponent.   You can hear that guitar all over Elvis's Armed Forces album and especially on the hit song "(What's So Funny 'Bout) Peace, Love, and Understanding."  Of course, I get a big kick out of it every time I hear that song because that's my Rick.  But none of this happens if not for Roger McGuinn!
Here are the Byrds' tour dates I have so far, but keep checking, as they seem to be adding more dates.
The Byrds Sweetheart of the Rodeo 50th Anniversary Tour Dates
July 24 – Los Angeles, CA @ Ace Hotel
July 25 – Los Angeles, CA @ Ace Hotel
July 29 – Saratoga, CA @ Mountain Winery
September 17 – Albany, NY @ Hart Theater
September 18 – Albany, NY @ Hart Theater
September 20 – Hopewell, VA @ Beacon Theatre
September 24 – Boston, MA @ Emerson Colonial Theatre
September 26 – New York, NY @ Town Hall
October 3 – Akron, OH @ Akron Civic
October 8 – Nashville, TN @ Ryman Auditorium
October 10 – Roanoke, VA @ Jefferson Center
As far as reunions are concerned, the Byrds getting back together, is one that I am most stoked about.  Their sound and harmonies are so beautiful and unique and also speak to those magical moments of the 60's.
Until next time,
Rap~
© Paul Rappaport 2018