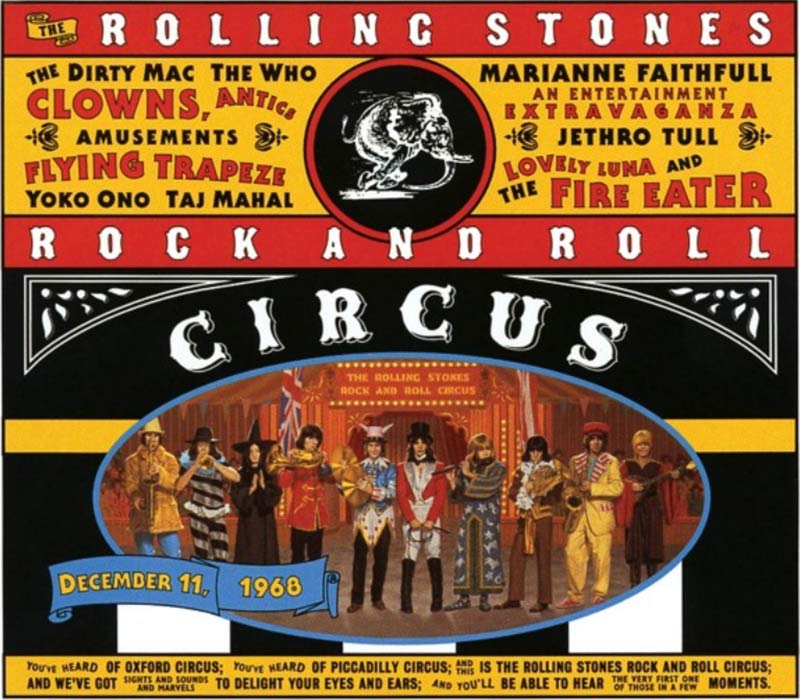 December 11, 1968 – Filming begins on The Rolling Stones' Rock And Roll Circus movie. Conceived by Mick Jagger, the event was comprised of two concerts on a circus stage and included such acts as John Lennon and his fiancée Yoko Ono performing as part of a supergroup called The Dirty Mac, along with Eric Clapton, Mitch Mitchell, Keith Richards, Jethro Tull and The Who, as well as clowns and acrobats. It was originally meant to be aired on the BBC, but the Rolling Stones withheld it because they were unhappy with their performance. Many believe the real reason was because the Who completely upstaged the Stones. As a footnote, this is the only footage of Black Sabbath guitarist Tony Iommi performing as a member of Jethro Tull. The film was eventually released in 1996.
December 11, 1973 – Ace Frehley of Kiss is electrocuted at a concert in Lakeland, Florida when he touches a short-circuited light. He is carried from the stage but returns ten minutes later to finish the show. This incident inspires the song "Shock Me," which is Frehley's first lead vocal in Kiss.
December 11, 2000 – David Lee Roth files a lawsuit against Warner Bros. Records and his former bandmates in Van Halen, claiming he was underpaid royalties. Roth argues that the 1996 agreement was instituted without his knowledge and was a "plan to divert royalties" due to him. Roth claims to be owed 25% of Van Halen's royalties, per a contract he signed upon leaving the band.
December 11, 1972 – Genesis make their live U.S. debut at Brandeis University in Waltham, MA outside of Boston. The concert was sparsely attended.
December 11, 1957 – Jerry Lee Lewis marries 13-year-old Myra Gale Brown, who is the daughter of his cousin (and bass player), J.W. Brown.  That makes her his first cousin once removed. Besides creating one of the most shocking scandals of its time, the marriage is further complicated by the fact that Lewis was still technically married to his previous wife, Jane Mitcham. Lewis and Brown divorce 14 years later after Myra claims,  "I have been subject to every type of physical and mental abuse imaginable."
BACKSTAGE ACCESS:
Where the Ronnie Wood Doc Missed the Mark, and Why It's Still Worth the Watch
Classic Rock Birthdays
December 11, 1958 – Nikki Sixx (born Frank Carlton Serafino Feranna), bass, vocals (Mötley Crüe)
December 11, 1940 – David Gates, vocals, bass (Bread)
December 11, 1926 – Big Mama Thornton (born Willie Mae Thornton), vocals , songwriter (d. 1984)
Rock Remembrances
December 11, 1964 – Soul singer Sam Cooke is shot to death at the Hacienda Motel in Los Angeles, CA. He was 33. Motel manager Bertha Franklin claimed that she shot and killed Cooke in self-defense because he had attacked her. The shooting was ultimately ruled a justifiable homicide, although many questions about the evening remain. Cooke had 30 U.S. top 40 hits between 1957-1964, plus three more posthumously. His songs include "You Send Me", "A Change Is Gonna Come", "Cupid", "Chain Gang", "Wonderful World", and "Twistin' the Night Away." Cooke was inducted into the Rock and Roll Hall of Fame in 1986 and honored with the Grammy Lifetime Achievement Award in 1999.
December 11, 2012 – Ravi Shankar (born Robindro Shaunkor Chowdhury) dies in La Jolla, CA after undergoing heart valve replacement surgery. He was 92. Shankar was an Indian musician well known for introducing the sitar to George Harrison of the Beatles. Shankar performed at the Monterey Pop Festival and Woodstock, and toured up until his death. He was awarded five Grammy Awards, and was nominated for an Academy Award for Best Music, Original Score for Gandhi. He was the father of musician Anoushka Shankar and Norah Jones, who has sold upwards of 50 million albums.
Advertisement