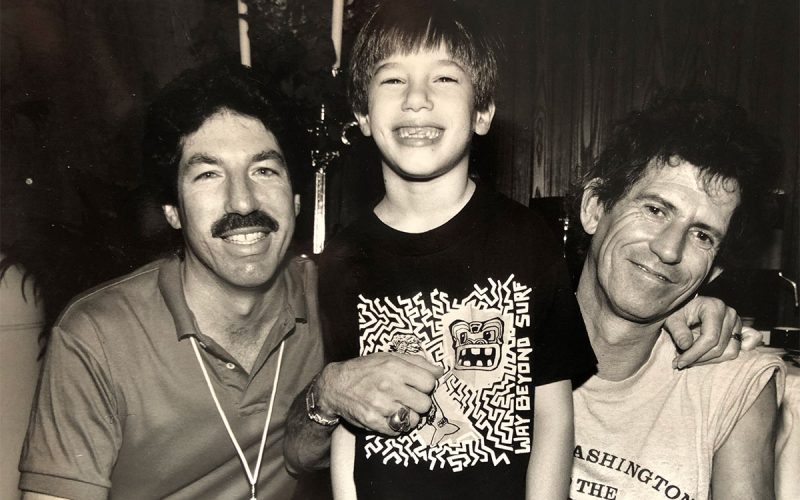 I was reading our own Classics Du Jour the other day when I spied, under "Latest Headlines," that The Rolling Stones were going to release recordings from two small shows they did in Toronto at the El Macombo club in 1977.
These shows have been bootlegged for over 40 the years, and I am one of those folks who have bought a fair-amount of Rolling Stones' boots. The reason is, The Rolling Stones are the kind of band that works themselves into a rock and roll groove to make the magic work and they don't play everything note for note the same way every night. At least they were that way back in the day. And that was the beauty of seeing bands like the Rolling Stones, the Grateful Dead, The Who, The Allman Brothers, Santana and others. During performances, while they played their hit songs, they also were continually experimenting, listening to one another and the "music in the room," searching for the elusive muse that locked-in communication between band members and took the music to a higher level. Some nights were more successful than others, and while you'd never see any of these bands play poorly, if you hit a show on a great night, you would be rewarded with music that could levitate you off your feet.
In a recent interview with David Fricke, Keith Richards explains that is the reason he formed the X-Pensive Winos. The Rolling Stones having become an untamed behemoth of a franchise, he was looking for a band that could play more freely and explore where the music would take them. "When everything is pumping…you actually do get a sense of levitation. That's why we do it…for the odd moments when the whole thing fuses together and goes to heaven for a little while." Any musician who has played in a good band (me included) will tell you the same thing. And all of you who have attended many concerts over the years have experienced it yourselves.
Some nights after band practice, when the muse is present, and the grooves have been pumping none stop, I can't even fall asleep because I'm so jacked up with excitement. Other nights when things fall a bit flat, I will be totally dejected wondering if the magic will ever return. Thankfully it does. That's why playing in jam sessions are so exciting. If you hit that wonderful communication with other musicians on a good night, there's nothing that can top that feeling.
That's why I am so looking forward to this new Stones live release coming May 13th. I'm betting that kind of feeling is in there.
Here's a sample.
The Rolling Stones – It's Only Rock 'N' Roll (But I Like It) Live at El Mocambo 1977
____________________
One of the fun parts of writing this blog are the personal stories a new release or headline can trigger. When I was head of album rock promotion for Columbia Records, getting to work with The Rolling Stones was a highlight of my career. They'd been my favorite band since I was 17 years old. With killer grooves and riffs, their music and life style were also a bit dark and dangerous. I wanted to feel a little dangerous myself, I wanted to be in that gang. I listened The Stones a lot. In fact, I learned to play the electric guitar listening to Keith Richards on all the early Stone's albums. I even dressed like Keith—brown wide wale corduroy jacket with epaulettes, skinny jeans, Beatle style black boots. The Stones were definitely my guys.
When I first met them, it took me a second to get over being star-struck but eventually I settled down and was able to accomplish some never-before-done promotion feats for the band which really made me feel great, and brought smiles to my heroes' faces.
When The Stones first came to Columbia from Atlantic Records our first release was Mick Jagger's solo album, She's The Boss (1983). I was able to debut the album and its first rock single, at number 1 on the charts, with every rock station in America all playing the record the very first day of release. This was unprecedented and resulted in Mick calling me personally from Paris to thank me. It would be the first time I would speak to him. We also had good success with The Stones' Dirty Work Album. In the interim, Keith had also done a solo project as he and Mick had been on the outs for a while. But in August of 1989, when I heard the Steel Wheels album, I knew that everything had pretty much been patched up well enough to make a terrific record and put on what would become a legendary tour.
When I listened to the Steel Wheels album, I heard three songs in particular that I knew could be big rock radio hits. Of course, I wanted to ensure that each song would reach number one on the charts, but as was my usual modus operandi, I had a much larger plan in mind. I wanted The Stones to not only have three number one rock singles in a row, I wanted each single to debut at number one–something that had never been accomplished by anyone, ever. Mick and Keith were back together, and on a mission with a new album and tour to remind the world that they were the greatest rock and roll band. I wanted to reflect that rock and roll history by making history myself for the boys at album rock radio. My plan was–all Rolling Stones, all the time! At least for the first three months of the album's release and tour.
During the 70's, record companies serviced album rock radio with full albums and the music directors and disc jockeys of each station decided what tracks they wanted to play and in what kind of rotation. In the fall of 1980, I began to think about having some kind of control that would allow us at the record company to decide our own destiny for album airplay. Instead of just delivering full albums to rock radio and letting them decide which tracks to play, I wondered if we could send them one track at a time–one that we chose to focus on, followed up by a second and sometimes a third track, just like the singles promotion people did for Top 40 radio. This idea seemed to go hand in hand with the direction that rock radio was going at the time–more and more playing the best songs off the best rock records in a pre-planned rotation.
But the rock stations weren't set up to play singles. Their turntables played 33 and 1/3 RPM 12-inch album discs. How could we send them one song as a single without disrupting their system, making them have to put on a plastic singles adapter and then change their turntable speed to 45 RPM just to play one song?
I conferred with my then second in command partner Jim McKeon, who had been a former rock radio program director, on how to create it. I called one of our major pressing plants and asked them to send me an LP pressing with a single track and to create the groove so at the end of the song the turntable needle would remain idle caught in a continuous loop until someone stopped the turntable and lifted the tone arm from the disc.
When I got the pressing it looked pretty weird. One continuous groove but only about an inch in width and the rest just flat shiny vinyl. It worked great, but I thought, 'what a waste of vinyl.' But then I thought, 'Who cares? We've got tons of money and this is a great answer–a 12 inch single!
The 12-inch single quickly became an industry standard. We could now send one key track off a new album to rock radio and even a couple weeks before an album's release. This created anticipation in the marketplace and ensured a crowd of people at the record stores the day the album arrived for sale. Not only that, our album projects lasted longer because instead of radio playing three tracks at once, thereby more quickly exhausting an album's life on the radio, by releasing one track at time we were able to extend airplay on any given project for a much, much longer period. Extended radio exposure meant more albums sold. As a bonus, we created 12-inch single cover art that included important information about a forthcoming album that disc jockeys could talk about, and sometimes we were able to list upcoming tour dates as well.
If there was ever a time that the 12-inch single was used (or abused) most effectively it was for The Rolling Stones Steel Wheels album. With an album so good and the band's first tour in eight years, excitement was reaching a fevered pitch. I knew rock radio would want to make Steel Wheels a staple on their playlists.
We released the first single, "Mixed Emotions," which was immediately added in super-hot rotation at every rock radio station across the country, so it naturally debuted at number one. But after a few weeks, instead of our usual game plan of releasing a new single and working it up the charts as the former single was working its way down, I held back the release of our next track, "Rock and a Hard Place," for much longer than I should have. In fact, I held it back for so long radio was long past the burn out point on "Mixed Emotions." Programmers were dying to replace it with a fresh track. When we finally released "Rock" it only took three or four days for every FM rock station across America to immediately swap out the first single for the new one, placing "Rock and a Hard Place" in the super-heavy rotation slot which had just been vacated by "Mixed Emotions." Bingo! On the next week's airplay charts "Rock and a Hard Place" debuted at #1!
This caused my competitors to be really perturbed with me. By replacing one Rolling Stones number 1 single with another I had frozen out the band that had been waiting patiently at number two for their chance at finally reaching Mecca, the number one slot. To complicate matters even more, because "Mixed Emotions" was still in a decent rotation, it gave us two singles in the top 10. This caused all the other albums to appear stalled as they were pushed backwards on the charts. When albums and songs go down on the charts they are viewed as over, and radio starts to drop them from their playlists. I had pulled a stunt like this once before with an artist we had named Tommy Conwell, driving a would-be mid chart record to the number one slot by calling in many favors at radio and using a clever math algorithm. Mirroring the Tommy Conwell stunt, every other label's promotion team had to immediately call their local rock stations and beg them to keep their records on, explaining that the airplay chart was just screwy this week.
I was now no stranger to the heated phone calls by other heads of rock promotion. "Again??!!!" "What the fuck was that??!" "Shades of Tommy Conwell?! Did you really need to pull a stunt like that again??"
What could I say? First off, it was The Rolling Stones and they deserved every historical move they could achieve. Second, after forming a nice relationship with this gang of pirates, I felt like part of the gang that I had wanted to join since I was 17 years old. Now I was a pirate too, and our ship flew the flag of the legendary tongue and lips logo.
From August through September, The Rolling Stones remained with the number one track at album rock radio. The tour was going through the roof and we were selling albums like hot cakes. I had one last mission to perform, one last town to plunder—I needed to debut our third single, the beautiful ballad, "Almost Hear You Sigh" again, at number one.
I repeated my first move, I let our second single, "Rock in a Hard Place" hang out in the number one slot forever. I felt like an archer pulling back an arrow on his bow, farther and farther, almost to its breaking point. Programmers were more than ready to play one more track in heavy rotation from Steel Wheels. Whoosh! I finally let the arrow fly. And just like that…I got the same result. Everyone instantly switched out "Rock in a Hard Place" for "Almost Hear You Sigh." When the next week's airplay charts where published, there sat our third single, debuting once again, at number one!
This time the shit really hit the fan. The phone calls were blistering. "ARE YOU FUCKING KIDDING ME?!!!!!" "WE'RE CALLING OUR LABEL PRESIDENT — YOU'RE GONNA BE FIRED!!!" Not only heads of other label promotion teams were calling, many managers of the bands affected by my chart manipulation were calling too. Other label presidents were calling Tommy Mottola, our president at the time, and completely freaking out. It got so heavy I had to leave the office for the day. Of course, Mottola loved it.
Mission accomplished — rock and roll history written. No artist had ever achieved anything close. It hadn't been my intention to hurt any other artists by my actions but of course, there was collateral damage. I had successfully frozen out every other artist from reaching the coveted number one slot now going on three months. To me, the world's greatest rock and roll band had earned this kind of achievement. I flashed back to the 17-year-old boy in his small-town Bellflower, California bedroom listening to "Mona," "Time Is on My Side," "Under My Thumb" "Paint It Black" and more, and smiled. In a million years I never thought I'd be here, leading a charge like this for my all-time favorite band.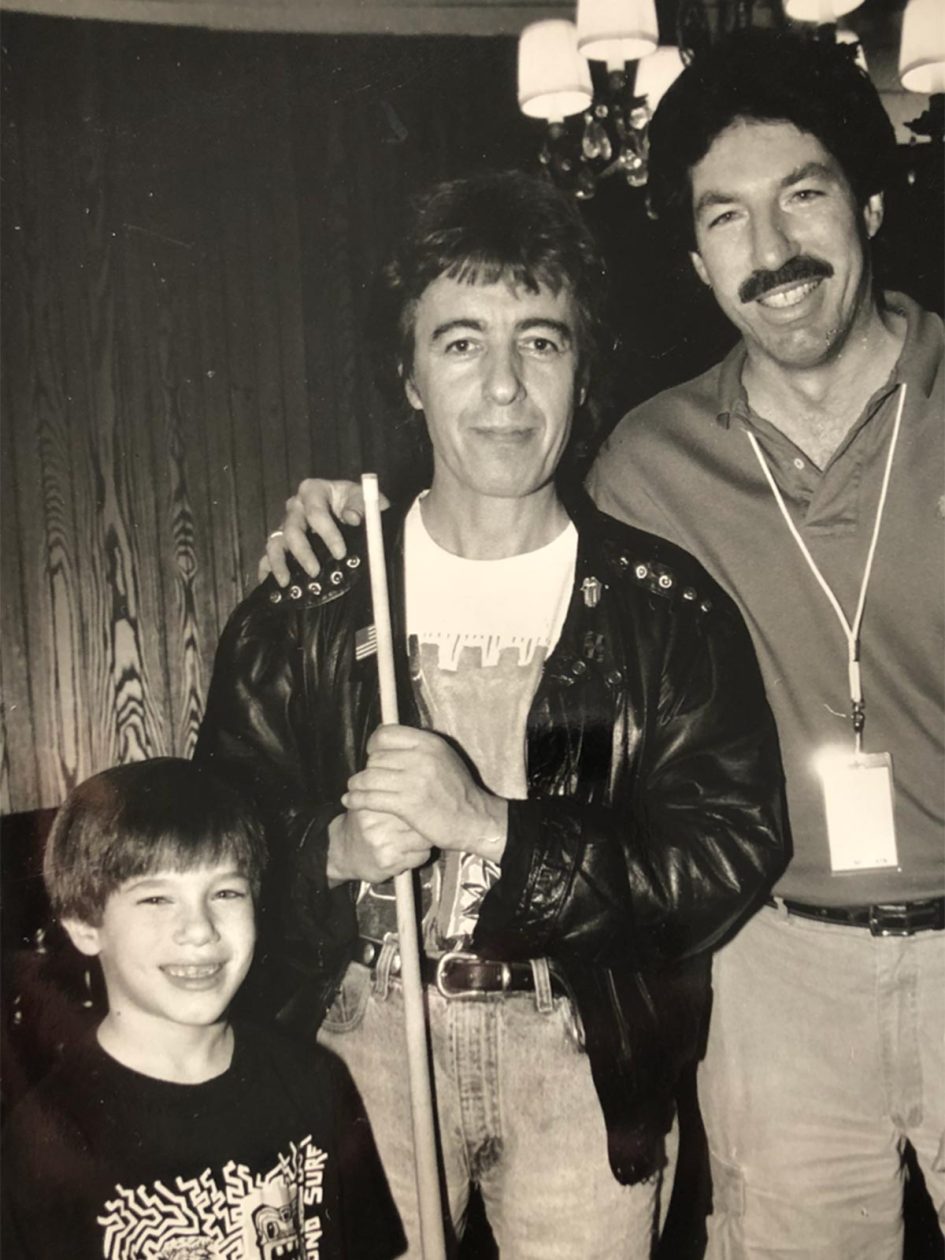 __________________
Epilogue
I took an almost eight-year-old Adam Rappaport with me to see The Rolling Stones play Shea Stadium on October 29th 1989. Before the show I wanted to go backstage and tell the guys the great news about their three number one rock singles in a row.
To get backstage at a Rolling Stones concert you need more credentials than people carry in a nuclear facility. First there is the coveted "All Access" laminate worn around the neck, which for most bands lets you into the backstage area within walking distance to the dressing rooms. With the Stones it only gets you to a large room which is kind of a holding tank for industry guests. From there you need a series of stickers which denote what specific areas you are allowed in. The stickers come in different shapes, sizes, and color patterns which give you either stage access, catering access, entry way to the press box, etc., etc. The most coveted sticker of all gets you into the Stones' dressing room area. If you are truly one of the gang you get all the stickers. The security is unmatched by any other act in the business. By the time Adam and I reached the real inner sanctum we looked like decorated four-star generals.
The first band member I ran into was Ronnie Wood who gave me a big hug. I quickly introduced him to Adam, who out of the corner of his eye saw hot dogs being served, along with a pinball machine, and a pool table. Asking if he could wander a bit, I let him go as I began to tell Woody the news.
"Woody I've been able to keep you guys at number one on both the album and singles charts for solid three months! And each of your three rock singles all debuted at number one. It's never been done before–it's totally historical."
"Holy shit Rap!! That's amaaaaazing!! I gotta get Keith, you need to tell him this!"
Woody goes into Keith's dressing room and brings him out. In the less than three minutes it takes to get Keith, Woody has forgotten what I've told him. He knows it was something great, but he just can't bring it forth to the top of his probable altered brain state.
"Hey Keith, Rap just told me…. he told me…Rap…tell Keith what you just told me!"
I chuckled, shook my head, and repeated the news to Keith. His eyes lit up — he smiled a huge smile. Then he turned me around kicked me in the ass, spun me around again, gave me a super big hug, looked me in the eye, and asked excitedly, "Can you do it again?!"
"Keith, if I do this one more time I'll be killed."
With a bigger, more devilish smile, and in his deep one-too-many-cigarettes voice, he uttered, "Well, it is The Stones man."
I got a wink, which hinted at 'just kidding–kind of.' I really wished he was kidding. But if I had to take one on the chin for The Rolling Stones, he wouldn't have minded. Finally, I got another smile and a "Thanks mate, means a lot."
I went across the room to talk to Mick and spied Adam playing pool with bassist Bill Wyman. Talk about an out of body experience. All those years ago as a teenager watching television shows like Shindig and Ed Sullivan featuring the Stones, and Bill with his legendary, stone-faced demeanor, staring straight out into audience, hardly moving anything except his jaw while chewing gum. His fingers walking up and down the neck of his instrument while he slid into the famous bass lines of legendary songs like "Paint It Black" and "19th Nervous Breakdown." I had two sons in my life, Adam and Sam, which was mind blowing enough, and now the oldest was playing pool with Bill Wyman! Yeah, right, I must be dreaming.
I approached Mick to tell him the good news. I was extremely pumped. Mick Jagger has a pretty even personality and you can tell that the business wheels are constantly spinning in his head. Without missing a beat, he said, "But you know, I think we were just a bit early with that third twelve-inch. Maybe by a week or so."
"Mick, stop. Who cares?? I just told you that you've been number one on the rock album and single's charts for three fucking months!! It's historical—it's never happened before and it will never happen again. Come on man, give me just a little smile." I pressed my fingers on either side of my mouth pushing my lips up to feign a smile. "Stop analyzing for just one minute, and be happy!"
He let down his guard for a moment, the wheels stopped spinning. He thought about it.  Then he looked up with a glint in his eye, cocked his head, and with that charming Mick Jagger smile he said, "Yeah, I know, I know, it's just…", and he started thinking again.  'Christ, does this guy think about stuff even more than Bruce Springsteen??' (Bruce, a notorious overthinker). Finally, he said, "No, no, it's good, it's really good, thanks."
More Backstage Access:
Bruce Springsteen at The Roxy 7/7/78
Before we left, I brought Adam over to meet Keith. Obviously, that was a big deal for me. "Adam, this is Keith Richards, he is the greatest rock and roll guitar player in the world."
Keith looked down at Adam, "Awe, don't believe everything your old man tells you."
I asked if we could get a photo and Keith said, "Of course." Then he suggested, "Maybe we should kneel down, you know, because he's so little." It was great to see a sensitive side of the man.
On our way out of the dressing room area I asked Adam what he thought the best thing about Keith Richards was. "Oh dad, his skull ring! That thing is awesome." Then, he said, "Thanks dad that was really great, I got a hot dog, played pinball, and I played a game of pool with this really cool guy."
"Yeah, I know that guy."
"Let's go home, I gotta tell mom all about this!"
"Hey Ad, these aren't just a bunch of fun guys you hang out with, it's a band, they play, they're gonna play a show, and we have to stay and watch the show."
"Oh…", I could see him trying to put two and three together. Adam could have cared less — he'd had a blast and now it was time to split. Of course, we stayed and watched, and because the show had a lot of impressive stage production, big lights, big pyro, and Jagger running around all over the place, it kept his interest.
Years later, Adam now a teenager, I would take him to see The Stones again at Madison Square Garden hoping he'd get what it all meant to me. I wanted so much for him to be impressed. As we walked out, I asked him what he thought.
"Honestly dad, they're just a really good rock and roll band."
Wow, I was disappointed. But then it dawned on me. Without all the memories my generation had in our heads, like the early British Invasion, Altamont, the movies, the drug busts, the many years of concerts, famous album covers, and the songs that help shaped the culture of the day, if you just took the Stones at face value seeing their performance for the first time, yeah, that's what you see, a really good rock and roll band. I could feel the wheels turning, the world changing. What had meant so much to me would eventually fade into history. Ouch.
"But what about the rock and roll, the back beat? 'Ah-wah-ah-wah, ah-wah, ah-wah. Doesn't that make you want to move your leg and tap your foot??"
"Dad, I grew up with rap music, so the beat in my head that makes me move and groove is, 'Boof, bada-boof.' But don't worry about it — all the beats come from Africa anyway."
Talk about learning stuff from your kids.
Until next time, it's only rock n' roll, but I like it!
Rap~
© Paul Rappaport 2022